Nail the Micro Miniskirt Trend with this Skincare Routine for Your Leg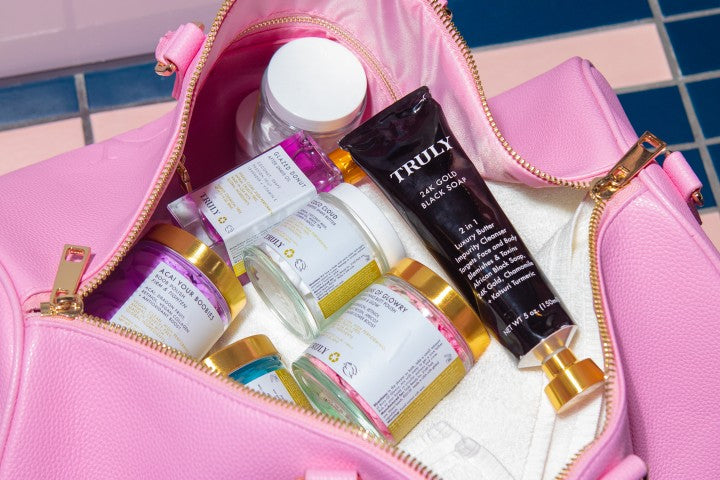 The micro-mini skirt trend is going strong through Fall 2022. It's appeared everywhere from social media to New York Fashion Week to the catwalks in London, Milan, and Paris, and even on celebs all over.
Ready to take on the itty-bitty silhouette? Don't do it until you've tried our gleaming legs skincare routine. 
Scroll down to try this beauty routine designed especially for your gams.
#1: Shave, Moisturize + Soothe with Coco Cloud Bundle
If you're into hair removal, start your routine with a clean and ultra-close shave. 
The Ultimate Coco Cloud Kit features our O.G. bestselling Coco Cloud Shaving Butter, well as Post-Shave Serum, Body Moisturizer, aloe-infused Razor + Fuzzy Blue Bag.
Formulated with skin-soothing ingredients like coconut milk, argan oil, and vanilla to tackle razor burn, ingrowns, and irritation while leaving your legs feeling dreamy smooth.
All these skincare products are hydrating, soothing, and healing for the closest and most comfortable shave of your life. Plus, they offer you a little self-care moment -- which is something we all need RN. 
You'll be desperate to show of your gams in 2022's hottest fashion trend. 
#2: Buff Away Dullness with Moon Rocks Scrub
Exfoliation is extremely helpful in improving skin tone and texture. That's because it buffs away dead skin cells and dirt to reveal fresh and glowing skin underneath. Aim to exfoliate twice a week to keep your legs (and the rest of your body!) smooth and shiny. It will also enable other beauty products like cleansers, creams, and serums to absorb better into the skin for enhanced results. 
Moon Rocks Body Scrub is a gentle, lightly whipped sugar scrub infused with a blend of hydrating coconut oil, brightening lavender, and protective vitamin E to nourish skin and improve its overall health. 
Whether you're wearing a mini, midi, crop top, or cutouts, your skin will instantly look more vibrant in your wardrobe selections when it's freshly buffed. Avoid DIY scrubs which can easily irritate your skin.
#3: Treat Blemishes with Jelly Booster Pigment Treatment
You've probably heard about it on TikTok, but our Jelly Booster Pigment Treatment is the real deal. Formulated with a soothing blend of pomegranate extract, witch hazel, and collagen-supporting vitamin B2 to lighten hyperpigmentation caused by ingrown hairs, acne scars or trauma to the skin.
Rich in antioxidant and antimicrobial benefits, pomegranate extract keeps sagginess and wrinkles at bay. Meanwhile, vitamin B2 quells skin inflammation, directly addressing conditions like acne and eczema. And then there's witch hazel water -- a tannin-loaded ingredient that acts as a barrier against inflammation-causing substances.
Apply this to affected areas for clear, blemish-free legs.
#4: Diminish Dimples with Anti-Cellulite Bundle
Since the micro mini skirt shows off your thighs -- a known cellulite prone area -- it's worth trying an anti-cellulite formula to plump out those dimples. All the celebs use treatments like this before gracing the red carpet or attending other big events.
If it's your first time wearing a mini, incorporate our Anti-Cellulite Bundle into your daily routine. It contains a body serum and mask made with a blend of retinol and flavonoids to mobilize stored fats, fight inflammation, and manifest smoother, dimple-free skin. 
For best results, make sure you use these products daily. Treating cellulite is not a one day thing. You'll need to be consistent with your routine if you want to see the back of your dimply thighs and butt.
#5: Get Bronzed With Hotter in Person Self-Tanner
It doesn't matter whether you're wearing a t-shirt, blazer, low-rise jeans, or a mini skirt, every outfit looks better when you're glowing. Especially if you're choosing black or pastel hues, which can sometimes wash you out.
Hotter in Person Bronze and Blur Cream is a silky body lotion formulated with moisturizing jojoba oil, naturally bronzing DHA, glow-enhancing strawberry, and gold shimmer to boost radiance and develop a subtle, gradual tan on all skin types sans UV exposure. It also works to conceal uneven texture for an IRL "blurred" effect. 
Like most self-tanning products, this one develops subtly over hours, so be careful not to overapply. One layer of even application results in a natural, sun-kissed glow. For a deeper tan, repeat usage until you've reached your desired hue. 
Remember to exfoliate and keep your skin clean and product-free before applying this bronzing cream, otherwise you risk getting streaks and splotches.
#6: Up Your Sparkle with Moon Lit Shimmer Oil
If you're swapping out skinny jeans or baggy trousers for the ultra-trendy mini skirt, gleam up your gams with this sparkling body oil.
Moon Lit Shimmer Oil is a flash-absorbing, lightweight body shimmer oil infused with gold shimmer for a radiant glow on the go. It's made with a blend of chai spices, witch hazel, and vanilla to brighten, tighten, and soothe your skin -- for legs that gleam beneath your cute little mini. 
It's buildable on all skin tones. And you can decide just how sparkly you want to go -- from subtly sun-kissed to disco ball dazzle. Apply a small amount over your thighs and calves for dreamy, dazzling legs.
Accessorize with the NEW Truly Duffle Bag
Nothing completes an outfit more than an ultra-chic bag, like Truly's Vegan Pink Leather Duffle. Spacious enough to transport all your beauty essentials, you can go out in style dangling this cute little number over your arm. Your micro mini skirt will look a million times more chic when accessorized with this super stylish bag.
From Versace to Valentino, Chanel to high street retailers, we've seen tons of brands displaying the micro miniskirt trend. And there are plenty of different styles to choose from, depending on your taste and size. Just don't slip into this minimalist piece until you've tried our gleaming leg care routine.  
You will find all the Truly skincare, hair care, and body care products on our official site, as well as at Ulta and Sephora. 
Share
---