Our Take on the Reverse Skincare Trend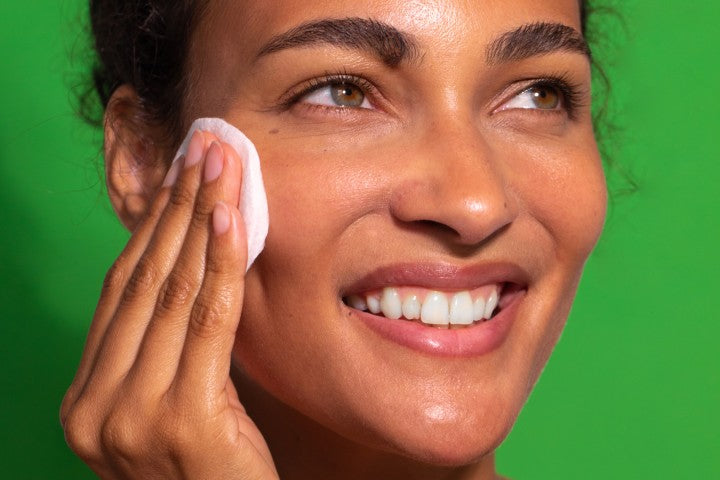 If you've been on TikTok lately, you may have heard of the new buzzing beauty trend circulating on the social media platform. It's called 'reverse skincare'...and honestly, it's leaving many of us baffled!
Between the serums, lotions, SPFs, and retinol treatments, knowing what order to apply your skincare products can be confusing. That said, it's essential to apply them in the correct order in order for them to fully activate in your skin.
TikTok's latest skincare trend flips the universally accepted order of application, literally reversing the thinnest to thickest theory — and of course, people have questions!
Wondering whether to try this TikTok trend or stick to what you know best? Here's Truly's verdict on the reverse skincare trend.
WHAT IS THE REVERSE SKINCARE TREND?
The reverse skincare trend was pioneered by @glowwithava, and has quickly become a trending topic over on TikTok with skincare enthusiasts curious over this new way of applying skincare. Or essentially — breaking skincare's conventional rules.
In the video, Ava starts by cleansing her face (totally normal and conventional). After that, everything gets flipped. She encourages followers to reach for a moisturizer, which she applies in a thick layer, almost like a face mask. Then she drenches cotton pads with a toner and applies to the skin after moisturizing. Usually, toner is applied before face cream — not with the reverse skincare regimen.
"After doing this for 15 minutes, your skin is going to feel more supple and plump than ever," Ava tells her followers.
Her claim is that applying products in this order improves hydration, boosts brightness, and leaves skin visibly plumper. But is that actually true? Or is it merely a flash-lasting trend destined to fade out by next week?
WHAT THE DERMS SAY ABOUT THE REVERSE SKINCARE TREND
It seems that dermatologists aren't divided when it comes to skincare reversal. Most agree that it's not the most beneficial technique for hydrating and brightening skin.
Skin expert Katherine Mackenzie Paterson isn't convinced it has any skincare benefits. "Generally moisturisers will tend to contain more emollients and occlusives in them than serums that soften and trap moisture in the skin," she explains. "What you're doing here is just putting those ingredients on first, which will create a light barrier and actually slow or stall the penetration of other skincare products." She believes toning and exfoliation should always come before your creams.
Dr. Alexis Granite, consultant dermatologist for CeraVe, also agrees that reversing your skincare doesn't provide any long-term benefit.
"The only potential results may be visual," she says. "If you're putting moisturiser on and then you're putting toner on, the liquid in the toner will be sitting on top of the moisturiser so it would look more hydrated and dewy." But if you're looking to improve skin concerns or generally just improve skin health, reversing your skincare routine does very little, she adds.
TRULY'S VERDICT
As much as we love TikTok trends (some of them are actually super smart!), we'd have to agree with the dermatologists that this is one to skip. Sure, it may give you instant gratification when you see your skin looking extra dewy and hydrated. The problem is, it's only offering a visual benefit.
If you're looking to maintain clear, healthy, youthful skin, your beauty products must be applied in the correct order in order to penetrate skin fully. If they can't penetrate, they really can't do much.
Stick to the beauty industry's conventions of applying products from thin to thick. It might take a few days or weeks longer to see the results, but those results will last far longer.
THE RIGHT WAY TO LAYER YOUR SKINCARE PRODUCTS
Here's the correct way to apply your cleansers, creams, serums, toners, and sunscreens.
#1: Cleanser
Cleansing should always be the first step in your skincare routine to wash away the day's dirt, oil, and dead skin cells, enabling other products to absorb fully.
Truly's top pick: Super Matcha Facial Cleanser
#2: Toner
Toning should come next. You can choose a hydrating or exfoliating formulation, depending on your skin type. Oily skin and acne-prone skin benefit most from an exfoliant made with either glycolic acid or salicylic acid. Dry skin and sensitive skin types need something more soothing and hydrating.
Truly's top pick: CBD Jelly Toning Solution
#3: Serum
Next comes serum to target specific skin concerns. Whether you're dealing with breakouts, dryness, discoloration, or fine lines, the right serum can combat almost any issue. Choose something with hyaluronic acid or ceramides if you've got dry skin. Those dealing with fine lines or wrinkles should opt for a formula featuring active ingredients like retinol, antioxidants, collagen — or all three. And the acne-prone should seek out salicylic acid-based serums.
Truly's top pick: Mary Jane Glow Serum
#4: Moisturizer
Since moisturizers are usually one of the thickest products in your beauty routine, always apply this after your thinner products so it can seal everything in. Moisturizers help to hydrate, seal in moisture, and protect your skin barrier. Hyaluronic acid, niacinamide, and squalane are some of the best skincare ingredients you can find in a moisturizer.
Truly's top pick: Cream Skin Face Moisturizer
#5: SPF
Finally, one of the most important products of all: sunscreen. Always complete your daily skincare routine with a generous layer of SPF 30 to protect your skin from the sun's skin-damaging UV rays. Pair it with a vitamin C serum to maximize those protective benefits.
Remember to re-apply sunscreen every two hours to keep skin fully protected and healthy. And don't just wear it when it's sunny. UV rays are always there — even on cloudy days.
TikTok's reverse skincare trend might look interesting at first glance, but according to dermatologists, it's not an effective way to take care of your skin. To get the most out of your products, always apply them from thinnest to thickest in the order displayed above.
You can shop Truly products on Amazon, Ulta, Target, Sephora EU, and on our official website — trulybeauty.com. Hope to see you soon, beauty babes!
Share
---