Sensory Beauty is Here to Stay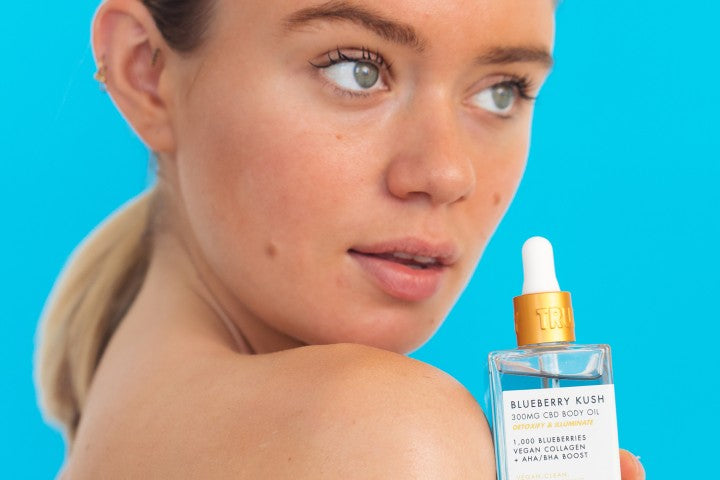 After such a traumatic year, it's hardly surprising that we're dousing our showers with eucalyptus oil and slathering our bodies with summery-scented lotions and potions.
Believe it or not, these self-care practices can help combat the stress and changes of this post-pandemic world, and transport you to a happier, calmer state of mind. 
Experts call it sensory beauty...
We call it...the future... 
WHAT IS SENSORY BEAUTY?
Sensory beauty is a trend that's become increasingly popular over the past year.
It centers around investing in oneself through self-care by using beauty products that appeal to your senses -- scent, sight, touch.
"Sensory beauty utilizes all aspects of your senses from touch to smell," says Shen Beauty founder Jessica Richards. "It is the deep understanding of how people experience products and how they fall in love with the brands they discover in our store." 
It could be anything from a deeply-scented fragrance to a fizzy bath bomb, whipped body butter to a lavish face mask. Anything that relieves tension and makes you feel better!
BENEFITS OF SENSORY BEAUTY
Turns out, embracing sensory beauty products can soothe stress, improve your self-esteem, and provide comfort in these hard times.
A new online survey of women aged between 18 and 35 showed that 83% of those who followed a skincare routine agreed that it makes them feel better about themselves.
"It also showed the wellness-driven relief that self-care can provide from the mental ramifications of heightened video calls and social media consumption," explains Harrison. 
And it goes much deeper than that.
"Several senses work together (sight, smell, taste, touch, balance, movement, hearing) to form a person's impression," says psychodermatologist Dr. Alia Ahmed. "For example, smell is strongly associated with memory and emotion, and the aesthetics of a product can pleasure our eyes."
She adds that physical touch conveys positive messages, which is why the feel of a personal care product can be "critical to the experience created by its use."
Other benefits of touch include mood enhancement, increased confidence, enhanced cognitive function, and strengthened immunity. 
WHY SENSORY BEAUTY WILL STICK AROUND
While restrictions are beginning to ease around the world, experts say this wellness trend is here to stay.
"I think this trend goes beyond the pandemic and connects to a broader trend we were already tracking around beauty as an antianxiety and self-care tool," says beauty trend forecaster and futures director at The Future Laboratory, Victoria Buchanan. "In 2021 and beyond, I think we'll continue to see an increased focus on the sensation of beauty — that inexplicable dopamine hit that you get from a product."
In other words, expect to see more beauty brands launching sensory skincare products. Think sweet-scented body scrubs, texturized body creams, and multisensory perfumes.
It's all very exciting -- we know! But how exactly can you embrace the experience yourself? Are there certain products you should use? Let us explain!
HOW TO ENJOY THE SENSORY EXPERIENCE
It's all about picking products that feel, smell, and look good to you. Ready to jazz up your beauty routine for the ultimate sensory experience? Here goes...
#1 Start with a Soothing CBD Cleanser
Every skincare routine starts with a good cleanser. If you're looking to improve your mental health through beauty, choose this CBD-formulated cleanser. CBD helps calm stressed out, irritated skin. You'll quite literally be washing your troubles away.
#2 Massage Your Skin with a Sweet-Scented Moisturizer
You don't need dry skin to benefit from a nourishing moisturizer. Every skin type can benefit from it. Truly's Unicorn Fruit Whipped Body Butter is a buttery, conditioning multi-colored swirl of whipped body moisturizer made with a blend of natural, skin-rejuvenating ingredients such as shea butter, acai, matcha, vegan collagen, and rose.
With its cute, colorful exterior, luxurious whipped texture, and cotton candy fragrance, this product treats all three senses.
#3 Smell Like Blueberries
....With our Blueberry Kush CBD Body Oil. 
It's formulated with the oil of 1,000 blueberries combined with high-performing skincare ingredients like vegan collagen, lactic acid, and salicylic acid. Together, these products deliver youthful, glowing, yummy-scented skin. Besides appealing to your scent and sight, it'll also make your skin feel super soft and silky -- appealing to your touch. What's not to love?
#4 Get Glittery (And Extra Gorgeous!)
There's just something fun about spreading this glittery face mask all over yourself. In addition to feeling awesome, it also looks incredible when applied to your face.
And the best part? It's formulated with powerhouse ingredients like retinol and vitamin C to promote collagen production, creating brighter, smoother skin. 
Try Truly's Dew You Love Me Jelly Face Mask for yourself, and have fun using it!
Even though it's fragrance-free, it still smells fresh and feels amazing on.
#5 Don't Forget Hair Care
You can't beat sweet-smelling, ultra-soft strands. And the way to get them? Reach for our Coco Rose Milk Hair Mask.
With its coconut-y scent and lightweight, creamy texture, it's so much fun to apply. It's definitely a great sensory beauty product. 
Spend a few minutes massaging the mask into your hair, and pay attention to the scent, feel, and sight of this formula. You can continue enjoying the sensory effects once you've rinsed it off. 
#6 Feel Free to Apply Makeup
Perhaps applying makeup is an enjoyable, stress-reducing regimen for you? If so, go ahead and apply your foundation, mascara, and eyeshadow. Applying makeup can be just as gratifying as applying skin and hair products.
More and more skincare brands are using sensory beauty as inspiration for their products. Even dermatologists praise the regimen, supporting its ability to improve mental health. It started last year when the pandemic first hit, but now it's growing even more popular. 
And we're not just talking about skincare creams and serums. Some brands are making use of artificial intelligence to help customers choose targeted products, favorable scent, and nice texture. And of course, skincare tools like brushes are also gaining more interest as a way to explore and enjoy sensory beauty.
Truly is no different!
Join us?
Share
---