Shaving Tips from Amanda Cerny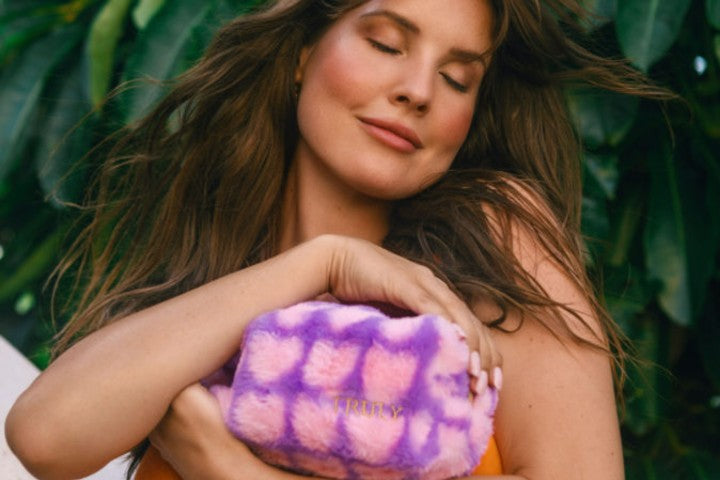 How does the model and YouTuber stay top-to-toe smooth?
We recently celebrated Shave Week at Truly Beauty, and to commemorate the event, we invited Amanda Cerny over for a collaboration on our brand-new Smooth Legend Shave Kit.
Below, she shares her thoughts on the Truly shaving routine and reveals her ultimate shaving hacks – in her own words. Enjoy!
MY SHAVING ROUTINE + HACKS
Hi hi. Amanda here with my new newborn: my shave kit. Since releasing my Smooth Legend Shave Kit with Truly, I'm *kind* of a professional at shaving. Not to brag, but after the ingredient research, naming, and helping design the products, and putting the routine together, I know a thing or two about being hairless.
Do you ever get so tired of razor burns and bumps? And none of your shaving products are working with you at all so you just make your own shaving line? Me too.
I did it with Truly Beauty and our shave set baby is … (not to brag, I'm biased) ... but it's perfect. Here's the rundown: exfoliate away dead skin cells first, use a shaving butter when shaving to soften up those follicles, and ALWAYS. HYDRATE. AFTERWARDS.
Exfoliate
With those pointers in mind, first to take the stage is our Smooth Legend Pre Shave Scrub. Everything you need to know is in the name – scrub before you shave and become a smooth, ingrown-free legend.
Dead skin is not cute and not invited. If you don't already exfoliate before you shave, you NEED to get on it. Exfoliation removes dead skin cells which helps to keep your razor from getting overloaded with weird gunk, keeps those blades sharp, and thus gets an ultra-close shave.
Plus, it has grape seed extract and coconut to speed cell turnover and leave your skin super bouncy. Plus, it's pink – do I need to convince you more? Just look at how cute it is!
Butter Up
Swap your soap for a shaving butter. I know, I know – so boujee, what's the difference? There is a difference. Trust me. A lot of soap can be drying instead of hydrating and actually have an astringent effect (basically, it's super drying and doesn't even make your razor glide better. Not cute).
Using a shaving butter like (Enter, Happy Hairless Shave Butter) that has a super hydrating base of coconut and vitamin E and actually puts moisture back INTO the skin helps keep that razor from dragging and irritating the skin. Again, it helps you get that supah silky, IG worthy shave. 
Plus, she's swirled and she's pink and purple. It's super gentle on the skin and is perfect for healing inflammation and shaving related irritation. It also will leave you smelling like the French countryside, if you really needed the deal to be sweetened more. 
Hack: Use Cool Water
I like to use cooler water when going in for the shave. I do enjoy a satan level shower myself, but this is NOT key for shaving because it can soften up the skin too much and make you more prone to cuts from your razor. Using cooler water before you shave also closes up your pores. 
Oil Up
Last but not least, my favorite with the cutest name ever – I had so much fun brainstorming with Truly on these names – liquid gold AKA Glazed Donut After Shave Oil.
When I tell you this will leave your whole body silky, smooth, and luscious like nothing you've ever used, I'm not lying. One of the main active ingredients we added to this is passion fruit, so it smells so amazing and also promises a ton of essential, skin-rejuvenating benefits. And it's totally grease-free and not sticky – we're all about looking and not feeling like a literal glazed donut. 
Hack: Apply the Oil to Damp Skin
More moisture can be sealed in – meaning extra soft and silky skin!
And there we have it, you soon-to-be-silky-smooth babes! Now, pair these with our freebies that you get when purchasing the full shave kit (this cuter than ever fuzzy pouch for storing your shaving needs on the go and this magnetic head five bladed razor) and I think … I just made a recipe for the most perfect shave of your life? Who's to say. Try it out. 
Equipped with my tips and my shave kit, there's no hairy nook or cranny you can't tackle!
GET SILKY SMOOTH WITH TRULY'S SMOOTH LEGEND SHAVE KIT
It features…
Smooth Legend Pre-Shave Scrub
To slough away dead skin, decongest your pores, and prep your skin for shaving.
Happy Hairless Rich Shave Butter
To give your skin the slip it needs for an ultra-smooth, irritation-free shave.
Glazed Donut After Shave Oil
To replenish lost moisture while combatting ingrowns, bumps, and inflammation.
… all formulated with skin-smoothing and nourishing ingredients like coconut, grape, passion fruit, and lavender.
+ these freebies:
Life Shaver Starter Razor (according to Amanda, "1 stroke and you're done." She also says she can "shave with my eyes closed with this bad boy.").
Fluffy pink bag
Share
---