Shop Chrissy Teigen's $385 Skincare Routine for Under $130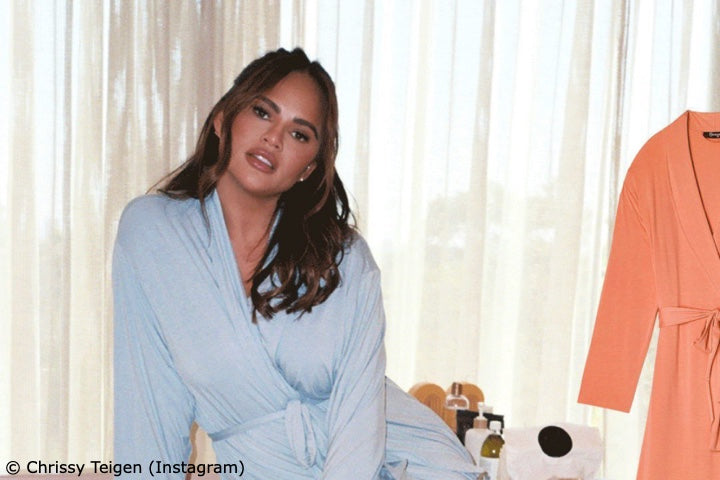 If you're curious about what goes into your favorite celeb's skin-care routine, Chrissy Teigen has just granted your wish. On February 21, the star posted an Instagram Reel detailing the products she's been using since giving birth to her daughter Esti on January 31.
Teigen showed off her routine, using a range of skincare products from drugstore to luxury, including items from her husband John Legend's new skin-care brand and her esthetician Shani Darden's skincare line. The total cost of Chrissy Teigen's skincare routine comes in at $385. Toward the end of the video, Teigen gives her eyebrows a quick touch-up and blows a kiss to the camera. To see all of the products Teigen uses in her skincare routine and to shop them for yourself (FOR LESS) keep scrolling.
iS Clinical Pro-Heal Serum Advance Plus
Teigen's morning skincare routine begins with the iS Clinical Pro-Heal Serum Advance Plus ($158), a powerful serum that contains time-released vitamin C to provide a dose of antioxidants. This serum not only brightens the skin (as most vitamin C serums do), but it also targets acne, rosacea, and inflammation, making it suitable for all skin types, even those with sensitive or compromised skin.
Shop For Less: Truly's Vegan Collagen Booster Serum
Featuring a lineup of powerhouse anti-aging actives such as retinol, vitamin C, and plant collagen booster, Truly's Vegan Collagen Booster Serum ($36.90) supports natural collagen production while protecting skin against environmental aggressors for a smooth, supple, and radiant complexion. It also helps with dark spots, discoloration, and even blemishes. Plus, it's way more wallet-friendly than Teigen's choice.
Shani Darden Skin Care Retinol Reform Treatment Serum
Teigen's esthetician's line includes the Shani Darden Skin Care Retinol Reform Treatment Serum ($88), which contains encapsulated retinol to make the formula non-irritating. The addition of AHAs helps reduce fine lines and wrinkles, and improve the overall tone of the skin. However, caution should be exercised when using retinol in the morning as it can make the skin more sensitive to the sun. Also, this product should not be used while pregnant or nursing.
Shop For Less: Truly's Purple Rain Facial Oil
This skin resurfacing facial booster is designed to defy the effects of aging by targeting visible signs of aging using vitamin A sourced from Rosehip, which is a natural source of Retinoic acid. Truly's Purple Rain Facial Oil ($35.90) effectively smooths the appearance of wrinkles and provides a healthy, glowing complexion without leaving any greasy residue.
iS Clinical Reparative Moisture Emulsion
To hydrate her skin, Teigen uses the iS Clinical Reparative Moisture Emulsion ($105), a moisturizer that contains squalane, peptides, and antioxidants to plump, hydrate, and fight signs of aging.
Shop For Less: Truly's Glazed Donut Facial Cream
Introducing Truly's most highly-anticipated skincare elixir - the Glazed Donut Facial Glow Cream, ($38.90). Within seconds, this cream can transform dry and dull skin into a fresh and luminous complexion. The luxurious formula is rich, yet lightweight, and combines passion fruit, vitamin E, and shea butter to deliver a burst of moisture and nourishment. Skin appears visibly smoother and glowier without any greasiness. The cream can even be used as a makeup primer, providing a flawless dewy sheen.
Loved01 Toning Mist
Teigen swears by the Loved01 Toning Mist ($10) from her husband's skin-care brand, which she sprays on her face and chest. Formulated with chamomile, lavender, and aloe vera, this mist soothes the skin, while witch hazel targets pores and blackheads, and a blend of oils (like jojoba and rosehip) hydrates it.
Laneige Lip Sleeping Mask
Finally, Teigen applies a layer of the Laneige Lip Sleeping Mask ($24), a cult classic, to her lips. This overnight mask can also be used as a lip balm during the day to keep dryness at bay.
Shop For Less: Truly's Heartbreaker Jelly Lip Plumping Mask
Say goodbye to lip fillers and procedures with the use of this gorgeous, glittery lip plumping mask. This lip mask is both safe and effective, as well as being super cute and so much fun to use! Featuring ceramides, aloe, and vitamin E, it'll leave your lips soft and kissable, as well as visibly plumper. Truly's Heartbreaker Lip Plumping Mask ($16.90) is the go-to beauty product for plumping up your pout in an instant.
Chrissy Teigen Skincare Tips
Known for her flawless skin, Chrissy Teigen loves mixing up her lotions and potions. Some other favorite products she likes to use in her skincare regimen include IS Clinical Cleansing Complex, Dr. Dennis Gross Alpha Beta Universal Daily Peel Pads, La Mer The Concentrate, La Mer Crème de la Mer Moisturizing Cream, Control Corrective Oil Free Sunscreen SPF 30, and Bioré Face Deep Cleansing Pore Strips.
As effective as these all are, you'll also see a huge difference in your skin when shopping cleansers, serums, and face lotions at Truly — only, at a fraction of the cost. Our TikTok-viral products are effective, deeply indulgent, and offer all kind of uses (cos they're incredibly versatile!).
While Chrissy no doubts pays regular visits to a A-lister facialist, it just goes to show that following a solid skincare routine filled with high-performing products can make a huge impact when it comes to your skin.
You can shop Truly's vegan, cruelty-free, and high-performance skincare products at Sephora, Ulta, and on the official website: Trulybeauty.com.
Have you tried any of the Truly specials above? Tag us in your Truly hauls and selfies on social media so we can take a look!
Share
---