Shower the Bride-to-Be with These Adorable Beauty Products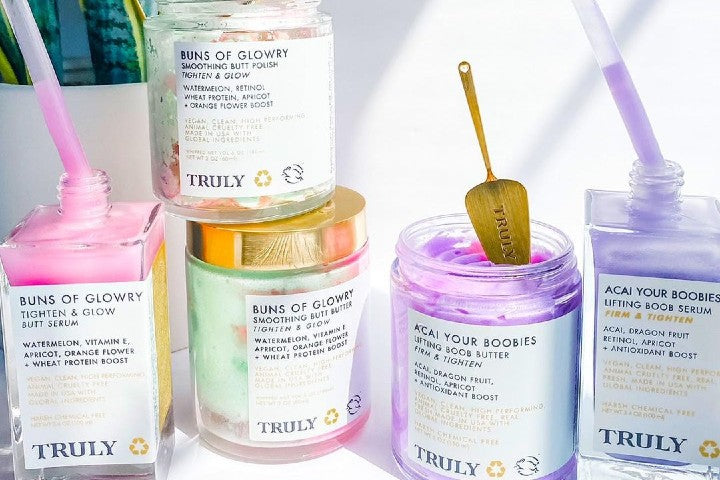 Wondering what to get the bride-to-be?
Forget the conventional kitchenware idea and opt for a few beauty goodies instead.
The bridal shower is the place to shower the bride with gifts and make her feel special. It's also a time to chill out, unwind, and enjoy time together -- while celebrating the upcoming nuptials, of course.
To show the bride how much she means to you before her big day, we've got some super cute beauty-inspired bridal shower gift ideas for you to choose from that we know she'll love! No shower for the bride? Gift one of them to her on her bachelorette party instead.
Truly's Unicorn Fruit Eau de Parfum
Whether you're maid of honor, a bridesmaid, or just a regular guest, one of the best gifts you can give a bride for her bridal shower is a wonderful, luxurious, succulent perfume.
Lucky for you, we've got the perfect bridal shower perfume: Truly's brand-new Unicorn Fruit Fragrance. 
Featuring fruity notes of acai berries, matcha, and rose, this sweet, signature scent is ideal for a summer or fall wedding when she's looking for something a little more lightweight and floral-fragranced.
Truly's Deluxe Body Bundle
Give the bride an easy and unique way to enjoy a self-care session with this 4-step curve perfecting kit designed to pamper, brighten, and tighten her lady lumps.
Inside, she'll find a butt polish and serum, and a boob serum and butter -- the butt and boobie skincare routine she never knew she needed (or wanted!).
Retinol in our Acai Your Boobies products spurs cell turnover, promoting tighter, brighter, and plumped up skin. Watermelon and wheat protein in our Buns of Glowry products fill out fine lines and hollowness while fading discoloration.
Slathered in these sweet-smelling, skin-softening products, the newlyweds won't be able to keep their hands off each other!
Truly's Glow Up Kit
With all the wedding planning, the bride is bound to be a little frazzled. Give her a few essentials to enjoy a spa-like experience from home. It could be anything from bath bombs to essential oils to a bottle of bubbly. Another excellent choice: our Glow Up Kit.
It features a glow-enhancing mask, serum, and acne patches, all perfect for promoting radiant skin and addressing those last minute pimples. It's a wedding gift or bridal shower present she'll definitely appreciate.
You could also get extra creative by making her a gift box or filling up a cute tote bag with these products. 
Truly's Skincare Travel Pouch
Gift her something she can use to stay organized on her wedding, honeymoon, and future vacations. Made of vegan leather, it'll keep all her grooming essentials perfectly organized and is pretty enough to use as a wrist purse. She can also use it as a makeup bag if she's already got a designated place for her toiletries. 
Truly's Smooth Legend Shave Kit
Every bride wants silky smooth legs on her wedding day. Especially on her wedding night when she slips into her lingerie -- she wants a bod her guy won't be able to resist.
The one stop shop for the smoothest shave of her life? Truly's brand-new Smooth Legend Shave Kit. Approved by YouTube star and model Amanda Cerny, this 3-step shave kit features our Smooth Legend Pre Shave Scrub, Happy Hairless Shave Butter, and Glazed Donut Shave Oil to exfoliate, hydrate, and treat ingrowns. And it ticks all the boxes for irritation-free, smooth to the touch skin. 
For a limited time only, you can get a complimentary 5-bladed magnetic razor and fuzzy pouch to store all your luxe shaving goods.
Truly's Unicorn Bundle
Show the bride how special and unique she is with Truly's Ultimate Unicorn Bundle. 
It features our iconic candy-scented body butter, a lip plumping balm, and a hydrating hair mask for head-to-toe pampering.
Unicorn Fruit Whipped Body Butter contains vegan collagen, which makes the skin appear brighter and more youthful. Unicorn Lip Balm is a minty-shea pout plumper, which hydrates and volumizes your lips. Unicorn Locks Hair Repair Mask is loaded with avocado, promoting soft, shiny, healthy hair. 
They're everything she needs to look and feel amazing on her special day, wedding party, and honeymoon.
Truly's Rose Gold Hair Comb
It's the perfect bridal party gift for the bride with long hair! 
Oh yeah, and it also helps that it's sooo pretty. She'll love using this cute detangling comb. 
And this doesn't just need to be a gift for the bride. If you're the one hosting the wedding shower, how about giving your guests a bridal shower favor in the shape of this pretty pink comb. 
Truly's Space Candy R&R Bath Rocks
If there's one thing that the bride-to-be needs right now, it's a stress-soothing bath. 
What better way to remind her to run herself a bath than with these stimulating mineral bath salts? Featuring a blend of natural healing salts, botanical infusions, and essential oils, she can quite literally soak her stress away with these bath rocks. 
They'll also turn her bath blue, soothe muscles, and stimulation circulation.
A Truly Gift Card
Not sure what to gift the bride ahead of her special day? 
It's not exactly the most creative idea that ever existed, but it is the thought that counts: a Truly Gift Card.
It's the perfect gift for anyone who's stuck for time or unsure of the bride's tastes. Simply choose the amount you'd like to credit it with, and let the bride pick what she wants.
Forget Etsy, Amazon, and DIY gifts. You'll find some of the most unique and adorable beauty gifts on our store. 
If you're maid of honor, why not also lend your help creating and sending the bridal shower invitations, preparing brunch, designing place cards, and performing other wedding favors? The best wedding shower presents really are the ones that come from the heart and with good intention.
Share
---