Skincare Wrap up 2021: What We've Learned in Beauty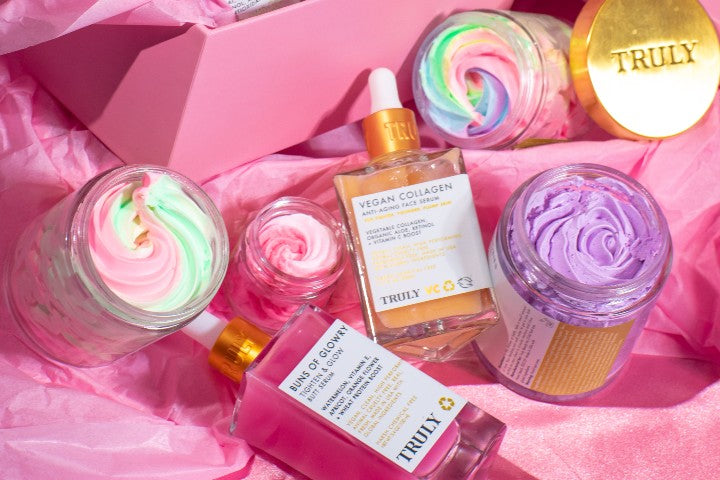 This year, we've seen a number of beauty trends cropping up -- IRL, on TikTok, and in beauty mags and blogs. The question is, which ones are here to stay and which ones should go away -- for good?
Here, we give you a skincare wrap up of 2021 to show you which ones get our thumbs up and which ones get our thumbs down.
BEST SKINCARE TRENDS OF 2021
Skinimalism
At the end of last year, Pinterest predicted one of 2021's biggest beauty trends would be skinimalism. Skinimalism focuses on adopting minimalistic skincare routines and accepting your natural skin texture. In other words: streamlining your skincare regimen from a dozen skincare products or more to three or four high-performing products.
"Whether you're embracing less makeup, and showcasing your natural skin instead, or perhaps just using smarter products that minimize the number of steps in your regimen, this trend takes us in the right direction," says board-certified dermatologist Dr. Rachel Nazarian.
Choosing the things that actually work for your skin and yield results makes much more sense than simply slathering on layer after layer of acids, serums, oils, and moisturizers.
Embrace the routine yourself with Truly's 4-Step Vegan Collagen Skincare Bundle. All products featured in this bundle contain powerhouse active ingredients such as retinol, vitamin C, and vegan collagen.
DIY Face Masks and Scrubs
Since the pandemic, we can all admit to having way more free time on our hands. If you're anything like us, you've probably been spending the occasional few hours whipping up various skincare treats. Good for you! There's no better time than now to invest your hours into wellness. Your skin, health, and mental wellbeing will all benefit!
Over on TikTok, we've seen everything from homemade face masks with natural yogurt to DIY scrubs and exfoliators. While these can definitely be beneficial for the skin, avoid using abrasive exfoliating ingredients like coffee grounds and walnut shell on your face, as they can cause tears on the skin.
Elevated Bath Products
Everyone's stress levels hit a major high in 2020 due to the pandemic, and for some of us, that stress continues throughout 2021. No wonder beauty brands are elevating their bath products! We all could do with the release...
Truly's Moon Bath Essentials Set centers around relaxation. Formulated with a calming blend of ashwagandha, eucalyptus, and lavender, this body cleanser/spa mist duo soothes the skin and mind, reduces redness and inflammation, and promotes head to toe relaxation. Our Space Candy Mineral Salt Bath Rocks can also help soak your stress away thanks to its unique combination of natural healing salts, botanical infusions, and essential oils to calm the mind and body.
Clean Beauty
Clean, sustainable beauty products continue to be popular throughout 2021. Luckily for you, Truly is committed to providing you with clean, cruelty-free skincare. Take a look through our range of products and take your pick from hydrating serums to self-care accessories and hair care formulas. 
Over the last few years, the beauty industry has seen a huge inflation in beauty brands embracing sustainability in their products. And that goes beyond skincare. You'll also find clean, sustainable eyeshadows, foundations, manicure products, and even hair colors. 
WORST SKINCARE TRENDS OF 2021
Soap Brows
While this TikTok skincare trend isn't necessarily dangerous, derms advise against it to prevent causing skin irritation. The idea is to use a bar of soap to groom your brows in an easy and affordable way. 
The trouble is, some soaps can be extremely drying and not at all good for certain skin types. 
"People who have very sensitive skin may find this too irritating since the soap will be in contact with your skin for an extended time," explains dermatologist Dr. Toni Stockton.
This could lead to a range of skin concerns including dry skin, rashes, itching, and bumps. You may be safe using a mild glycerin-based soap, but avoid harsh foaming agents or fragranced soaps at all costs.
Another downside to the soap brow trend? The technique could lead to brow hair loss.
Sunscreen Contouring
Of all the silly skincare tricks we've witnessed on TikTok, this one's got to be the silliest. 
With how much dermatologists stress the importance of daily SPF application, there's no way we can give our approval on this. Wearing sunscreen on certain areas of the face and body doesn't give your skin the full protection it needs, leaving it exposed to ultraviolet rays (UV rays) and potential sun damage.  
It is necessary to wear sunscreen every day, all over -- regardless of the weather -- because UV light penetrates even through clouds. By failing to wear sunscreen or not covering yourself adequately with it, you are subjecting certain areas of your skin to premature aging. That means bye-bye youthful, glowing skin!
Slugging
All the influencers are slugging their skin, but is it actually any good? Some derms say it can be, while others insist it's a recipe for breakout-ridden, oily skin.
In case you don't know, slugging is the process of coating your face in Vaseline, aka petroleum jelly, to prevent water loss and aid a damaged skin barrier. Over on TikTok and other social media platforms, everyone from makeup artists to influencers swear by this skincare tip for hydrating the skin and locking in moisture.
While it certainly can be effective if you have normal or dry skin, those with oily skin or prone to pimples are much more likely to worsen then symptoms with slugging.
It's far better to add a product designed for the face, like Truly's Cream Skin Moisturizer, to your beauty routine. 
2021 definitely was an exciting year for beauty. From skinimalism to slugging, fancy bath products to soap brows, there's been both good and bad. But for the most part, it's been good.
Wondering what's to come in the new year? Us too! Stay tuned to hear Truly's predictions for 2022 beauty trends! 
Share
---