Spa Level Skincare At Home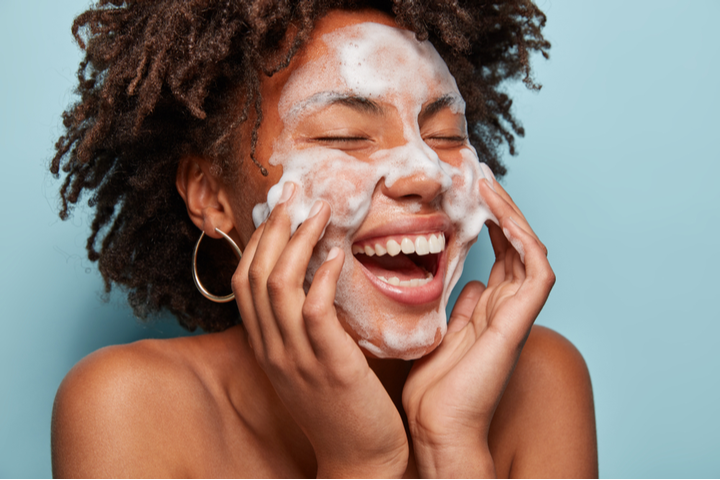 Been a while since your last professional facial? Same!
Luckily, there are ways to bring the spa – and all its skin-transforming ingredients – to your home.
There's a reason your skin looks incredible after a day at the spa. It's because the spa industry utilizes natural, calming ingredients that are great for the skin.
Think coconut, lemongrass, honey and all that good stuff. Aside from edible ingredients, high-performing AHAs and BHAs are also implemented to address various skin concerns.
Let's take a look at the best spa-grade ingredients with spa-level results.
BEST SPA-GRADE INGREDIENTS TO SLIDE INTO YOUR SKINCARE ROUTINE
If you want to bring the spa experience to your home, try incorporating some of the following ingredients into your skincare regimen. At Truly, all our products are formulated with similar, natural ingredients to boost clean, sulfate-free skincare. Here are just a few of our favorites:
Aloe Vera
This natural plant, often found in face masks and cleansers, can fight acne, prevent dark spots, and treat aging skin.
"Aloe vera is a cactus-like plant known for its healing and medicinal properties," says dermatologist Joel Schlessinger, M.D. "Its stems store water, creating a clear, gel-like substance in the leaves, which contains vitamins, antioxidants, minerals, and amino acids."
Known for its soothing effects (take that, sunburn!), aloe vera's effects go beyond banishing redness. It can also add moisture, treat cold sores, and lightly exfoliate the skin.
Try Truly's Aloe-Formulated Super Matcha Facial Cleanser to wash away blemishes without drying out your complexion.
Hyaluronic Acid
Next up, the skin-hydrating powerhouse, otherwise known as hyaluronic acid.
When used in skincare products, hyaluronic acid delivers moisture to the surface of your skin, instantly plumping fine lines and making the skin dewy.
"Because of its ability to draw and hold water, it can be used as a humectant in your skin care regimen," says dermatologist Dr. Rachel Nazarian. "It continually keeps skin moisturized throughout the day."
So if you're struggling with dryness, dullness, or aging skin, hyaluronic acid could really help out.
"As a topical [product], as long as it is in the right formulation, it will make the skin appear more dewy and younger because it improves skin elasticity," says skincare expert Dr. Kavita Mariwalla.
Harness the powers of hyaluronic acid with Truly's Flower Child Face Cream.
Glycolic Acid
Another popular spa facial ingredient, glycolic acid, is an alpha hydroxy acid (AHA) that gently exfoliates the skin. That's why you'll often find it in facial peels and masks.
"It's one of the most potent alpha-hydroxy acids that help to exfoliate superficially while also stimulating deeper collagen production," explains Dr. Shereene Idriss, a board-certified dermatologist in New York City.
As an exfoliant, glycolic acid can treat a host of skin conditions such as acne, pigmentation, scars, and even wrinkles. In fact, clinical trials demonstrate the effectiveness of this ingredient in reversing the signs of aging and improving skin elasticity and hydration.
To get your daily dose of glycolic acid, add Truly's CBD Jelly Toning Solution into your skincare routine.
Coconut Oil
Coconut oil is loaded with lauric and linoleic acid, making it a highly effective moisturizer to treat and prevent dryness. It also possesses antimicrobial properties, which can help eliminate bacteria on the skin and soothe inflammation. That's why it tends to come in calming body creams and masks.
"Instead of using it to moisturize your face, which can cause breakouts, you can use it as a moisturizer for the body because it's rich in fatty acids and has both antibacterial and anti-inflammatory properties," says board-certified dermatologist, Joyce Park.
We can't get enough of Truly's Coco Rose Fudge Whipped Body Butter for neck to ankle floral-scented hydration.
Eucalyptus 
Eucalyptus is practically synonymous with spa. You smell it, you feel it, you breathe it, as you enjoy every moment of your spa session.
Well, you can replica all those wonderful sensations in your own bathroom by bringing eucalyptus into your skincare regimen.
Eucalyptus is used for its antioxidant, anti-inflammatory, and antimicrobial properties, with dermatologists saying it can ease redness and irritation and speed up wound healing.
"Lab studies have shown that eucalyptus oil may increase ceramide production to keep the skin moisturized, reduce inflammation, and prevent UVB-induced collagen degradation," says dermatologist Y. Claire Chang.
For an intense spa experience, spray Truly's Moon Shower Adaptogen Spa Mist into your shower.
Tea Tree Oil
"Tea tree oil's natural antibacterial properties make it a great acne spot treatment," explains dermatologist Dr. Sonia Batra. "You can mix a drop of tea tree oil with 12 drops of a carrier oil such as rosehip or argan oil, and use a cotton ball to dab the mixture onto pimples."
Studies show that tea tree oil reduces both inflamed and non-inflamed pustules associated with acne.
"Allow the solution to stay on your skin for a few hours or overnight then rinse your face with warm water," she advises. "This treatment can be repeated daily and should help stop breakouts."
Alternatively, use a tea-tree-formulated spot-on treatment like Truly's Black Jelly Blemish Treatment Body Serum.
Blue Tansy
There's just so much to love about this blue-tinted skincare dazzler.
Part of the chamomile family, blue tansy's a flower native to Morocco and used to treat a variety of skincare concerns.
"Blue tansy's a magic ingredient for a lot of people," says esthetician Amity Spiegel. "It's got antioxidant and anti-inflammatory properties, so you see it used to calm the skin, reduce heat, and relieve delicate or troubled skin."
No skin issues to worry about? No probs.
According to Spiegel, "Everyone can benefit from using blue tansy because of all the antioxidants."
Lavish your skin in all the benefits of blue tansy with Truly's Moon Rocks Whipped Body Scrub.
Spa days may feel like a faraway dream right now, but don't let that stop you from enjoying the spa experience at home. You'll have just as much fun – and save yourself some serious bucks doing it!
Try incorporating the above spa-level ingredients into your beauty routine for results you'd only normally get from a day at the spa.
Share
---