Swap Oompa Loompa for Sunkissed: How to Self-Tan Your Face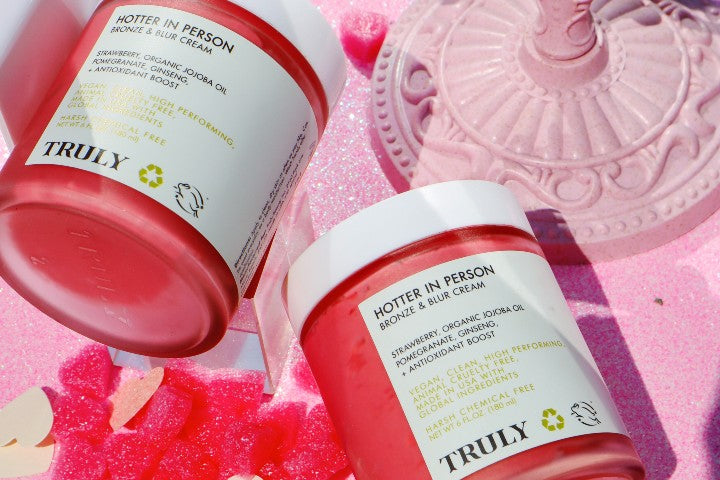 When it comes to self-tanning the face, it's easy to feel intimidated. Perhaps it's your first time and you have no idea where to start, or maybe the last time you slathered a bronzing agent on your face, you wound up looking like an oompa loompa.
Self-tanning disasters can happen, but they won't if you're prepping your skin properly and using a high-quality tanning product.
Ahead, we show you everything you need to know to achieve a natural-looking facial tan with none of those oompa loompa vibes!
FIRST, CHOOSE YOUR SELF-TANNER
First, start by choosing the right formula.
From tanning mousses to creams and mists, your choices certainly aren't limited.
We love Truly's Hotter in Person Bronze + Blur Cream, a luxe face + body cream formulated with ultra-hydrating jojoba oil, brightening strawberry, naturally bronzing DHA, and gold shimmer for a subtle, gradual tan without UV exposure. This cruelty-free self-tanning product will give you that gorgeous golden glow — minus stripes, streaks, and patchiness. It'll also illuminate your skin tone and blur out any imperfections like dullness, blemishes, and uneven texture.
Spray tans are another option, but they can be a little on the expensive side. If you're looking to maintain an affordable year-round tan, try a sunless tanner like Truly's.
HOW TO SELF-TAN YOUR FACE IN 7 STEPS
Step #1: Clean Your Face Thoroughly
Base matters A LOT when it comes to nailing the facial fake tan. Don't apply self-tanning product until your face is completely clean and oil-free. If there's product on your skin, you may end up with a streaky, patchy tan — the kind nobody wants! Especially on their face!
Opt for a gentle, invigorating cleanser that won't dry out the skin like Truly's Super Matcha Facial Cleanser.
Step #2: Exfoliate the Day Before
To achieve a fabulous faux glow, always remember to exfoliate the day before you tan, as this will help buff away excess oils and dead skin cells, ensuring your canvas is smooth and clean for seamless results. Exfoliating should never be missed if you're planning on self-tanning. Otherwise you could end up with a patchy tan.
Use an exfoliating cleanser or scrub, like Truly's 24k Gold Black Soap Impurity Cleanser. Apply using gentle circular motions — and avoid scrubbing the skin, as this might cause damage and irritation.
Step #3: Skip the Oils and Heavy Lotions
After washing your face, it's best to leave your skin bare if you're following up with a sunless tanning cream or mist. Whatever you do, don't apply facial oil. Oils break down self-tan, causing it to separate and lead to an uneven tan.
Experts also warn against wearing thick, heavy creams and lotions, which can also interfere with the end result. If you're hoping for an even, natural tan, it's best to keep your skin clean prior to tanning. That way, nothing can affect the product and the outcome.
Step #4: Dab a Little Moisturizer onto Dry Patches
If you have dry skin, lightly moisturize around the nostrils and dry areas of your face. This will prevent your tanning product from sticking in those areas, which could lead to an uneven tan.
Avoid applying too much, or using a rich and heavy formula which could interfere with your bronzer's effects, causing patches and streaks.
Choose a lightweight, hydrating formula like Truly's Cream Skin Face Moisturizer.
Step #5: Apply Your Self-Tanner
Now to get your natural glow...it's best to follow the instructions on the packaging when applying your tan. Whether it's a cream, mousse, drops, or tanning lotion, you'll want to start by looking at the instructions as different formulas can work differently and require different quantities for application.
For a mist, the pros recommend holding the bottle about three to four inches away from your face and spritzing down the center and sides of the face using a downward motion. If you're using a cream or lotion, apply it just like you would your daily moisturizer. Don't forget to cover the entire face including the ears, neck, and hairline. They're the areas people commonly forget, but it's essential that you apply tan there too to secure a seamless sunkissed glow.
MOST IMPORTANTLY: stick to one layer and one layer only.
"Repeat after me, two coats on the body, one on the face," says tanning expert Jules Von Hep. "Faces that have too much self-tan on them look unnatural." Got it!
Step #6: Customize Your Tan
Next up: contouring, or "Tantouring" as it's commonly known. This savvy little tanning tip is a great way to make your facial tan appear more dynamic and even more natural.
For contours, the experts recommend applying your self-tan with a makeup brush or blender
"Take your brush or blender and, in the same way you apply your make-up when contouring, you will apply your self-tan: Under the cheekbone and onto the apples of your cheeks, then onto the temples and down the sides wrapping around under the jawline," says Sophie Evans, the ambassador for St. Tropez.
Step #7: Keep Wearing Your SPF!
While you might be beaming with natural glow, don't forget to layer on facial sunscreen to protect your skin from harmful UV rays and pollution, which can lead to premature signs of aging and even skin cancer. Choose a sunscreen with an SPF of at least 30 — go higher if you have pale skin.
And try to avoid harmful methods of tanning like sunbathing and tanning bed treatments. Besides accelerating signs of aging and putting you at risk of skin cancer, they can also cause unwanted pigmentation issues. And in the meantime, follow a nourishing skincare routine.
DIY face tanning isn't that hard really. All you need are a few good products and the patience to perform a little prep. It's important to give yourself plenty of time when you self-tan at home. Rushing could end up costing you your dreamy, golden glow.
So, set yourself at least 30 minutes, go gather your things, and get that glow on girl!
Share
---