The Art of Skinimalism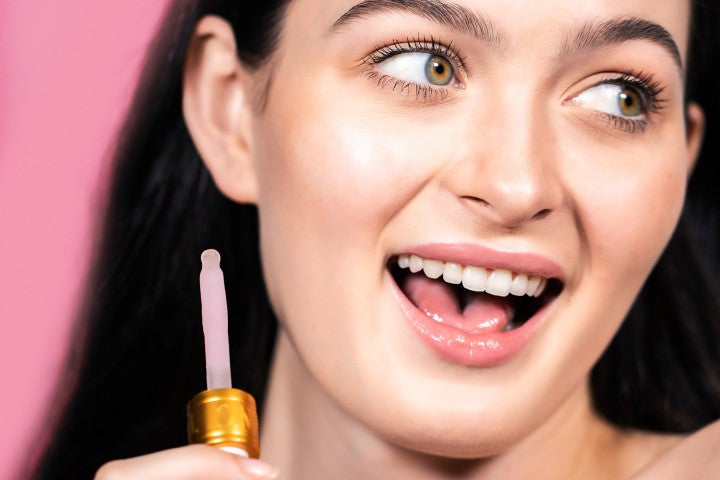 According to a Pinterest report, "skinimalism" is 2021's biggest beauty trend. 
Erm...explain...
"It's the end of the cake-on make-up look," the report states, pointing out that we'll be embracing slow beauty and creating "dewy, natural beauty looks that look great on camera and video calls." Effortlessly chic, sustainable, and simple...what's not to love about this 2021 skincare trend?
If you love the idea of paring back your skincare routine in favor of something more laid back (yet still effective!), skinimalism is for you. See, skinimalism is all about embracing your complexion regardless of imperfections and without relying on filters and full-coverage foundation to feel complete. To skinimalize is to minimize!
Ready to hear more? Read on...
WHY IS SKINIMALISM TRENDING?
Only recently, people believed in the power of 12-step skincare routines for healthy, glowing skin. Since the pandemic, beauty routines have shifted to a more minimalist approach, and that flourished into what we now know as skinimalism. 
However, while the pandemic may have played a part, dermatologist Dr. Joshua Zeichner believes it's more an act of rebellion against the face tuning and filtering overtaking social media.
"The idea is not to use excessive products and not to hide or alter your natural skin," says Zeichner. "It is a positive movement focusing on skin health and embracing the skin you're in. With a less-is-more approach, you can give your skin what it needs without worrying about hiding any flaws."
Are you looking to strip back your skincare routine in favor of something skinimalist-friendly? We've put together a little guide for you to show you what you need versus what you don't. 
SKINCARE ROUTINE STEPS YOU CAN DROP
First off, let's start by establishing the skincare products and steps you can do without. Because whatever people are telling you, you really don't need a dozen steps to achieve beautiful skin.
Toner
Toner is an added bonus in any skincare routine, but it's certainly not an essential. Obviously, if you feel like your toner drastically helps in your daily regimen, by all means, don't eliminate it. But if it's just something you do that doesn't make much of a difference, we're here to tell you it's okay to drop it. Provided you have a good, gentle cleanser on hand, that should be enough to keep your skin happy.
A Heavy Overnight Face Mask
Approaching skinimalism involves taking an honest look at your current skincare regimen and determining what's working and what isn't. For instance, let's say you have acne-prone skin and you're applying heavy overnight masks - that's one step you could easily do without. In fact, it would probably improve your complexion, as heavy moisturizers and masks can clog your pores and worsen breakouts. You can still keep your skin hydrated by applying a lightweight mist or face cream. 
Foundation
Okay, so maybe this isn't a skincare ingredient exactly, but it probably comes after your morning cleanse and cream, right? If you want to embrace the art of skinimalism, master the no-makeup look. That means skipping foundation in favor of effective beauty products that'll give you a natural glow up. You can still wear a swipe of mascara and lipstick, but try to keep your pores clear by forgetting the foundation.
A SKINIMALISM SKINCARE ROUTINE
Some people might get away with a few splashes of water, but the majority of us still need a few essentials to maintain clear, glowing skin. Here's what you need to master the art of skinimalism - in just four steps!
Cleanser 
The first step in any skincare routine is cleansing - and it's essential for removing dirt, grime, and pollution that's built up on the skin's surface throughout the day. Besides keeping your skin clean, starting with a clean, fresh foundation enables other products to penetrate the skin effectively. A dirty foundation may compromise that. 
Select a cleanser that's suitable for your skin type to ensure you get the best results from it. 
Serum
Serums contain active ingredients that address various skin concerns. Retinol, for instance targets aging skin, whereas vitamin C is an antioxidant that offers brightening effects. 
Select a serum based on your skin's needs.
Moisturizer
A lightweight daily moisturiser can keep your skin's hydration levels in check and ward off dryness. In addition to hydrating your skin, moisturizers help lock in the active ingredients applied previously from the serum. 
Select a moisturizer that's lightweight and nourishing. 
Sunscreen
The final step in a skinimalist's skincare routine - SPF, of course! To shield your skin from the sun and its damaging effects on the skin, sunscreen is your daily staple. It's not just a beauty tip - it's a beauty essential!
SKINIMALISM SKINCARE BUNDLES
Ready to embrace skinimalism? Then you're going to need a few essentials to get started. Below, we've got the best skincare bundles for every skin type.
Got Acne-Prone Skin?
You'll Need: Oily Skin Kit
Inside, you'll find an anti-blemish facial cleanser, CBD glow serum, whipped face scrub, and super star acne patches to clear up your skin in no time.
Got Dry Skin?
You'll Need: Dry Skin Kit
This bundle features a rosewater mist, face moisturizer, facial serum, and lip plumping balm to secure all-day dewiness. 
Got Aging Skin?
You'll Need: Vegan Collagen Skincare Bundle
Fight fine lines, wrinkles, and discoloration with this 4-step anti-aging kit featuring a collagen-formulated cleanser, serum, face mask, and body cream.
Got Dull Skin?
You'll Need: Glowing Skin Bundle
These brightening formulas will instantly illuminate your complexion and drive out dullness once and for all. The bundle features a rosewater-infused mist, retinol-formulated serum, and hyaluronic acid-containing face cream for a truly gorgeous glow.
Skinimalism may be trending in 2021, but it's a trend predicted to last way longer than the year. With more people embracing natural beauty as a form of self-care and wellness, skinimalism may even become a standard in skincare. Because honestly, the simplest skincare routines are often the most effective.
Share
---