The New Retinol: Bakuchiol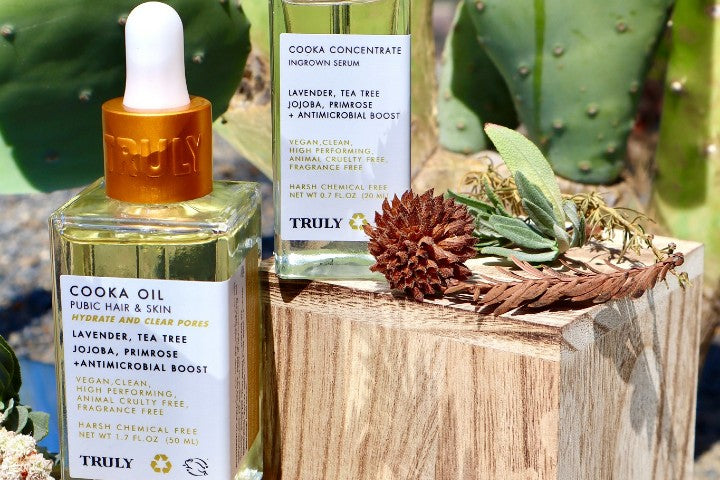 Are you curious about bakuchiol because you've heard it's a gentler alternative to retinol?
As much as we love (and highly recommend!) retinol for its fabulous slew of abilities ranging from smoothing fine lines to clearing up blemishes to hiking up collagen production, every rose has its thorns. And for retinol, those thorns are its potentially skin irritating side effects -- most frequently witnessed in sensitive skin types.
It's not uncommon for new retinol users to experience red, peeling, flaking skin after just one use. If you're one of those and you're looking for a less aggressive alternative to the vitamin A derivative, bakuchiol is your best bet.
Here's what you need to know about the anti-aging ingredient.
FIRST, WHAT IS BAKUCHIOL?
Pronounced buh-COO-chee-ol), this retinol alternative has strong roots in traditional Indian and Chinese medicine. The best part? It seems to really work.
Derived from the Indian babchi plant (officially the psoralea corylifolia plant), which is often used in Ayurvedic medicine, bakuchiol can remedy a host of skin conditions and improve texture, tone, tightness, and elasticity. 
According to dermatologists, this skincare ingredient can fade fine lines, brighten dull skin, hydrate dry skin, minimize the appearance of pores, and reduce hyperpigmentation.
Thanks to its anti-inflammatory powers, it's gentle on the skin, too, making it a soothing, natural alternative to retinol. It also boasts antibacterial and antioxidant properties which helps banish breakouts and prevents signs of aging. 
Yep, it's a pretty big deal. 
IS BAKUCHIOL AS GOOD AS RETINOL?
The significant benefit bakuchiol products have over retinol products is that they're more suitable for sensitive skin types. Because bakuchiol is a gentler alternative to retinoids, it's no doubt going to be the better option if you're prone to itching, irritation, or rosacea.
Bakuchiol brings the power of retinoids to everyone safely without any of the negative side effects," says skincare expert Ole Henriksen.
On the other hand, if you're seeking something stronger with more clinical evidence supporting its anti-aging abilities, then retinol is likely the preferable choice. 
On that note, a study from 2018 published in the British Journal of Dermatology found that when they compared the effects of 0.5% solutions of the two ingredients, the results were very similar.
According to the study's authors: "Bakuchiol and retinol both significantly decreased wrinkle surface area and hyperpigmentation, with no statistical difference between the compounds." Adding, "The retinol users reported more facial skin scaling and stinging."
They concluded that "bakuchiol is comparable with retinol in its ability to improve photoageing and is better tolerated than retinol... [it] is promising as a more tolerable alternative to retinol."
BENEFITS OF BAKUCHIOL
To sum up, here are the benefits of using bakuchiol in your skincare routine:
Blurs Fine Lines and Wrinkles
Like retinol, bakuchiol encourages skin cell turnover and boosts collagen production to plump your skin and reduce the look of fine lines and wrinkles. 
Evens Skin Tone
Bakuchiol penetrates the skin, lessening the appearance of dark spots or areas of hyperpigmentation on your face. 
Improves Skin Texture
Bakuchiol smooths out roughness for a nice, smooth complexion. 
Soothes and Heals
Because this natural retinol alternative promotes cell turnover and cell regeneration, it helps soothe and heal your skin, making it ideal if yours is a bit on the sensitive side.
Doesn't Cause Dryness
Retinol skincare products can be extremely drying to the skin. Bakuchiol, on the other hand, is more gentle and less drying. So if you've got dry skin, you won't have to worry about this ingredient drying you out further.
Safe to Use Daily
Since bakuchiol is gentler than retinol and less irritating, you can use it both during your morning and nighttime routines. You don't need to adjust your skin to your new bakuchiol serum. You can start applying it as frequently as you like from the very beginning.
Safe to Use During Pregnancy
Studies have shown that taking vitamin A in high doses during pregnancy or even applying it to your skin can cause problems in pregnancy or breastfeeding.
So where does bakuchiol stand in all of this? While some experts say there's not enough evidence to confirm either way, others rule it as perfectly safe to use during pregnancy. 
IS BAKUCHIOL A BETTER ALTERNATIVE TO RETINOL IF YOU HAVE SENSITIVE SKIN?
Yes.
If you're noticing your retinol serum or facial oil leaving you red and flaky, you could try mixing it with a hydrating, gentle moisturizer to dilute it and make it less potent. 
However, if it's becoming an issue and nothing seems to improve it, we recommend switching to bakuchiol. 
It offers the same firming, acne-fighting benefits as retinol, but it's a little less intense and not so aggressive on sensitive skin.
Try Our New Bakuchiol-Formulated Cooka Line
After hearing all the good stuff about bakuchiol, we knew we had to create a new product formulated with this buzzing ingredient. What we came up with...
Cooka Concentrate and Cooka Oil, two skincare products designed to provide hydration, reduce redness, and offer relief pre and post bikini shave. 
These products are both formulated with lavender, tea tree, jojoba, primrose, and bakuchiol to relieve inflammation, visibility smooth, combat ingrowns, and promote an even skin tone.
There always seems to be a trending skincare ingredient. Whether it's vitamin C or hyaluronic acid, jojoba seed oil or glycolic acid, there's always something buzzing in the beauty industry.
Now it's bakuchiol. And there's definitely a good reason to rant and rave about it -- it offers retinol's skincare superpowers without the irritating side effects, making it perfect for sensitive skin!
You'll find it in a range of products including oils, serums, face creams, night creams, body lotions, and eye creams. Just remember to follow up with sunscreen (spf 30) to keep your skin safe and protected!
Share
---