Time to Try TikTok's Vanilla Girl Trend!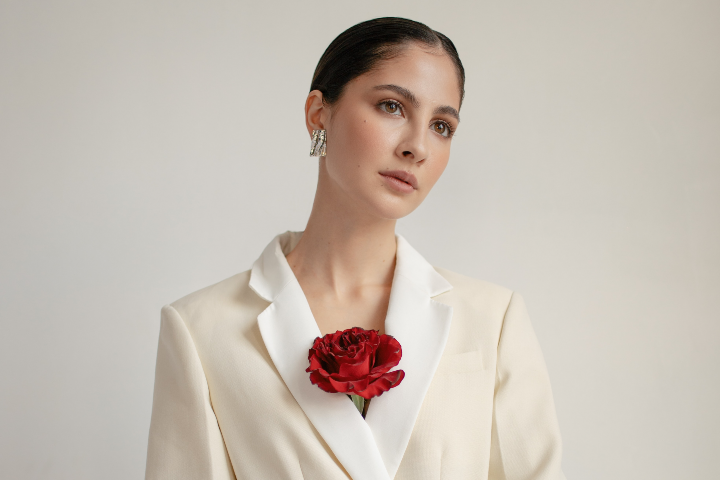 Last year, we saw an influx of trends ranging from Hailey Bieber's glazed donut manicure to the clean girl aesthetic sported by almost every influencer out there.
This year, it's all about the vanilla girl aesthetic, and we can expect to see the TikTok trend grow hotter throughout 2023.
Taking inspo from the cold weather and desserts, the vanilla girl trend is a surprisingly snug and simple aesthetic which includes everything from vanilla ice cream-inspired outfits to cute knits and sheeny skin.
Here's everything you should know about this viral TikTok trend, and how to embrace the vanilla girl lifestyle. New year, new aesthetic, right?
What's a Vanilla Girl?
The "vanilla girl" represents timelessness, minimalism, and sophistication.
A vanilla girl wakes up in white fuzzy PJ's, starts her day with an iced latte, and then dresses up in cozy cable knit sweaters before she heads off to work. When she comes home, she swaps out her luxe daywear for plush pants and pointelle tank tops.
Being a vanilla girl isn't just about wearing as much cream, beige, and white as you can possibly imagine. Just look at social media, and you'll see a slew of tutorials for vanilla girl makeup, as well as videos showing off luxe, beige interiors scattered with dessert scented candles.
How to Dress Like a Vanilla Girl
The vanilla girl aesthetic leans into luxe, cosy minimalist pieces to achieve a wholesome yet stylish look. Think off-white-cable knit jumpers, airy linen shirts, cashmere cardigans, and oversize cream coats. To pull off the vanilla girl look, focus on wearing different shades of the same color and sticking to cosy, tactile textures. You can even throw in a lacy bralette to add a little sexiness to your look.
"The key is to pick differing shades of cream to break up the look," says Charlotte Johnson, a buyer at Pour Moi and an expert in the vanilla girl trend. "Beige, caramel, gold, light pinks, rose golds and nudes are perfect vanilla girl shades to bring into your outfits."
You'll find plenty of vanilla girl vibes on your for you page. Since there's so much hype around this trend, you won't be short of ideas!
How to Get Vanilla Girl Skin
A vanilla girl boasts fresh, gleaming skin. She doesn't need foundation to reveal her glow — because it's already there! If we had to guess which Truly skincare products a vanilla girl would use, they'd probably be...
Cake Maker Cream
Ceramides, plant collagen, and yup — vanilla — all whipped up to create a freshly-baked formula that tightens and tones curves. Alongside vegan collagen's plumping action, vanilla lends its free radical fighting superpowers to deliver smoother, firmer, and younger looking skin while preventing fine line formation. This dessert-inspired formula is bound to be a vanilla girl fav.
Purple Rain Facial Serum
A vanilla girl's skin gleams. Recapture her glossiness with this resurfacing facial oil formulated with retinol and glycolic acid that help with uneven skin tone and texture while leaving skin luminous. It's also pretty talented at treating skincare woes like wrinkles, clogged pores, and discoloration.
Coco Cloud Moisturizer
We imagine a vanilla girl with glossy, sweet-scented skin. She slathers her entire body in lotion every day after showering to maintain her dreamy levels of dewiness. And the product she'd use for the job? Coco Cloud Moisturizer, a fluffy whipped swirl of coconut and vanilla to drench skin in long-lasting moisture while fending off dryness and irritation.
Dulce De Leches Polish
This skin refining polish of coconut milk, retinol, and cocoa butter is the ultimate lifting treatment for your tum and tatas. When a vanilla girl hops in the shower, we imagine her lathering up with this caramel-scented body polish that leaves her visibly brighter and tighter when she steps out.
Cake Maker Serum
Another vanilla-scented favorite, Cake Maker Serum is a skin tightening serum that utilizes the plumping powers of plant collagen and protective vanilla to lift, firm, and smooth your booty and legs. Plus, it helps blur the appearance of cellulite and stretch marks!
Gold Cake Server
Serve up your Truly swirls in style with this gorgeous Gold Cake Server. A cute little vanity accessory that makes skincare application way more hygienic.
How to Do Vanilla Girl Makeup
Vanilla girl makeup isn't a whole lot different to clean girl makeup. It focuses on minimal makeup and sheer swipes of colour across the eyes, lips and cheeks. Think powdery pinks and shimmery creams. It's not so much about looking glam as it is about embracing your natural beauty with a hint of color.
For a minimal makeup look, all you really need is a concealer, blush, highlighter, brow gel, eyeshadow, mascara, and lip gloss.
How to Live Like a Vanilla Girl
As far as we can tell, a vanilla girl lives a luxurious and highly organized lifestyle. Her home is clean, tidy, and filled with dessert-scented candles.
"Across the vanilla girl fashion aesthetic, understated and comfortable pieces are essential to nailing the look – cosiness is key," says a spokesperson for Secret Linen Store. "A vanilla girl's home should be a peaceful haven where you can relax at the end of the day." 
When it comes to giving your home vanilla girl vibes, include cozy fabrics, creamy, neutral shades, and gold accessories. It's all about combining luxury and simplicity – and it's especially perfect for the winter months.
Finally, spritz yourself and your room with Truly's Unicorn Fruit Eau De Parfum, which features a feminine base of candy floss and vanilla with light top notes of citrus, white floral and black currant. It's the go-to vanilla girl fragrance!
It's clear that TikTok's vanilla girl trend is going to get hotter throughout 2023. There's no better time to embrace your cozy knits, vanilla-scented skincare products, and dessert-scented candles than NOW.
Are you embracing the vanilla girl aesthetic? We'd love to see your pics!
Share
---