Trending: Microcurrent Facials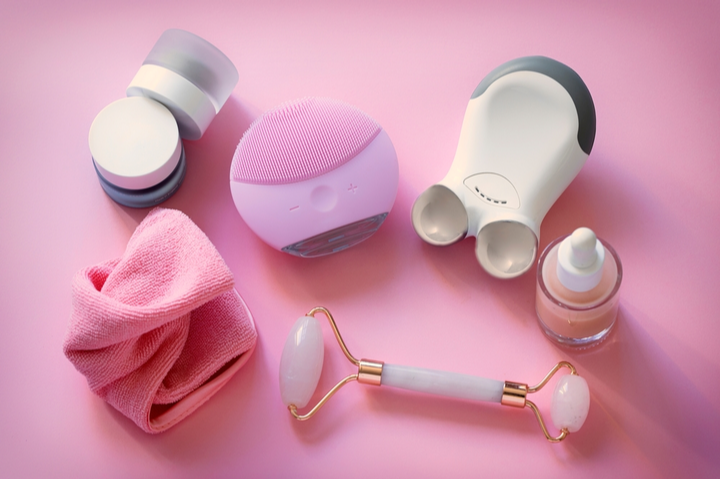 Microcurrent facials are the new kid on the beauty block. 
Deemed the "non-invasive facelift," microcurrent treatments promise to help with everything from anti-aging to brightening. They've been used medically since the 1980s, approved by the FDA as a treatment for Bell's Palsy. Once dermatologists and facialists realized how effective this skincare treatment was for improving sagging facial muscles, it quickly became an anti-aging tool.
Nowadays, you can book yourself in for a microcurrent facial treatment or invest in a home microcurrent device for yourself. Neither comes without expense. So is this aesthetician-loved skincare treatment as good as they say it is? 
Here's everything you should know about microcurrent facials, how they work, and the results you can expect.
WHAT IS A MICROCURRENT FACIAL?
A microcurrent facial stimulates the facial muscles for natural sculpting and lifting effects. The treatment involves cleansing, exfoliation, masks, serums, and a facial toning device, which help to tone the muscles in the face to stimulate collagen production for a tighter jawline and lifted cheeks and brows.
"A microcurrent facial consists of your esthetician moving small electrical probes around your face, which pass painless electrical current into the skin on your face and neck to help tone, lift, firm, and reeducate tired muscles," says celebrity esthetician Sarah Akram. 
She adds, "It stimulates your cells and promotes production of ATP (Adenosine triphosphate), a molecule found in our cells that stores and transports chemical energy which assists with collagen, elastin production, and cell regeneration."
Using three different currents, the device works to allow for toning and improved absorption of skincare products. 
BENEFITS OF A MICROCURRENT FACIAL
The anti-aging benefits are quite impressive. Here are a few of the effects you can expect to experience after one or several microcurrent facial sessions.
Increased Firmness
As you age, the muscles on your face start going south. To keep your skin looking youthful, you need to keep it fit. And the way to do that? By giving it regular workouts with microcurrent technology.
By using currents to stimulate the muscle, your face will start increasing in firmness.
"Results are the eyes will be lifted, the forehead gets tighter, and you'll see more of an 'awakened' look," says Carillon esthetician Nerys Rodriguez. "It also stimulates collagen, so you'll have a fuller look as well."
Collagen is the protein responsible for keeping skin firm and sculpted. With age comes loss of collagen. Microcurrent is proven to encourage the production of ATP, which leads to the creation of structural proteins like collagen. It also helps increase elastin in the skin.
Reduced Puffiness
Microcurrent facials also double up as a lymphatic drainage facial massage. It helps remove toxins, waste, and fluids, leaving your skin less puffy. It's an excellent treatment for those suffering with facial bloat. And it works in a little as one session. Think of it as a magic wand for zapping away facial puffiness.
Improved Skin Tone and Brightness
These innovative facials increase blood circulation in the face. At the cellular level, this enhances nutrient and oxygen supply which leads to a more radiant and healthier complexion.
Erased Fine Lines
Thanks to the treatment's ability to repair and produce collagen in the dermis, this means it can erase signs of aging in the epidermis, fading fine lines and wrinkles. The overall result is healthier, youthful looking skin, no matter your age.
In addition to treating fine lines and wrinkles, microcurrent facials can also serve as a preventative for them. By keeping the blood flowing and collagen pumping, fine lines should not surface on the skin. Plus, it's a great, pain-free alternative to Botox and fillers.
HOW TO DO A MICROCURRENT TREATMENT FROM HOME
First, you'll need to invest in a quality microcurrent facial device. The most famous and most recommended is the NuFace Trinity Facial Toning Device. Other good ones include Foreo Bear Microcurrent Facial Toning Device and ZIIP GX 2 piece. 
The entire process includes cleansing, exfoliation, serums, and masking along with the microcurrent treatment. Here's how to do a microcurrent facial at home:
Cleanse
Remove the day's dirt, grime, and oil with a refreshing cleanser like Truly's Super Matcha Facial Cleanser. It's the first step to prepping your skin for a microcurrent treatment. 
Exfoliate
Next, slough away dead skin cells and excess oil with an invigorating yet gentle exfoliant like Truly's Matcha Face Scrub. Exfoliation is essential for enhanced skincare product penetration. Make it part of your skincare routine to maximize the effectiveness of your serums and moisturizers.
Use the Tool
Apply a thin film of a conductive gel on your skin, then run the microcurrent device across your face, staying put for a few seconds before repeating and moving to the next area of your face. You should not feel any discomfort or pain. Do this for five minutes a day for best results.
Put on a Mask
Now is your chance to let your skin soak up the skin benefits of a nourishing, anti-aging mask like Truly's Vegan Collagen Face Mask. Apply it to clean, dry skin and leave it on for 20 minutes before rinsing. 
Apply Serum
The serum you use depends on the skin issues you're addressing. If you're looking for elasticity-boosting, skin-firming effects, slather on an anti-aging serum formulated with retinol, like Truly's Vegan Collagen Serum. If you'd like to enhance skin luminosity, pair your microcurrent session with a brightening serum like Truly's Mary Jane CBD Glow Serum. 
WHO SHOULDN'T DO MICROCURRENT FACIALS?
While microcurrent facials are generally suitable for all skin types, those with severe acne should avoid this procedure. If it's just a breakout here and there, that's fine. If your acne is aggravated, steer clear.
People with heart issues are not advised to get a microcurrent facial because it stimulates the blood. Pregnant women in their first trimester are also advised against undergoing this procedure.
All in all, microcurrent facials are an effective treatment for skin showing signs of aging such as fine lines, wrinkles, dullness, and sagging. Safe and virtually pain-free, they're a great alternative to anti-aging treatments like Botox, fillers, and microneedling.
Share
---