What's Trending in Skin Care?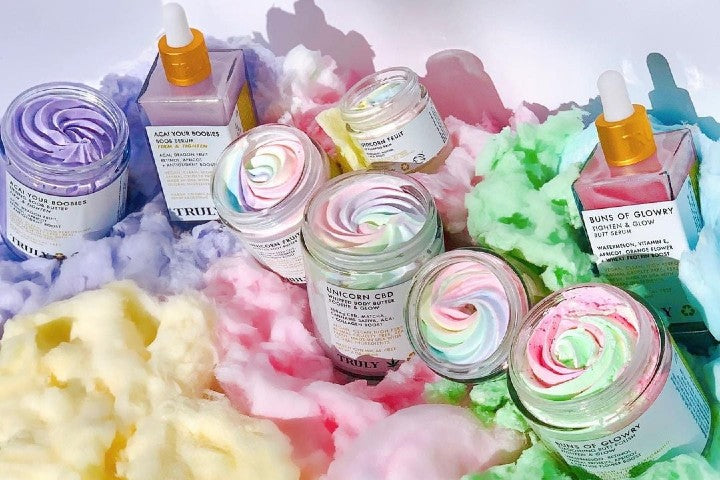 We all like to stay on top of trends – including skincare ones.
Each year, much like with fashion trends, new ingredients crop up that gain prominence and convince us of their skin-perfecting superpowers. But what's in store this year? And what's trending right now in skincare?
In 2021, beauty lovers are obsessed with everything from plant-based ingredients to inhalable products and much more. People are much more likely to book in-office skincare treatments, too, now that businesses are re-opening again.
From minimalistic regimens to DIY treatments, here's what's trending now in the beauty industry.
Celebrity Skincare
More and more celebrities are founding their own beauty brands. Everyone from Rihanna to Alicia Keys to Jennifer Lopez and even Pharrell. Naturally, we're completely buzzed by their lines – but there's no reason to FOMO! We can expect many more celebrity skincare lines to come this year.
"I expect more celebs will launch their own lines," says marketing consultant and co-founder of Face Flawless Skin Christene Carr. "With men's grooming rapidly rising in sales, there is room for another male-backed skincare launch this year. I would also like to see someone like Micheal B. Jordan in a partnership with Neutrogena, Kiehl's, or even Sheamoisture." Couldn't agree more!
Retinol & Vitamin C
Considered key players in the skincare world, retinol and vitamin C are two ingredients that are in high demand right now.
"2021 will be all about retinol and vitamin C," says dermatologist Marina Peredo. "These are not new ingredients, but they have been making a major comeback, especially among younger people. When retinol is combined with bakuchiol, AHA (alpha hydroxy acids), or antioxidants, it can help soothe the skin and avoid the irritation that retinol is known for."
If you're up to trying this skincare trend 2021 for yourself, try Truly's Vegan Collagen Bundle, which comes complete with four skin and body formulas made with retinol and vitamin C.
Peredo elaborates on the trend, "I also see vitamin C serums being a huge skin care trend in 2021. Vitamin C serums make skin look beautiful, plump, and glowy. It is also helpful for boosting collagen production and reducing inflammation, making the skin look young and healthy."
DIY Treatments
Last year, in spite of all the pain and confusion, we found some semblance of clarity in skincare: we can do most of it ourselves.
At the start of 2020, when dermatologists' offices were closed, everyone was utilizing natural ingredients to make their own beauty concoctions like face masks, etc. DIY skincare continues to be big throughout 2021 since it is not only cost-effective, but skin effective.
In-Office Treatments
While one half of us is experimenting with DIY skincare creations, the other half is rushing to book in-office treatments.
More people are eager to get out and enjoy professional beauty treatments like laser therapy, light therapy, and facials. This trend will no doubt continue for many months to come, now that people have the chance to go out and get pampered instead of having to do it themselves.
De-Stressing Skincare
If your stress levels hit an all-time high last year, relax, you're not alone. Everyone's did! As a result, our skin is paying the price. But not for long – with de-stressing skincare products, you can help chill your skin.
Look for products that utilize calming ingredients like rose, aloe vera, or chamomile.
Our favorite calming product picks include Truly's Moon Shower Adaptogen Mist and Truly's Super Matcha Facial Cleanser.
Make these products a part of your skincare routine to soothe your skin. It deserves some pampering and TLC! So show it some!
Skinimalism
Skinimalism – the act of embracing the natural skin and adopting streamlined skincare routines. This is what we're seeing everywhere right now.
"Simplifying your skincare regimen is a trend I'm supportive of," says board-certified dermatologist Dr. Rachel Nazarian. "Whether you're embracing less makeup, and showcasing your natural skin instead, or perhaps just using smarter products that minimize the number of steps in your regimen, this trend takes us in the right direction."
At Truly, we believe beautiful skin can be achieved with high-quality, clean products and minimal maintenance. With just a few great products loaded with high-performing ingredients, you can enjoy a glowing, radiant complexion.
All of Truly's products are clean, vegan, and plant-based. Try our Ultimate Body Bundle for flawless skin head-to-toe. And of course, you can choose from a range of other clean products on our store.
Blue Light Protection
Sunscreen is imperative in keeping the skin protected against skin damage and cancer, but it's not just the sun we should be protecting our skin from. There's also blue light – the light that emanates from our computer screens and basically all digital devices. It is, quite literally, destroying our skin.
According to board-certified dermatologist Corey L. Hartman, MD, founder of Skin Wellness Dermatology, "When blue light penetrates the skin, reactive oxygen species are generated, which leads to DNA damage, causing hyperpigmentation and sagginess."
In other words, protecting your skin from photoaging and UV light overall starts with investing in blue light protective skincare products.
For ultimate blue light protection, opt for Truly's Blueberry Kush Bundle. Inside, you'll find a range of skincare products packed with blue-light-protective blueberries to keep your skin healthy and damage-free.
Skincare trends come and go. For now, these are the skincare trends for 2021 that we highly recommend giving a try. When it comes to skincare, some trends are fleeting, while others last forever. Take retinol and vitamin C, for instance. They might be big on trend now, but they've been trending for a few years now. And from what science tells us, it looks like they're here to stay.
Have you witnessed any new skincare trends lately? Beauty tips that are catching on? We'd love to hear! In the meantime, take a look through our products. They might be stylish to look at, but they're also super powerful when it comes to what they can do for your complexion. Happy shopping!
Share
---