Why You Need a Hand Care Routine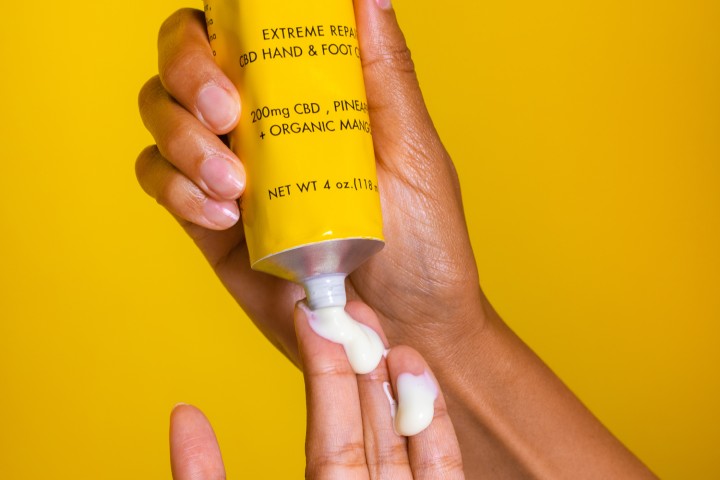 Your hands aren't getting enough TLC.
When you think of skincare, your face is your immediate thought. And that's exactly why body parts like your hands age much faster than your face – it's because you're not giving them adequate attention. If you're a nail biter or cuticle chewer, then you'll need to show your hands even more love.
Hand care is important for everyone. That's why we've put together a little hand care routine you can try with recommended products so that you can have soft, beautiful hands. But first…let us give you some background on why hand care matters.
YOUR HANDS ARE VULNERABLE TO PREMATURE AGING
You might focus on your face because that's the first thing you (and other people) see, but your hands also get lots of exposure. Wouldn't you want them to look their best too? And from what experts are saying, they definitely deserve it.
"The hands are very vulnerable because the skin is thin," says Gretchen Frieling, MD, a Boston-based dermatopathologist. "We forget that we need to exfoliate our hands and moisturize them just as we would our face. Hands also tend to be dryer than our faces because they have fewer sebaceous glands, which produce sebum, an oily substance that helps protect the skin by keeping it lubricated and waterproof."
What's more, the hands aren't protected by clothing. Thus, the sun's UV rays can cause approximately 80 percent of skin changes associated with aging on your hands.
"Cumulative sun exposure over many years can lead to brown sun spots, irregular pigmentation, thinning of the skin and wrinkles," explains Dr. Allison Arthur, board-certified dermatologist at the Sand Lake Dermatology Center in Florida.
And let's not forget that the hands are constantly exposed to rain, wind, sun, and water – making them more prone to dryness and premature aging.
The best way to protect your hands and keep them healthy is to follow a daily hand care routine.
THE BEST HAND CARE ROUTINE FOR BEAUTIFUL, YOUTHFUL HANDS
Anti-aging serums and moisturizers have become a regular part of your daily skincare routine, but how often do you pamper your hands with products like hand cream?
Just like your face, your hands also lose collagen and elasticity as you get older. With a hand care routine in place, you can prevent and minimize the appearance of aging hands. Plus, the skin on the back of your hands is thinner than on the face and other body parts, which is all the more reason to show your paws some additional TLC. Here's how.
Use Sunscreen Every Day
Every day, regardless of the weather, you should be applying broad spectrum SPF to the back of your hands. This step is essential for keeping your hands protected and youthful.
"As a rule, I tell patients to simply use their anti-aging facial regimen on their hands. So, use a sunblock with UVA and UVB protection and if desired, a good antioxidant," says Dr. Ranella Hirsch, a Boston-based dermatologist.
This is a step you should not miss if you want to maintain gorgeous paws.
Treat Any Discoloration with a Topical Cream
Already seeing signs of aging hands? If you see dark spots on the back of your hands, it's not too late to reverse the signs. You'll just need to invest in a cream that specifically targets discoloration, like Truly's Body Star Perfecting Cream.
Packed with prickly pear, this ingredient is effective at reducing the appearance of discoloration on the skin. That's because it's loaded with phenolic compounds which exert antioxidant effects on the skin, helping to repair damaged skin and fade blemishes that have formed over time.
Besides treating visible signs of aging, this cream also serves as an excellent day cream, providing your skin with daily hydration.
Apply a Nourishing Night Cream
In addition to a day cream, you should also be using a night cream on your hands to deliver nutrients to your skin as you snooze.
"For nighttime, you should go with an even heavier cream with ingredients such as like hyaluronic acid, emblica (a natural skin lightener to aid in the correction of age spots), and soothing extracts or essential oils," says Frieling.
Our go-to product for repairing your hands is Truly's Pineapple Haze Sensitive Skin Body Balm. Formulated with pineapple extract, hemp, and a nourishing blend of jojoba oil and vitamin E, this moisturizer provides instant relief and lasting hydration for dry, distressed hands. For even more moisture, double it up with Truly's Pineapple Haze Extreme Repair Hand Cream.
Best of all, it doesn't just need to be used in the evening. You can apply it throughout the day whenever you're in need of intense hydration.
Take Care of Your Cuticles, too
Your cuticles are also part of your hands – and equally as desperate for your attention. And the ingredient we (and the derms!) recommend employing for sloughing away hangnails and cuticle flaking? Coconut oil!
"Coconut oil is great for treating brittle and cracked nails as well as damaged cuticles because of its moisturizing properties," says Orit Markowitz, dermatologist and the chief of dermatologic research at Brooklyn VA Hospital. "It's an ideal skin barrier that contains multiple fatty acids, which act as transepidermal water loss barriers."
Soak your cuticles in Truly's Vegan Collagen Facial Serum to get rid of dryness and prevent damage. This formula blends coconut oil with vegetable collagen and vitamin C to strengthen and soothe your nails, without leaving them feeling greasy. Re-apply as often as you need and try to use daily for best results.
Just because your hands aren't as noticeable as your face, they are still on display and equally as prone to aging. The sooner you start following a proper hand care routine, the less likely you'll see the tell-tale signs of aging on your hands – like fine lines, dark spots, etc.
If you're already seeing visible signs of aging, visit your dermatologist to inquire about treatments that lighten discoloration and fade wrinkles.
Share
---