Why You Should Be 'Shower Sandwiching'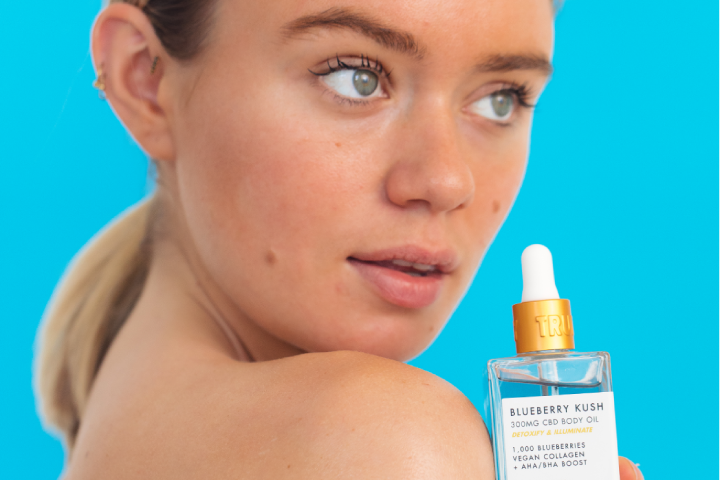 'Shower sandwiching' is the latest trend commanding the TikTok space. Lately, the social media platform has shown showers a great deal of attention. What with everything showers and now shower sandwiching, people are taking their bathing rituals way more seriously.
But what exactly is shower sandwiching, and how can it benefit you and your skin?
Here's everything you need to know about shower sandwiching, including its benefits and how to do a shower sandwich.
What is Shower Sandwiching?
There's really nothing complicated about shower sandwiching. All it entails is slathering your skin in body oil before and after showering — so you're basically sandwiching your skin between those nourishing, hydrating fatty acids.
While it may be a social media trend, dermatologists highly support the technique. According to celebrity esthetician and dermatological nurse Natalie Aguilar, "This oil barrier prevents excessive water loss and helps with any irritation."
Ever noticed how your skin feels dry and flaky after taking a hot shower? That's because hot water strips skin of its natural oils, leaving you parched. By applying a body oil before showering, your skin holds onto moisture and prevents warm water from drying it out. And by massaging in a body oil post-shower lather, you trap all that water inside and protect the skin barrier, diminishing dry skin.
As per the derms, the shower sandwich protects your skin against hot water and drying skincare products, while locking in moisture after your shower. It's the best way to keep your skin healthy and hydrated for the rest of the day.
Benefits of Shower Sandwiching
Between the hot water and lathery cleansers and gels, your skin can quickly become dehydrated when you shower. One of the best ways to alleviate this is by coating your entire body in oil before and after showering. Doing this protects the skin barrier and seals in moisture for long-lasting softness.
While hot showers get a bad rep for drying out your skin, you can also benefit from this practice if you take cold showers. Even though they're not as dehydrating as hot showers, they can still strip skin of natural oils, leaving it vulnerable to dryness and flakiness.
You can even extend this practice to your face. When washing your face using the faucet, apply a face oil before and after cleansing to protect and hydrate skin. Try to keep the water temperature low if you can, to give your skin a glow boost and tighten those pores.
There's no better time than now to start shower sandwiching. With the cold temperatures and dry air, skin is prone to getting scaly right now. You can keep your skin happy by showering it in a little more love!
How to Do a Shower Sandwich
Performing a shower sandwich is pretty straightforward. Simply slather your entire body in your favorite body oil pre- and post-rinse. That said, there are a couple of tips to enhance your shower experience.
First up, make sure you apply extra oil to those super dry areas like your elbows and knees. Wherever you're experiencing major flakiness, apply extra oil to protect those areas from further dryness. Another handy tip: take your oil into the shower with you. This way, you'll remember to re-apply it when your skin is still slightly damp — aka, the perfect time to apply your oils and lotions, as damp skin absorbs skincare products better.
If you're not a fan of oils, look for a dry oil that'll hydrate your skin without leaving you feeling and looking greasy. There are plenty available, and they're great for oily and acne-prone skin types.
When it comes to finding the perfect body oil, pay attention to ingredients. Some of the most hydrating and nourishing oils include vitamin E, olive oil, coconut oil, avocado oil, jojoba oil, and aloe. Rich in fatty acids and nutrients, these ingredients work wonders for your skin.
Shop Shower Products
Here are some of our fave shower products for getting the most out of your daily wash.
Unicorn Bath Bar
The soap that moisturizes, soothes, and exfoliates all at once! Unicorn Bath Bar is a luxurious and lathery bar of heaven that smells just like cotton candy. Formulated with acai, rosewater, and vegan collagen booster, Unicorn Bath Bar freshens, brightens, and nourishes for skin that feels its best after showering. By cleansing away dirt and dead skin cells, this bath bar also keeps pores clear and blemishes away. It's a must-have in your shower routine.
Blueberry Kush CBD Body Oil
A daily body oil enriched with AHA + BHA, 300mg of hemp and 1,000 blueberries per bottle to boost collagen production, fight inflammation, and leave your body glowing. Rich in antioxidants, this formula deserves a place in your daily skincare routine for keeping your skin youthful and luminous.
Glazed Donut Oil
An intensely hydrating, lightweight body oil that won't leave you greasy. Glazed Donut Oil is a cooling, flash-absorbing daily serum that replenishes lost moisture while softening and smoothing skin. Plus, it boasts a delicious summer scent that'll instantly perk up your mood.
Barbie Body Butter
Malibu vibes! After slathering your skin in oil, finish up your shower routine with a generous scoop of this dreamy whipped body butter. A pretty pink swirl of shea butter, matcha, and acai, Barbie Body Butter plumps, soothes, and hydrate your skin after the very first use.
If your skin feels super dry and scaly right now, you should definitely give shower sandwiching a try. Applying body oil before and after showering instantly quenches a thirsty skin barrier while securing a day's worth of soft, dewy skin. Even the derms approve of this skincare trend.
You can even create your own DIY body oils if you don't have any on hand. We like olive oil, coconut oil, and jojoba oil best. Got them in your cupboards? You can apply these before and after showering to protect skin and lock in moisture. Just make sure you don't overuse any of these oils post-shower, as you'll end up feeling greasy.
Share
---