11 Winter Skincare Products to Add to Your Routine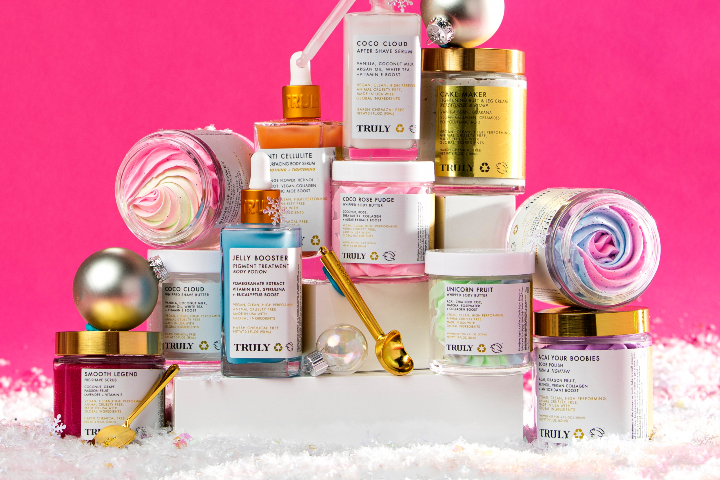 Anyone else experiencing major dryness and dullness this winter? Same! 
According to dermatologists, it's worth introducing different skincare products into your routine during the winter months as this is when skin gets the driest. Between the cold temperatures, dry air, and dehydrating indoor heating and hot showers, skin lacks moisture in the winter. In other words, it needs as much hydration as it can get. 
Here are a few products you might want to include in your skincare routine to help it survive the chilly season.
#1: Matcha Facial Cleanser
Harsh soaps and drying cleansers may actually be the culprits behind your dry skin. Switch to a hydrating, gentle cleanser like Truly's Matcha Facial Cleanser. This aloe-based face wash is boosted with vitamin C and B12 to effectively cleanse and nourish your skin without stripping it of moisture. Plus, it's perfect for all skin types. 
#2: Hemp Oil Facial Serum
Every winter skincare routine needs a hydrating serum. Give our Hemp Oil Facial Serum a try. It's enriched with hydrating hemp oil, exfoliating vitamin A, and rejuvenating ginseng to tackle all winter-related skin issues: dryness, redness, and inflammation. It's also more than suitable for sensitive skin!
#3: Flower Child CBD Face Cream
To maintain dewy, healthy, glowing skin throughout winter, make sure you layer on the lotion. Moisturizer is essential for keeping skin hydrated and locking in moisture. Our personal fave is Truly's Flower Child Face Cream, a formula infused with hyaluronic acid and hemp to deeply hydrate, restore skin's elasticity, and leave your skin all soft and glowy. 
#4: Vegan Collagen Booster Facial Serum
The winter weather can certainly leave your skin looking a little dull and depleted. The best way to deal with it is by investing in a high-quality vitamin C serum, which is known for offering skin brightening effects. 
Truly's Vegan Collagen Serum is made with a blend of vitamin C, retinol, coconut oil, and vegan collagen to smooth out fine lines, brighten the skin tone, and leave skin feeling soft and smooth. 
#5: Pineapple Haze Repair CBD Hand and Foot Cream
If your dry skin gets even drier when the cold weather arrives, you may want to try introducing a few deeply hydrating and nourishing products into your routine. 
Pineapple Extreme Repair Hand and Foot Cream delivers intense hydration to severely dehydrated skin while improving overall texture. It's made with a blend of hydrating oils and pineapple extract to buff away dry, dead skin while promoting new healthy cell growth for baby soft skin.
#6: Moon Rocks Whipped Body Scrub
While the derms don't recommend exfoliating too frequently with scrubs in the winter months when your skin's already vulnerable, it's totally fine if you're using the right product and using it 2-3 times per week. 
Moon Rocks Whipped Body Scrub is a lightly whipped sugar-based scrub formulated with hydrating organic coconut oil, brightening lavender, and protective vitamin E to buff and brighten up lackluster skin. Plus, it can help ward off breakouts. 
#7: Unicorn Fruit Whipped Body Butter
When you think of a winter skincare routine, you probably only think of your face -- and maybe your neck. A lot of people tend to forget about the rest. What about your arms, legs, and everything in between? The skin gets dry there, too! To maintain hydrated skin, always remember to moisturize daily -- straight after taking a shower to lock in moisture. And choose a body lotion formulated with hydrating ingredients!
Truly's Unicorn Fruit Whipped Body Butter is a deeply conditioning, antioxidant-packed body moisturizer made with a blend of natural, skin-repairing ingredients such as shea butter, acai, matcha, vegetable collagen, jojoba oil, and rose.
#8: Blueberry Kush CBD Body Oil
Winter skin tends to get a little dull, dry, and overall meh. Make your skin sparkly and sunny again by dousing it in a moisturizing and exfoliating body oil like our Blueberry Kush CBD Body Oil.
This daily body potion is formulated skin-buffing AHA and BHA, plumping vegan collagen, and blueberry seed oil to fight inflammation, support skin barrier function, and brighten the complexion.
Whether you've got dry skin, oily skin, or acne-prone skin, your skin cells will love what this magic potion does to them!
#9: GLOAT Luscious Lip Butter
Lip balm is a winter essential! If you want to maintain that soft, kissable pout, you'll need to moisturize your lips regularly using a super hydrating formula like our GLOAT Lip Butter.
Infused with nourishing natural oils and hyaluronic acid, this lip care formula promises to soften lip lines and lock in moisture throughout the entire day! 
#10: Starface Jelly Sleep Face Mask
Allow us to let you in on a little skincare tip: sleep masks are your savior. They work as you snooze, and leave your skin looking fresh and revived the next morning. Plus, you won't even have to wear night cream since this mask does everything for you: moisturizes, treats, and exfoliates.
Starface Jelly Sleep Mask blends passion fruit with vitamin C, retinol, glycerin, and lactic acid to smooth, hydrate, soothe, and fight free radical damage while you dream.
#11: Body Star Perfecting Cream
Hydration is imperative throughout the winter months.
Lucky for you, you can use this hydrating body lotion all year-round to keep you looking and feeling smooth, fresh, and youthful. 
Made with prickly pear to reduce discoloration and cactus flower to fight against free radicals and premature aging, Body Star Perfecting Cream is everything your skin needs this winter.
We definitely recommend using at least four or five of these products in your daily routine to keep your skin super nourished and hydrated this winter. That way, you won't have to deal with issues like dryness, redness, or flaking. Ugh!
Just remember to always finish your routine with a broad-spectrum sunscreen of SPF 30 to protect your skin from UV rays, which can dry out and prematurely age your skin. IOW: not what you want!
Share
---