20 Best Stocking Stuffers for Women Who Love Beauty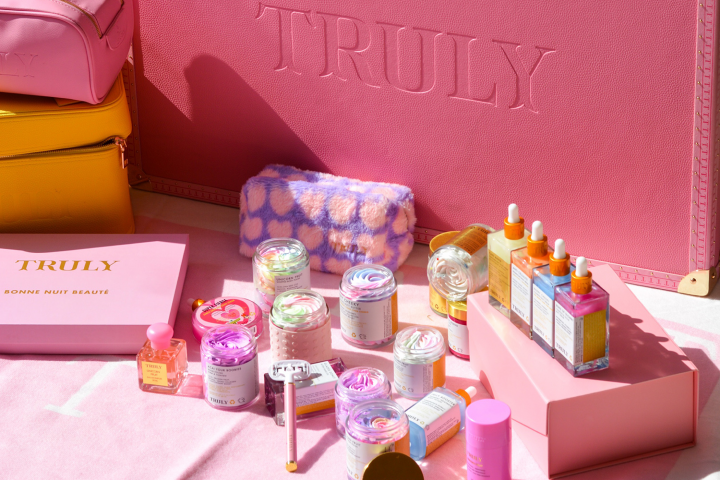 Looking for the best stocking stuffers for your fave babes? Individually gift-wrapping Christmas presents isn't just a hassle, it's also a little wasteful. That's why we LOVE stocking stuffers!
Whether you throw a bunch of little inexpensive gifts or a couple of luxe presents into a stocking, these little treats are the perfect way to say "I love you" on Christmas day.
That said, you will need to find gifts that are small enough to fit inside. Here are some great stocking stuffer ideas for women that you can shop today. From your mom to your sister, girlfriend to your best friend, this stocking stuffer gift guide is full of the best beauty treats we know she'll adore.
Mini Acai Your Boobies Polish
A miniaturized version of our cult-favorite Acai Your Boobies Polish. Tiny but mighty, this travel-size boob polish harnesses the firming powers of retinol and acai to perk up your pair. Pop it in her stocking this Xmas and give her the gift of extra taut tatas!
F*cking Hot Mirror
Check yourself with our signature handheld round mirror complete with a light pink Truly logo on the back and "f*cking hot" written in text across the front. It's small, cute, and the absolute perfect stocking stuffer for your loved one.
Mini Unicorn Fruit Whipped Body Butter
It's the TikTok-famous body moisturizer that's loved by all! This whipped rainbow swirl of shea butter, matcha, and vitamin E provides all over hydration for silky soft skin that lasts all day long. And a little bonus: it doubles up as a lip balm, hand cream, hair mask, and shaving cream.
Rose Gold Hair Comb
An adorable comb that detangles and distributes conditioner evenly, it's a great stocking gift idea for those who dig beauty. Thanks to its widely spaced teeth, it effortlessly manages tangles without causing breakage.
Mini Buns Of Glowry Butt Serum
An unusual beauty gift to get the gal that has everything: this butt firming serum. Buns of Glowry Butt Serum blends together orange flower, wheat protein, and watermelon to plump the booty, smooth dimply skin, and visibly lift the cheeks.
Unicorn Bath Bar
Forget bath bombs and essential oils. Pick this luxurious, lathery bath soap inspired by our bestselling Unicorn Fruit line. Formulated with acai, rosewater + vegan collagen booster to hydrate, brighten, and fight odors, this nourishing bath bar does way more than your regular bar of soap.
GLOAT Lip Plumping Serum
The best gifts aren't always the biggest. Take this luscious lip serum. She might be small but she's pretty powerful. Made with a blend of plumping peppermint and hydrating hyaluronic acid, this lip treatment leaves your kissers silky smooth — and visible fuller. After one single use! It also doubles up as a lip gloss.
Mini Smooth Legend Pre-Shave Scrub
One of our bestsellers — made mini! Smooth Legend Pre-Shave Scrub preps your skin for a perfect shave without ingrowns or razor burn. It's a skincare essential for keeping skin soothed post-shave.
Gold Ice Cream Scoop
Serve up your skincare swirls in style with our adorable gold ice cream scoop! It scoops up jus the right amount of product while avoiding the transferring of germs into your container.
Mini Dulce de Leches Serum
A dessert-inspired serum that smells just like warm caramel! Dulce de Leches Serum provides some serious body sculpting thanks to powerhouse actives like retinol, guarana, and hyaluronic acid.
Coco Rose Milk Hair Mask
This holiday season, treat your loved one to this strengthening hair mask enriched with coconut milk and rosewater. It'll also leave your strands smelling delicious!
Mini Glazed Donut Shave Oil
Our summer scented, cooling, and flash-absorbing shave serum that replenishes lost moisture while combating ingrowns and helping soften the skin. It's the perfect holiday gift for gals prone to shaving nasties like ingrown hairs.
Mini Moon Rocks Whipped Body Scrub
Treat her to an invigorating and indulgent exfoliating experience with our Moon Rocks Body Scrub. Blue tansy, jojoba oil, and lavender work together in this sugar based scrub to smooth, soften, and soothe, revealing your freshest, brightest skin.
Truly Pink Silicone Sleeve
A reusable protective product cover that prevents your Truly jars from breaking! It slides seamlessly onto our larger jars (i.e. Acai, Buns, Collagen, Dulce, Cake, No Troubles Bubbles, etc.) for pretty and practical coverage. 
Mini Anti-Cellulite Mask
Add this toning moisturizer to your bestie's skincare routine, and she won't believe the results. Harnessing the tightening powers of bitter orange and retinol, this body mask helps to smooth and tighten skin on the thighs, stomach, and hips.
Mini Coco Cloud Shave Butter
Upgrade her shave days with this tropical-scented, luxe shaving butter. Coco Cloud Shave Butter makes shaving a self-care moment and prevents the formation of ingrowns and razor burns.
Mini Cake Maker Polish
This smoothing, sprinkle-speckled butt and leg tightening polish buffs away dead skin, dullness, and drooping after the very first use. Plus, it smells like freshly baked cake. No, really.
Heartbreaker Lip Mask
Our lip plumping mask is safe, effective, and super cute! Formulated with aloe, ceramides, and vitamin E, this jelly mask is just what your lips need this winter. It works just like a face mask, only applied to the pout. The end results? Smoother, fuller lips!
Starface Jelly Sleep Mask
A two-in-one, overnight mask powered with fruit-derived AHAs and antioxidants that puts dullness to rest so you can wake up looking plumped and renewed. A combo of vitamin C, retinol, and AHAs work together to swipe away dead skin, soften lines, and restore radiance.
Truly Gift Card
Let her choose! Drop a Truly shopping spree in her stocking and let her decide what she wants this Christmas. With a Truly gift card, she can splurge on skincare, hair care, body care, and accessories. From lotions to serums, bags to limited edition gift sets, there's plenty on offer. Sometimes, it's better off letting her play Santa!
One Gift, 4 Stocking Stuffers
Splurge on this 4-piece Satin Sleep Set and divide it into 4 individual stocking stuffers. It features a pillowcase, scrunchie, eye mask, and headband — all in precious pink satin — to deliver a frizz-free, crease-free slumber.
Most stocking stuffer guides present ideas like nail polishes, coasters, Etsy DIY creations, gadgets, matte foundation, beanies, cute straws, aromatherapy items, and even hand sanitizers. If you're looking for a unique stocking stuffer for her that will leave her smiling Xmas day, select one from the list above. P.S. all our products are vegan, cruelty-free, and eco-friendly.
Please note: while our products are also available on Ulta Beauty and Sephora EU, our full product range is available on our official website.
Share
---