5 Anti-Wrinkle Serums that Actually Work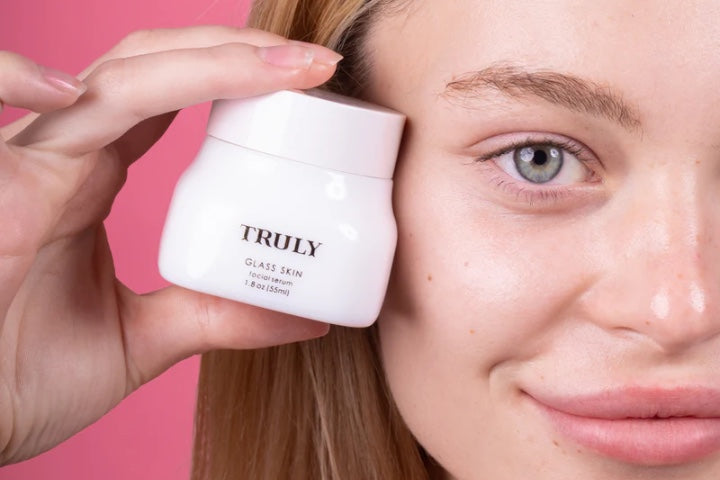 With the plethora of anti-aging serums to choose from, you might feel a little overwhelmed when it comes to deciding which one to use. So how do you know which one's worth the investment and which one's not?
Active ingredients is how! When shopping for anti-aging products, always examine the ingredients list to see what's inside. Some of the best anti-aging ingredients include retinol, vegan collagen, vitamin C, hyaluronic acid, and alpha hydroxy acids, like glycolic and lactic acid.
Need help finding the perfect formula? Here are five of the best anti-wrinkle serums that actually work.
#1: Mary Jane Glow Serum
A Truly classic, Mary Jane Glow Serum is chock full of powerful antioxidants to firm and brighten while replenishing skin's hydration. Powered by collagen-boosting retinol, resurfacing glycolic acid, and firming caffeine, this daily face serum is a holy grail for softening fine lines, diminishing discoloration, and firming up loose skin.
Its key ingredient — retinol (a vitamin A derivative) — works by boosting collagen production, restoring elasticity, and speeding cell turnover. As far as skin concerns go, it can treat everything from dark spots to wrinkles to sagging and breakouts. Glycolic acid also deserves a lot of credit in this formula. A chemical exfoliator, glycolic acid gently lifts dead skin cells to reveal smooth, glowing skin. Over time, it can also help to reduce the appearance of fine lines and wrinkles.
Mary Jane Glow Serum is one of the best anti-aging serums for making skin look and feel noticeably younger.
#2: Glass Skin Facial Serum
Aging skin will enjoy a new level of youthful radiance with Glass Skin Facial Serum. It's formulated with willowbark to minimize pores and sea kelp to retain moisture, reduce inflammation, and help protect your skin from external aggressors like UV rays and pollution.
This Korean-inspired formulation is just what you need to revive your complexion. It's also worth using if you're seeing the first signs of aging — remember, prevention is better than cure. Best of all, it's suitable for all skin types. Oily and acne-prone skin can benefit from its blemish-clearing properties, dry skin can reap its moisture-retaining benefits, and mature skin can soak up it's protective, firming power. As for sensitive skin, this formula is ultra-gentle and suitable for using in your daily skincare routine.
In addition to firming and hydrating skin, Glass Skin Facial Serum can lighten hyperpigmentation and improve overall skin texture.
#3: Blueberry Kush Facial Oil
Blueberry Kush Facial Oil is a must-have skincare product when you've got aging skin. It features antioxidant-rich blueberries, brightening vitamin C, and resurfacing alpha hydroxy acids (AHAs) to plump, nourish, and protect skin from photoaging. Plus, it smells like freshly picked berries. Yum!
While blueberries fight the formation of fine lines, vitamin C combats collagen depletion, and AHAs resurface skin for a smoother, more radiant appearance. This daily treatment can be helpful in alleviating uneven skin tone and texture, firming up sag, and protecting against free radical damage.
Moisturizing, calming, and fragrance-free, all skin types can benefit from using this oil in their daily routine.
#4: CBD Jelly Facial Serum
A retinol serum with anti-inflammatory properties. CBD Jelly Facial Serum contains an infusion of elastin-enhancing retinol, soothing hemp, and pore-clearing salicylic acid to treat existing breakouts while smoothing out your complexion. It also contains hydrating watermelon to juice up the skin and plump out wrinkles.
One of the biggest benefits of this serum is that it fights acne and aging at once! Not many serums do that. It utilizes the youth-restoring power of retinoids and blemish-busting power of salicylic acid to leave skin smooth and clear. Plus, it helps diminish dullness and dryness thanks to its hydrating and exfoliating properties.
#5: Hemp Oil Facial Serum
The best retinol serum for dry or sensitive skin. Hemp Oil Facial Serum is a wrinkle-smoothing treatment powered by retinol, hemp, and ginseng. Together, these ingredients boost skin's natural collagen and elastin, making skin appear smoother and firmer. Alongside this, jojoba oil hydrates and supports skin barrier function, keeping skin strong, sparkly, and healthy.
You can use it in your daily routine without worrying about your skin freaking out. It's a gentle formula that delivers for even the most sensitive skin.
WHAT TO LOOK FOR IN ANTI-AGING SERUMS
Anti-wrinkle serums work best when they're chock full of collagen-boosting, hydrating ingredients like niacinamide, retinol, ceramides, vitamin E, AHAs, peptides, ferulic acid, and bakuchiol, to name a few. You may even want to look for a formula with SPF 15 or higher to protect your skin from sun damage. Alternatively, look for a broad-spectrum sunscreen, pair it with a vitamin C serum, and enjoy maximum protection from your topical treatment.
You don't need to spend a fortune on anti-wrinkle products. You just need to be a smart shopper. Look out for the active ingredients mentioned above. If the product contains none of them, you might want to give it a miss. While there are plenty of drugstore anti-aging lotions and potions available, not all of them are going to deliver promising results.
It's always good to get ahead with skin aging. Prevention is better than cure, after all. We recommend incorporating anti-aging serums from 25+, when the skin begins losing more collagen. Make sure you use them regularly in order to see results. The derms recommend giving skin products at least 4-5 weeks before moving on.
If you have a skin condition such as eczema or rosacea, consult a board-certified dermatologist before trying new products are starting a new skincare routine.
You can purchase Truly products at Sephora EU, Ulta, and on our official website: TRULYBEAUTY.COM.
Share
---