5 Benefits of Chia Seeds for Skin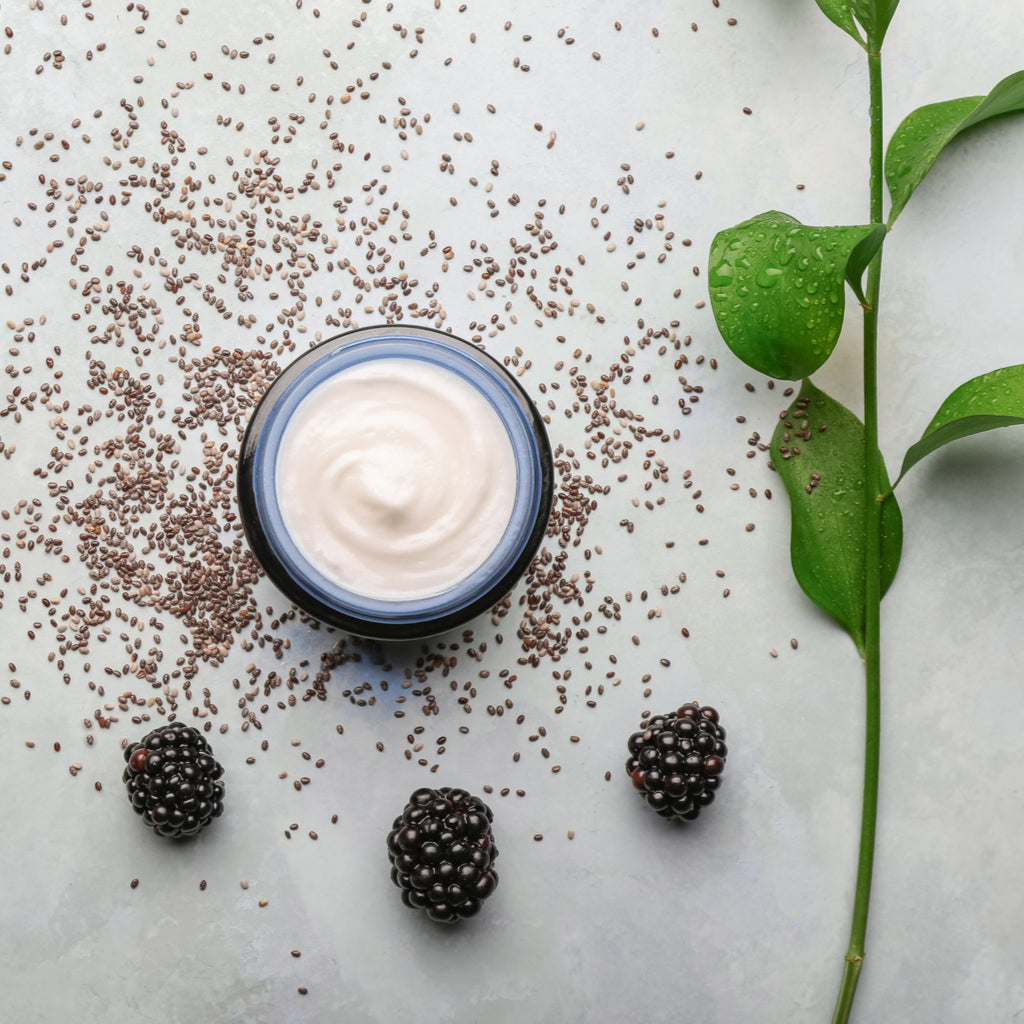 Chia seeds may be something you sprinkle over your cereal every morning. Turns out, you can also use the extract of chia seeds as part of your skincare routine to promote healthy skin.

Chia seed extract isn't yet a widely known beauty treatment. When most people think of "chia," they think of superfood. However, from what research shows, it does appear to be a potentially skin-transforming ingredient that can treat everything from dryness to inflammation.

In this article, we're going to explore what chia seed extract is, what it does, and how to use it in your skincare routine.
WHAT IS CHIA SEED EXTRACT?
Chia seed oil is extracted from chia seeds (salvia hispanica). It's rich in essential fatty acids like omega-3 and omega 6 fatty acids, as well as vitamin B3, zinc, linoleic acid, and antioxidants known as tocopherols.
Chia oil actually has the highest level of antioxidants of any other beauty oil out there. It's also a lighter oil than many others, so it will not clog your pores or leave your skin feeling greasy. Plus, it's gentle enough to be effective for all skin types.
Chia seed extract can help your skin fight dehydration, irritation, and even acne. Look for its latin name, Salvia Hispanica, when searching for it in skincare product ingredients.
Now we already know the benefits of eating chia seeds - potential weight loss, lower blood pressure, balanced hormones etc. But what are the benefits of applying chia oil topically? Let's take a look ...
CHIA SEED EXTRACT BENEFIT FOR SKIN
Owing to its omega-3 fatty acids and plethora of antioxidants, chia seed oil offers a slew of skincare benefits. Let's take a look at what they are.
Moisturizing
This oil extract is extremely hydrating for the skin.
According to a STUDY, chia oil was shown to "significantly increase skin hydration, reduce trans-epidermal water loss and increase skin barrier function." And because it's also high in soluble fiber, it can quite literally pull water from the skin's surface and deeper tissues of the skin, promoting ultimate hydration.
You'll find chia extract in over-the-counter lotions. Always try to look for the most natural products with a high percentage of chia seed extract.
Blemish-Banisher
It's hard to believe that an oil could zap away zits and give you a clearer complexion, isn't it? Owing to its anti-inflammatory properties, chia extract can help banish blemishes quickly. Simply use it as you would any other spot treatment by applying it directly to blemishes. Let it sink into your skin before applying any other products.
Anti-Ager
Packed with amino acids and alpha-linolenic acid, whole chia seed extract is an excellent natural anti-ager. It contains natural antioxidants that help skin stay strong and youthful over the years. However, you can also thank its high levels of omega-3s for helping to build collagen in the skin - crucial for supporting skin structure and maintaining a youthful-looking complexion.
Chia seed oil naturally tightens the skin, which means it can also be applied under the eyes to diminish bags and sagging. You don't need to apply much. A drop under the eyes is enough to let it work its magic.
For best results, try to make it a regular part of your skincare regimen.
Skin Strengthener
As people age, the barrier of the skin's outer layer becomes compromised due to weakening cells. As a result, it is harder for skin to repair itself. Chia seed extract offers power omega-3 and omega-6 properties that help to strengthen the epidermis and promote overall stronger skin.
Directly applying chia oil delivers a host of skin-superstar nutrients that directly address your skin concern. It also enforces the cell membrane and enhances the quality of the skin.
Irritation Attacker
Thanks to chia's omega 3 content, it offers potent anti-inflammatory properties. In other words, it's a great remedy for irritated and inflamed skin. It's also been shown to ease chronic and severe itchy skin.
Provided that you use organic chia seed extract, chia's anti-inflammatory properties and ability to fight free radicals makes it a superb treatment for inflamed skin, as well as UV damage.
What's more, chia extract could be effective in treating inflammatory skin conditions such as psoriasis, rosacea, atopic dermatitis, and eczema.
WHAT IS CHIA SEEDS EXTRACT'S SHELF LIFE?
Unlike other oils that go rancid after several months, chia oil lasts much longer. In fact, chia extract can have a shelf life of up to two years - even pure extract, without any additives.
That means you don't need to worry about using it up fast. As long as you finish it up within two years, you should be all good.
Still, it's important to make sure you store your oil in a cool and dark place away from direct sunlight. Otherwise you could risk damaging its skin-soothing properties.
Overall, chia seed extract is a wonderful and natural ingredient that can ease a myriad of skin complaints, from dryness to inflammation to acne. Scroll down to get yourself a tub of Truly's chia-enriched lip plumping balm.
UNICORN LIP PLUMPING BALM
Be the unicorn at your next gathering with friends ... by entering with a super plump and pillowy pout.
Truly's Unicorn Lip Plumping Balm really is as unique as its name suggests. Hydrating and volumizing, this lip plumper will leave your pout feeling silk to the touch and extremely selfie-able. Wear it alone or under lipstick - it looks great either way and still delivers all-day plumpness and shine.
It's also vegan, cruelty-free, and 100% clean.
Rich in peppermint, you'll feel an instant swelling effect once you swipe this on. That's because peppermint stimulates the circulation under the lips, helping to make your lips appear fuller.
Unicorn Balm also contains a high concentration of fatty acids and vitamins in shea butter to provide intense hydration to your pout and prevent drying.
Then there's chia seed extract - a potent moisturizer and skin strengthener.
HOW TO USE
Apply Unicorn lip plumping balm directly to the lips. You can use it alone or with other lip colors or glosses to hydrate and volumize the look of your lips. To keep your look going strong, apply 1-2 per day.
And so the prettiest pout goes to ...
The user of Truly's Unicorn Fruit Lip Plumping Balm, only $14.00
Share
---