6 Ways to Maximize Your Double Cleansing Routine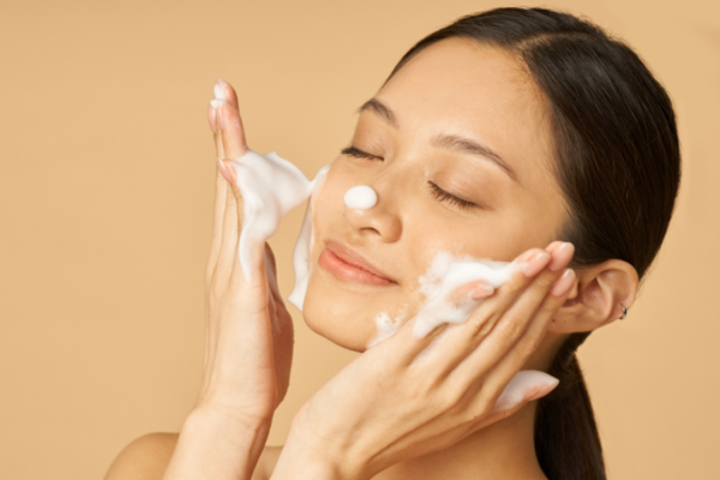 You may have heard of double cleansing before. It's the process of cleansing your face twice in order to thoroughly remove makeup and impurities, and prepare it for the skincare products that come next. 
Double cleansing is transformative for some while for others, it can leave their skin feeling dry and tight. It's all about technique and products. If you're not using the right ones, you can wind up experiencing dryness, redness, and irritation instead of that dewy, dreamy complexion you seek.
That's why we've put together this article -- to show you how you can maximize your double cleansing routine for the best possible outcome.
Here's everything you need to know about upgrading your double cleansing routine.
#1: Choose Your Cleansers Wisely
If you want to get the most out of the double cleansing method, make sure you start by choosing the right cleansers formulated for your skin type and skin concerns. 
If you have dry skin, choose a gentle cleanser that will support the skin barrier and will not strip the skin of its natural oils. The best ingredients to look out for include jojoba oil, vitamin C, honey, hyaluronic acid, and shea butter. Try our Super Matcha Facial Cleanser.
For oily skin and acne-prone skin, seek out oil-wicking, breakout-fighting ingredients such as salicylic acid and alpha hydroxy acids (ahas) like glycolic and lactic acid. You'll find these in our Hemp Jelly Anti-Blemish Facial Cleanser. 
Combination skin types will benefit the most from a balancing cleanser that contains ceramides to retain moisture while controlling excess oil production. 
If you have sensitive skin, opt for gentle formulas such as oil cleansers and cleansing balms that are fragrance-free. Some people even find micellar water to be helpful when cleansing easily irritated skin since it's super gentle and won't compromise your skin barrier. 
#2: Spend a Minute Massaging it in
"Be sure to massage the cleanser into your face for a minute before rinsing with lukewarm water—this helps to minimize irritation and drying out skin, and is important if you suffer from rosacea," says board-certified dermatologist Annie Chiu. 
Once you've rinsed away your cleansing oil, you can move on to the second cleanser which should be water-based. 
"This step cleans deeper and provides the type of 'cleaning' that people associate with typical face washing," explains Chiu. "It also removes residues of the preceding step of oil-based cleansers and ensures all impurities are removed." 
It's always important to let a product sit on the skin longer than just a few seconds so it has chance to penetrate the skin and work its wonders.
#3: Keep Your Water Temperature Cool -- But Not Too Cool
Another essential part of your cleansing routine is water temperature.
Ideally, you want to be washing your skin in lukewarm water rather than too warm water or freezing cold water. The extreme temperatures can be really drying and irritating to the skin, so it's best to keep the water temperature balanced so you don't have to suffer the undesirable side effects.
No skin type can handle insanely hot water on their skin -- not even normal skin types. Keep things cool, but not too cool.
#4: Don't Neglect Your Neck
Cleansing isn't limited to your forehead, cheeks, nose, and chin. You need to extend your cleanse to your neck, too, in order to give that the attention it deserves and prevent blemishes from cropping up.
Whenever you wash your face, always remember to cleanse your neck too to get rid of sebum and grime that's accumulated throughout the day. This applies to both your first and second cleanse. 
So many people seem to forget their neck when they do their daily skincare routine. And yet, it could be precisely the reason why you're dealing with blackheads and breakouts on your neck and jawline. 
#5: Bring in an Exfoliant
Once a week, incorporate exfoliation into your routine to keep skin clear, smooth, and glowing. Exfoliation helps remove the buildup of dead skin cells, oil, and other pore-clogging culprits that are often responsible for breakouts and rough skin texture. Besides its pore-clearing and skin-brightening effects, a freshly buffed face allows other skincare products like your toners, lotions, and serums to penetrate more effectively, maximizing their effects.
If you're looking for a deep cleansing session, incorporate weekly exfoliation using gentle sugar-based scrubs or products formulated with ahas or bhas. 
Matcha Scrub is one of our fave manual scrubs, made with a base of sugar, dead sea salt, green tea, and vitamin A. Alternatively, pick a chemical exfoliant like our Hemp Jelly Toning Solution to even out skin texture, enhance skin tone, and improve discoloration.
#6: Finish with Moisturizer and Sunscreen
Finally, once you're done with your cleansing products, apply the rest of your routine's products, such as your antioxidant-packed serum, nourishing moisturizer, and SPF (if you're doing your routine in the daytime that is!).
Try our Vegan Collagen Facial Serum to treat and prevent fine lines and wrinkles, and our moisturizing Hemp Facial Oil to provide hydration to dry, depleted skin. 
Choose a broad-spectrum sunscreen if you're doing your double cleansing routine in the day time to give your skin the protection it needs from harmful UV rays, which can cause everything from premature aging to skin cancer. 
Done!
Double cleansing can be very beneficial to all skin types. However, you can maximize your double cleansing routine with just a little know-how. That said, you do need to know the difference between washing and overwashing.
Use the right products and techniques, and you should easily see only positive results from double cleansing. Whether you're using a gel cleanser, foaming cleanser, or cleansing balm, everyone can see fantastic results when they make double cleansing part of their regular skincare routine.
Happy cleansing! 
Share
---