8 Cooling Remedies for Skin Redness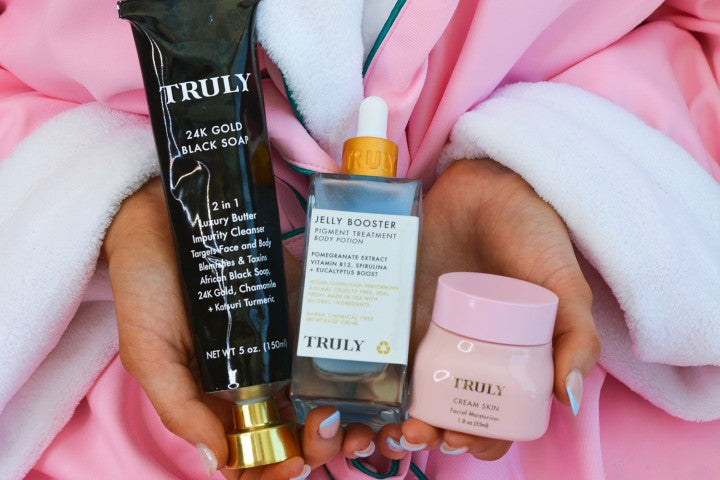 Facial redness can be caused by many different factors, including rosacea, eczema (atopic dermatitis), sensitivity, allergic reactions, consuming spicy foods, and even certain skincare products. Dealing with red skin can be frustrating and uncomfortable, but there are things you can do to soothe the burn and making skin appear less red.
Here are eight of the best remedies for reducing skin irritation and redness.
#1: Apply a Cool Compress
To quickly reduce redness, apply a cold compress to the affected area. Most of the time, skin flushing is caused by the blood vessels widening in that area, allowing more blood to flow through, and giving skin a reddish appearance. To calm redness, fill a plastic bag with ice cubes and a clean washcloth, and leave it in the freezer for 10 minutes. Remove the cloth and drape it over the affected area for 15-20 minutes. Repeat throughout the day to calm flareups.
This is also effective for anyone dealing with sunburn, prickly heat, or painful breakouts, as it minimizes inflammation and soothes the area. You can also try taking a cool bath if your skin is red all over.
#2: Use Soothing Ingredients
Harsh cleansers, toners, soaps, and scrubs can often be to blame for skin redness. If you experience dryness and itchiness after using a skincare product, drop it from your skincare routine and replace it with something more soothing. Especially if you have sensitive skin, you're more likely to react to a lot of the ingredients commonly found in skincare products. Some of these may include retinol, exfoliating acids like glycolic and salicylic acid, and acne-fighting benzoyl peroxide.
While these each have their own set of benefits, it's best to temporarily remove them if they're leaving you dry and red. Instead, opt for products that contain soothing, anti-inflammatory ingredients like green tea, chamomile, aloe vera, cucumber, allantoin, and licorice root.
#3: Try a DIY Cucumber Mask
Looking for an easy home remedy to alleviate skin redness? Create a cooling face mask from cucumber slices and natural yogurt. Simply blitz them in your blender until you have a smooth creamy texture, and apply it on your face — or the affected area — for 10-15 minutes. Both ingredients offer cooling benefits to bring irritated skin relief.
#4: Apply a Soothing Cream or Lotion
Hydration is essential when you have dry, red, or itchy skin. It helps bolster the skin barrier, preventing moisture loss and keeping skin smooth, soothed, and healthy.
Look for moisturizing products that contain ingredients like niacinamide, hyaluronic acid, CBD, and vitamin E. These can help to hydrate skin, soothe inflammation, and strengthen the skin barrier while diminishing dry patches.
We like Truly's Pineapple Haze Sensitive Skin Body Balm for its rich formula, which is thick enough for the body yet gentle enough for the face. Enriched with pineapple, jojoba oil, CBD, and vitamin E, it's a skincare hero for hydrating dry skin and reducing irritation. It can also treat sun-related issues like heat rash and sunburn.
#5: Create a Chamomile Compress
Thanks to its powerful anti-inflammatory properties, chamomile is a fantastic ingredient for sensitive skin and anyone dealing redness or irritation.
"There is basic science research showing that chamomile helps block signals in the body known as prostaglandins, which are responsible for inflammation," says board-certified dermatologist Dr. Joshua Zeichner MD. "This makes chamomile a great ingredient for people who have sensitive skin, as well as inflammatory conditions like rosacea."
To quickly relieve inflamed skin, create a compress of brewed chamomile tea. Soak a clean wash cloth in the steeped chamomile tea and drape it over the affected area for 10-15 minutes.
#6: Slather on Aloe Vera Gel
Aloe vera has long been used for the treatment of sunburn. Known for its healing and soothing properties, aloe vera gel is a go-to product for quelling red, irritated skin.
"Don't dilute its goodness by adding in any other ingredients, and directly apply the gel or the sap from aloe vera on the affected area for 10-15 minutes for a quick fix to redness," says dermatologist, Dr. Madhuri Agarwal.
#7: Spritz on a Calming Mist
If your facial redness isn't caused by a skin condition such as rosacea or eczema, try cooling your face down with a calming mist. It's not a long-term solution, but it will quickly ease your discomfort.
We like Truly's Volcanic Rosewater All-Over Hydrating Mist. It's made with a delicate blend of balancing rosewater, soothing aloe, and healing witch hazel to leave skin looking and feeling less stressed, more chill! It also gives the skin a nice dewy glow thanks to antioxidant-rich vitamin C.
#8: Try Our Soothe Red Skin Set
Do you have sensitive skin or commonly experience flareups of skin redness and irritation? Try a skincare routine that's been designed specifically for your kind of skin. Truly's Soothe Red Skin Set is an ultra-gentle, 3-step routine featuring a cleanser, pigment treatment, and moisturizer that work together to strengthen skin barrier function while cooling and comforting red, reactive skin. It's the ultimate confidence booster for anyone dealing with skin redness.
The routine relies on high-performing ingredients such as black soap, pomegranate extract, and hyaluronic acid to ease inflammation. Plus, it seals in long-lasting hydration to prevent skin from drying out!
HOW TO PREVENT SKIN REDNESS
The best way to prevent red skin is by removing any potential irritants from your routine. If certain skincare products are leaving you red, dry, and itchy, remove them and replace them with something gentler. Next, always wear sunscreen with SPF 30 or over! Sun exposure can leave skin vulnerable to dryness and redness, as well as damage, which is why it's essential to wear it daily. Alongside this, try to use products that are fragrance-free to prevent flareups.
When it comes to treating skin redness, there are plenty of over-the-counter treatments that can help. These remedies offer quick relief for anyone dealing with a flareup, except Soothe Red Skin Set which offers a long-term solution for skin redness.
Share
---