A $28 Alternative to Creme de la Mer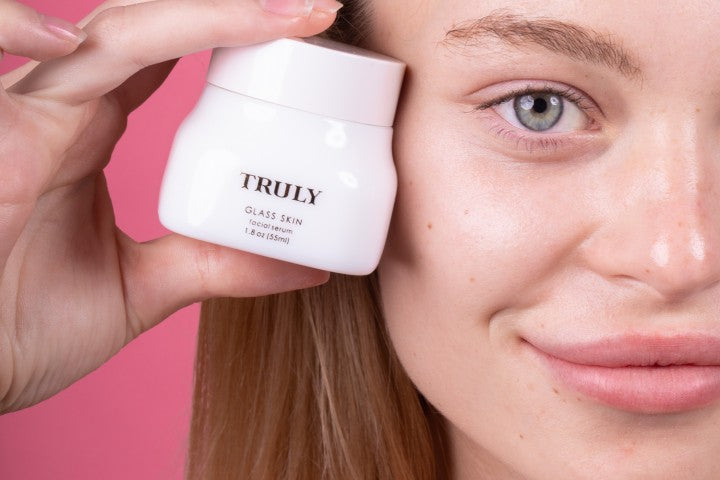 Everyone from Chrissy Teigen to Khloe Kardashian uses it, but is Creme de la Mer's signature moisturizer really worth the $350 price tag? 
As one of the skincare industry's leading luxury brands, La Mer products contain high-performing ingredients and formulas that promise flawless skin. 
The question is, do the ingredients justify the high price, or are there more affordable, equally as awesome skincare products around?
It's your lucky day! Because Truly is harboring a face cream that contains the signature ingredient found in the La Mer formulation ... but at a fraction of the cost!
WHY IS LA MER SO EXPENSIVE?
That's precisely what we wanted to know. Here's what we found out...
Their Miracle Broth
According to Dr. Joshua Zeichner of Zeichner Dermatology in New York City, the main ingredients of La Mer lotion are what make it so valuable. 
"Crème de la Mer contains a variety of natural oils as well as seaweed extract to hydrate and calm the skin," he explains. "While many products contain similar types of ingredients, there is something about the quality of the formulation that makes it superior and a cult-favorite."
It's what the brand calls their "miracle broth."
"The secret lies in La Mer's Miracle Broth — a specific way in which the brand's ingredients are combined," says Dr. Aanand Geria, a dermatologist with Geria Dermatology in New Jersey. "This is perfect for those with extremely dry skin looking for a smooth, hydrated touch."
Carefully Sourced Ingredients
A major component of what makes La Mer moisturizing cream so special is how carefully sourced the brand's active ingredients are. They go to great lengths to make sure their customers are getting premium quality products.
"With our products, you not only see results, but you're focusing on longer-term skin health," says Sara Denny Roth, La Mer's VP of Consumer Marketing. "You're paying for sustainable sourcing of sea kelp, a cutting-edge fermentation process, supreme ingredients, and a high-touch experience."
The Elaborate Process
According to the brand, their sea kelp is harvested by hand off the coast of Vancouver. The entire fermentation process takes approximately four months, and involves an elaborate process using light and sound energy to enhance the skin-rejuvenating effects of sea kelp and other ingredients. 
"Through the art of fermentation, we transform individual ingredients into micronutrients that the skin can more readily recognize and receive," says Roth. "We use light and sound energy to enhance the activity of the sea kelp, vitamins, minerals, and other ingredients."
They Give Back
Since La Mer sources a slew of its ingredients from the sea, the company have made it their mission to give back to ocean conservation efforts through the La Mer Blue Hearts Oceans Fund. You can't really hope for more than that!
An Affordable La Mer Moisturizer Alternative
Never used La Mer? Put off by the price? We hear you.
The good news is, similar products do exist -- without the whopping price tag. For instance, Truly's Cream Skin Face Cream.
It's formulated with hyaluronic acid, coconut oil, cocoa seed butter, and ... sea kelp.
Sea kelp extract is mineral and antioxidant rich, and highly effective at tackling dryness, inflammation, and blemishes. Due to its high content of antioxidants, kelp protects your skin from external aggressors and daily pollution.
Hyaluronic acid helps support natural collagen production so that your skin looks and feels super soft, smooth, and youthful. 
These nourishing, hydrating ingredients work in harmony to moisturize the skin, plump out fine lines and wrinkles, and seal in moisture for day-long hydration and deliver a glowing, dewy finish. 
This day and night cream is one of the best La Mer dupes out there. Loaded with key ingredients and suitable for all skin types (including sensitive skin), you're gonna fall in love with this formula.
At only $28, it's a steal! 
An Affordable La Mer Serum Alternative
That would have to be Truly's Glass Skin Facial Serum.
Its ingredient list includes willowbark to clear and minimizes your pores, and sea kelp to reduce inflammation and retain moisture. There's also the emollient coconut oil in there combined with the humectant glycerin to pull in and lock in moisture. The end result? Dewy, radiant skin. 
If you want to maintain a flawless complexion, make this product part of your daily skincare routine. It'll make your skin feel great!
Once again, it's only $28. 
An Affordable La Mer Eye Cream Alternative
So you've heard La Mer's Eye Concentrate is super good at reviving tired eyes? As true as that may be, don't feel forced to splash out your hard earned cash when there's a much more budget-friendly alternative within reach.
Truly's Eye Candy Anti-Puff Eye Cream blends hyaluronic acid with jojoba seed oil, and sea kelp extract to boost collagen production, retain moisture in the skin, and fade dark circles and inflammation (thanks to its anti-inflammatory powers!). 
Can you guess the price? Yup, $28.
What Else You Should Know
Know how we said about La Mer's commitment to carefully sourced ingredients and giving back? Well, we're not much different.
At Truly, we only create products using plant-based ingredients and cruelty-free practices. All our beauty products are made with clean, natural ingredients too! 
That's because we're committed to creating a cleaner, kinder world.
Without a doubt, La Mer is a magnificent brand. But if you're trying to do skincare on a budget, there are other, more affordable brands you can choose. For instance, the drugstore Nivea Creme was once compared to La Mer Creme for its similarity in ingredients. 
If you're looking for a nourishing, skin-rejuvenating moisturizer, you can also keep your eyes peeled for certain special skincare ingredients, such as shea butter, vitamin C, eucalyptus, zinc gluconate, magnesium, potassium, and lime. These skin foods hydrate, even out skin tone, and brighten the complexion. Avoid mineral oils and occlusives like petrolatum jelly, as these can clog your pores.
After using a gentle cleanser to wash away dirt and oil, apply a thin layer of the moisturizer for lasting hydration and hours of glow!
Share
---