Animal Collagen Can't Penetrate Skin, But Vegan Collagen Can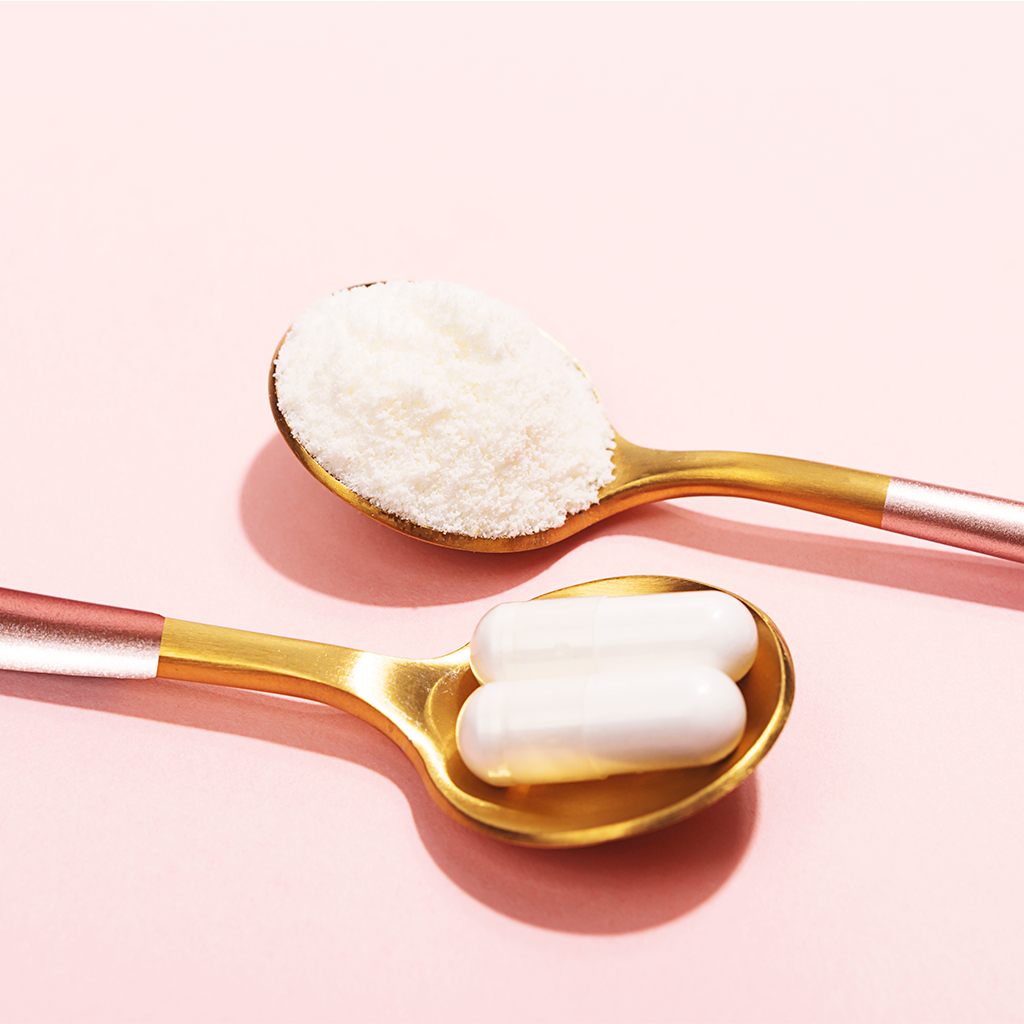 Collagen-rich creams and serums promising the vanishing of lines and creases flood the skincare market, but do these products actually work? Scientists are skeptical.
Collagen is the protein that keeps our skin looking firm, plump, and youthful. But as we age, that collagen production drops, and that's when the skin starts showing symptoms of aging: fine lines, wrinkles, loss of fullness, etc. Smoking, drinking, and getting too much UV exposure can also cause premature aging through collagen loss.
That's why people are stocking up on everything collagen – creams, serums, supplements, and drinks. All for the sake of youthful skin.
Turns out, slathering the skin in animal collagen skincare products may not yield the youthful complexion for which you crave. And there's a perfectly logical reason why. Vegan collagen, on the other hand, can be far more effective in treating aging skin.
WHY ANIMAL COLLAGEN DOESN'T WORK FOR THE SKIN?
Most of the collagen in our skin is found in the dermis – that's the layer of skin beneath the epidermis. Those skin cells in the dermis synthesize the collagen that connects to the remaining dermis together to give the skin its structure.
The problem is, the structure of collagen itself is a complex and colossal molecule. Individual amino acids connect to form long chains, which results in the formation of thicker strands that coil around each other and form triple helices.
That's why serums formulated with animal collagen don't work. Collagen's huge braided molecules are simply too large to penetrate the top layer of the skin (epidermis) and way too big to get down into the dermis where collagen is produced and stored.
While big brands may claim their collagen formula's effectiveness, there's actually no concrete evidence to back up their claims.
HOW VEGAN COLLAGEN WORKS
Vegan collagen is essentially an amino acid structure of collagen comprised of soy, hemp, and pea protein. Scientists are combining little snippets of amino acids from various proteins and re-connecting them to develop a new vegan collagen protein.
Plant-based ingredients applied to the skin can efficiently penetrate the epidermis, unlike animal-derived collagen. While it cannot reach the dermis, where wrinkles first appear, it does address skin aging. You can also reach this layer from within – via vegan nutrition.
According to scientific research, vitamin C and other plant-based compounds can help stimulate the production of collagen in your skin. Specific vegan ingredients can also protect your collagen from being destroyed.
In fact, vitamin C is allegedly the most important compound in supporting the body's natural production of collagen. Whether you eat it or slather it over your skin, vitamin C is a potent vegan collagen stimulator.
WHY USE PLANT-BASED COLLAGEN FOR THE SKIN?
Vegan collagen helps strengthen the skin to improve firmness, plumpness, and overall texture.
There are a number of vegan beauty products infused with plant-based collagen or rich in collagen stimulating ingredients such as vitamin C, copper, glycolic acid, and vitamin B3.
One of the top benefits of vegan collagen is that its molecules are small enough to penetrate the top layer of your skin, unlike animal collagen which cannot.
Consuming plant-based supplements and food sources is another great way to up your collagen intake and improve the appearance of your skin.
BUY VEGAN COLLAGEN SKINCARE BUNDLE
The future of anti-aging skincare has arrived with Truly's new revolutionary vegan collagen skincare line.
In this bundle, you'll have everything you need for your daily skincare regimen – vegan collagen facial cleanser, vegan collagen serum, vegan collagen body cream, and a vegan collagen face mask.
It's vegan. It's cruelty-free. And it's made in the USA.  
Get your Truly Vegan Collagen Skincare Bundle, for only $124.00 now!
Share
---