Back to the Gym? Bring these Skincare Essentials With You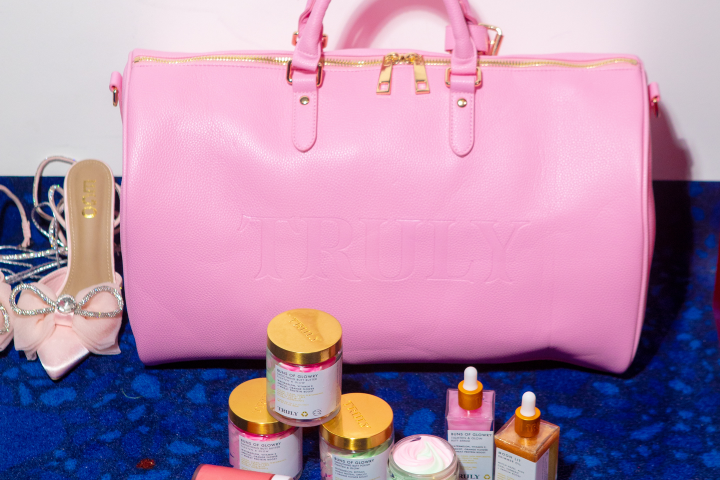 With the gyms re-opening, that means it's back to the treadmills and rowing machines...and A LOT of perspiration. 
To keep your skin clear and glowing after every sweat sesh, make sure you pack your gym bag with a few skincare essentials. Besides unclogging your pores and preventing breakouts, the right skincare products can also enhance your post-workout glow so you can leave the gym looking lit. 
Wondering what to use in the locker room? Pack up your gym clothes, sports shoes, and water bottle, then reach for these skincare gym bag essentials for a radiant complexion after your workout. 
1. Clarifying Cleanser
Always start and end a workout with fresh, clean skin. Sweating opens up your pores, so cleansing with a good face wash prevents your pores from becoming clogged and swerves the formation of breakouts.
Reach for Truly's Hemp Jelly Anti-Blemish Facial Cleanser. It's formulated with salicylic acid, watermelon, CBD, and vitamin A to slough away oil, dirt, and dead skin cells, soothe irritation, and maintain skin's hydration. If you wear makeup to the gym, do a double cleanse using this cleanser and a scrub to thoroughly remove makeup from pores. 
After finishing your final reps, head to the nearest bathroom and wash your face with this clarifying cleanser. It'll leave your skin feeling instantly fresher. 
If you're stuck for time, you can also pack cleansing or makeup removal wipes, but dermatologists generally do not recommend them as they do not thoroughly cleanse skin and they can cause irritation -- especially in sensitive skin types.
2. Glow-Enhancing Serum 
Next, brighten up your skin tone and enhance your workout glow by slathering on an illuminating face serum like Truly's Blueberry Kush Hemp Facial Oil. 
Enriched with antioxidant-rich blueberries, brightening vitamin C, and an exfoliating AHA/BHA boost, this formula diminishes dryness, quells inflammation, and prevents the formation of fine lines and wrinkles, all while leaving your skin gleaming.
AHAs and BHAs are exfoliating acids that work to dissolve dead skin on the skin's surface. The common AHAs include glycolic acid and lactic acid. The most notable BHA is salicylic acid.
Ultimately, it's the perfect post-workout serum for promoting extra levels of glow.
3. Sunscreen
Never leave the gym without a generous coating of SPF. Or if you're planning on exercising outside, you'll need to wear sunscreen before leaving the house -- and reapply it every two hours. 
Sunscreen protects the skin from damaging UV rays and daily pollution. In turn, it prevents premature signs of aging which can take the form of fine lines, wrinkles, and hyperpigmentation. 
Invest in a sunscreen with SPF 30 that is non-comedogenic to give your skin the protection it needs without clogging your pores. Slather it on before heading outdoors, and remember to reapply throughout the day for continued protection. Make it part of your daily skincare routine. 
4. Moisturizer
Just like you do in your daily beauty routine, it's important to always moisturize after breaking a sweat. When you wash that sweat away, you also remove the skin's natural oils, which can leave skin feeling tight and dry. Moisturize straight after washing your face to help your skin retain moisture and keep your skin from drying out. 
Choose a moisturizer that's right for your skin type. If you have dry skin, try a cream-based moisturizer like Truly's Cream Skin Face Cream, which is loaded with hyaluronic acid and sea kelp to deeply hydrate your skin.
Those with oily or acne-prone skin should try a serum-based moisturizer that hydrates and treats at the same time, like Truly's Hemp Oil Facial Serum. It's made with hydrating hemp and pore-clearing vitamin A to help moisturize and clarify your complexion.
5. Hydrating Lip Balm
Don't forget your precious pout. Sweat can dry out lips too, so you'll want to finish your workout sesh with a swipe of hydrating lip balm like Truly's Unicorn Fruit Lip Plumping Balm.
It contains skin-softening shea butter, ultra-moisturizing coconut oil, and plumping peppermint to smooth, soften, and add volume to dry and depleted lips. Give this beauty product a permanent place in your gym bag. It doesn't take up much space, and it's an essential!
6. Anti-Blemish Body Mist
Last but not least, spritz your chest, back and butt (aka, the oiliest parts of your body) with a blemish-clearing mist once you've finished that last lifting session. A common cause of body acne is the buildup of dirt, sweat, and oil in the pores. Prevent your pores from getting clogged in the first place by giving those oily parts a quick spritz.
Truly's Tansy Water was especially designed to spritz away blemishes and redness thanks to its unique lineup of acne-fighting ingredients such as beta glucan, salicylic acid, squalene, and blueberry. These ingredients work together to fight inflammation while promoting a clear, nourished, and glowing complexion.
Spritz it over those acne-prone areas after your workout to keep skin clear and zit-free.
Pack Up Your Beauty Essentials in this Vegan Leather Pink Duffle 
So, you've got all your skincare essentials sorted. Now you just need a super stylish bag to transport them all in. We've got the perfect one for you! Truly's Pink Duffle!
This vegan leather bag features a zippered main compartment, detachable strap, and tons of space to stow your skincare collection in style. Packed with the products above, you'd still have space for your towel, deodorant, and dry shampoo. 
Seriously, working out and doing your post sweat sesh skincare routine has never been chicer! 
Good for you for returning to the gym! While we greatly support your efforts, we highly recommend filling your gym bag with a few skincare essentials in order to keep your skin clear, smooth, and irritation free, while boosting your skin's radiance.
Working out gives you a natural glow anyway. But if you're looking for a way to take that sparkle any higher (and prevent sweat sesh nasties like blackheads and whiteheads), always pack smart.
You have everything you need to keep your skin fresh and dewy right here. 
Share
---