Battle of the Exfoliators: What to Choose Based on Your Skin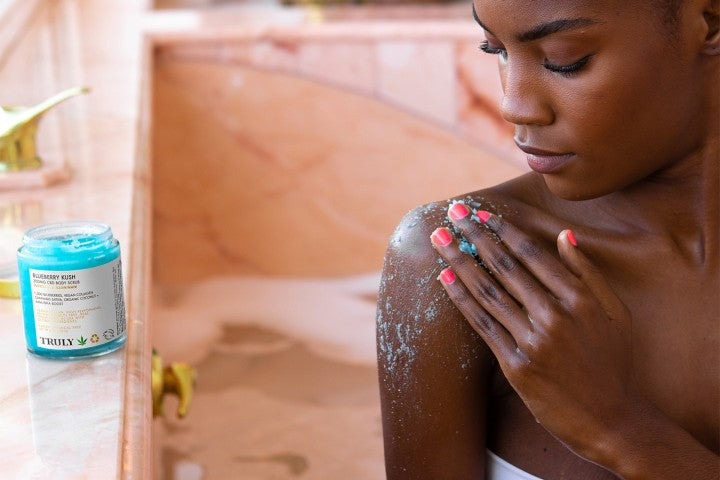 Exfoliation...it's the step in your skincare routine that smooths, clears, brightens, and plumps.
You're only supposed to exfoliate once or twice a week, but once you do, you're left with skin that glows!
That's because the process of exfoliation sloughs away dead skin cells and product buildup, promoting even skin tone and glowing skin -- IOW, the kind of complexion you dream about!
Exfoliating regularly also helps other skincare products penetrate deeper, and provides a nice, smooth base for makeup application.
Regardless of your skin type, there's an exfoliator out there that's perfect for you.
Here at Truly, our digital shelves hold heaps of vegan, cruelty-free, active-ingredient packed polishes all ready to take on -- and transform! -- your skin.
Here's which Truly exfoliant to choose based on your skin. 
Sensitive Skin
If you're prone to redness and irritation, you mustn't overdo it with either physical exfoliation or chemical exfoliation. Overdoing it will only worsen your symptoms, and leave you feeling extra sore.
Look for a soothing facial scrub that contains anti-inflammatory properties, like our Matcha Face Scrub.
It's made with natural sugar, dead sea salt, matcha, and glycolic acid.
Matcha is proven to reduce inflammation, soothe agitation, promote even skin tone, and clear breakouts. It's perfect for sensitive skin as it's soothing, calming, and loaded with antioxidants to combat the signs of aging caused by free radicals.
Glycolic acid is best known for its exfoliating abilities. This alpha hydroxy acid removes top layers of the skin's surface, stimulating collagen growth and enhanced elastin. It's effective for treating everything from fine lines to blackheads, hyperpigmentation to uneven texture. 
Dry Skin
Exfoliation can be really handy at tackling dryness -- provided you pick a hydrating one of course!
You've found a good one in Truly's Moon Rocks Scrub.
While you've got lavender and blue tansy to thank for its redness-reducing effects, you can thank jojoba oil for its hydration superpowers. 
"This oil is fantastic for the skin on your face and body," says Alan Durkin, M.D., a board-certified plastic surgeon in Vero Beach, Florida. "It's a lighter-feeling oil but deeply hydrating, and full of nutrients, vitamins, and minerals that are integral to the health of your skin." 
The body scrub also contains coconut oil for added moisturization to skin.
Oily Skin/Acne-Prone Skin
Are you getting breakouts on your back, boobs, or butt?
It sounds like you need to incorporate a clarifying, zit-zapping physical exfoliator into your beauty regimen. If your skin's producing excess sebum, you're most likely destined for a cluster of breakouts somewhere on the body. With regular exfoliation, you can clear your blemishes and ward off scarring.
Try Truly's Blueberry Kush CBD Body Scrub, a formula that blends hydrating hemp and coconut with blemish-banishing AHAs and BHAs like salicylic acid and lactic acid. 
It's also brimming with blueberries -- a powerful source of antioxidants that support the skin's barrier function and deliver brightening effects for clear, smooth, radiant skin.
Combination skin can also benefit from this beta hydroxy acid exfoliator.
Aging Skin 
Fine lines can start appearing virtually anywhere on your body -- they don't just appear on your face. If you're in your mid 20s and you're seeing signs of aging, it's time to put an anti-aging regimen in place.
In addition to an antioxidant-loaded cleanser, retinol serums, and rich moisturizers, you'll need a line-fading physical exfoliant. 
Truly's Vegan Collagen Body Polish is a lightweight formula for everyday use on the body. It moisturizes, conditions, fades fine lines and dark spots, and gets your skin back to its most youthful, glowing version.
Its chief ingredient -- vegan collagen -- is a plant-based protein that triggers the body's natural production of collagen. It helps strengthen and condition the skin to improve texture, and firmness.  
Its other superstar ingredient has got to be retinol, a vitamin a derivative proven to boost collagen production, speed cell turnover, and brighten skin tone.
Besides this body polish's anti-aging effects, it also intensely hydrates thanks to its high content of the hydrating and nourishing cocoa butter and shea butter. 
Dull Skin 
When your skin's looking and feeling a bit meh, that's when you know you're dealing with dullness.
The easiest way to diminish it: scrub your face and body with Truly's Buns of Glowry Polish. 
Owing to watermelon being the main ingredient in the formula, this tasty-smelling tub of scrub is your pathway to glowing skin.
That's because watermelon extract is rich in vitamin C, amino acids, and lycopene which all promote cell regeneration, hydration, exfoliation, and of course, brightness. 
Wheat protein is another key ingredient in the formulation. Packed with ceramides, wheat protein enters the skin, pumping it full of these lipids to plump up the skin. As a result, it fills out hollowness and fine lines, and delivers long-lasting hydration to the skin.
You can use this on your face, boobs, booty, or basically anywhere that needs a little extra glow!
HOW OFTEN SHOULD YOU SCRUB THE FACE VERSUS THE BODY?
If you look at dermatology Institute-approved guidelines, you'll see that the optimum amount of time to exfoliate is 1-2 times per week -- max! And this applies to both your face and body.
While you'd assume the body requires more exfoliation (the skin is thicker there, after all), the skin there is just as prone to redness and irritation as your face. So it's a good idea to stick to exfoliating no more than twice a week, both on the face and body.
Always remember to finish with a hydrating lotion and sunscreen, as exfoliation can dry the skin out and leave it more vulnerable to UV rays.
If you have chronic skin conditions, avoid exfoliating altogether until you've consulted your dermatologist. 
In some cases, you may want to book in for a chemical exfoliant or chemical peel session. Chemical exfoliators are a more intense version of exfoliation, using chemicals like glycolic acid and special enzymes to dissolve dead skin cells. 
Or you can go the DIY route, using chemical exfoliant serums and scrubs to get smoother, softer skin.
Either way, you've got plentyyyyyy of options!!!
Share
---