Cocoa butter lotion: 5 skincare issues, solved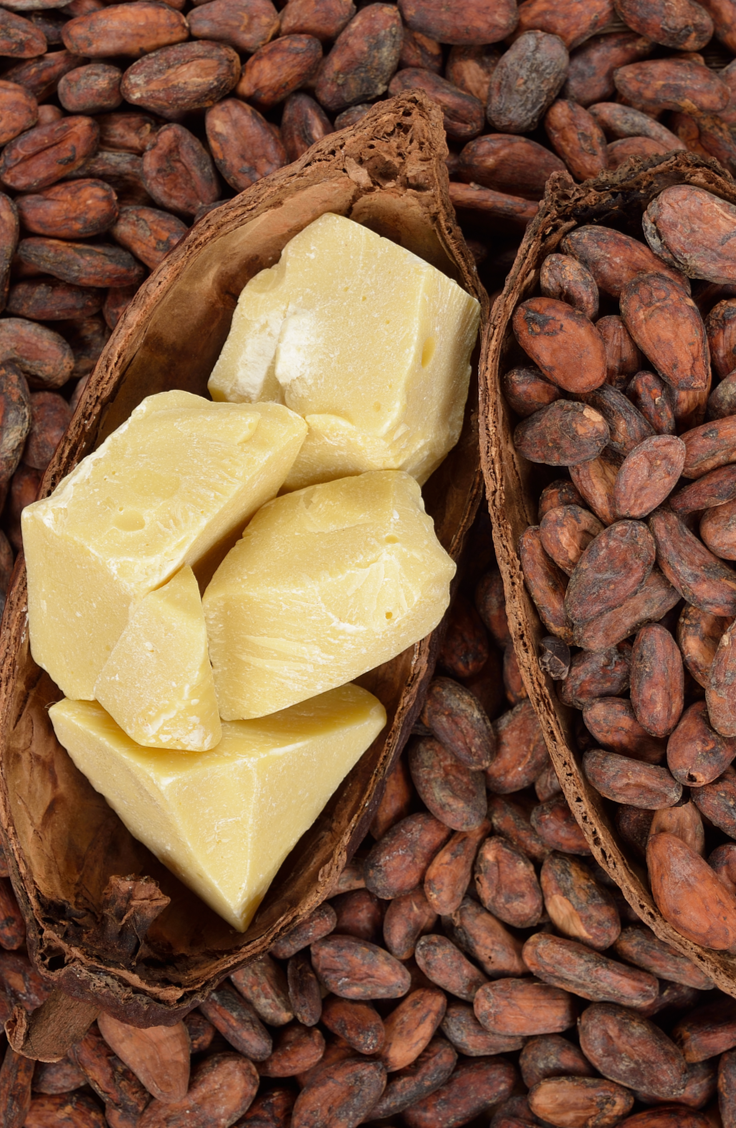 It really is the natural products that prove most effective and cocoa butter lotion is no exception. To a lot of people, cocoa butter brings to mind images of decadent chocolate desserts, ice creams and cakes. But this tasty product also happens to be a fabulous skin care ingredient. Its moisturizing effects are what make it such a popular skin lotion and body butter. It's hydrating, non-greasy and perfect for sensitive skin. In fact, all skin types can benefit from this butter. There are numerous skincare issues it can solve.
WHAT IS COCOA BUTTER?
Cocoa butter is a fat extracted from cocoa beans taken from the cocoa tree (theobroma cacao). It's been used in medicine for over three centuries. Ancient Aztecs and Mayans once used cocoa for currency. But it wasn't until recently that we discovered cocoa butter's profound beauty benefits triggered by compounds called phytochemicals, which help keep the skin smooth and supple.
Packed with essential fatty acids and antioxidants, it's one of the best emollients around, making it a superb moisturizer for the skin. You will find many cocoa butter face lotions and body lotions enriched with vitamin e that are excellent in hydrating the skin and locking in moisture.
But natural cocoa butter lotion is just as effective. Let's take a look at some of the skin care issues this stuff can solve.
COCOA BUTTER LOTION SOLVES ...
Dry skin
To keep skin soft and eradicate rough skin, cocoa butter can help keep your skin moisturized and prevent dry skin. By providing deep hydration, the butter serves as a protective barrier for the skin, locking in moisture and preventing dryness and roughness. You can use it much like any other moisturizing lotion and it will hydrate your skin without leaving a greasy residue. If you're opting for a cocoa butter lotion specifically, choose a paraben free, fragrance free lotion to avert irritation and redness. 
The reason cocoa butter is so moisturizing is due to its high fatty acid content. These fatty acids nourish the skin and protect it from moisture loss. It traps water to lock in hydration and keeps your skin feeling smooth and supple. You can use it as a body moisturizer or face cream. For intense hydration, try using cocoa butter petrolatum which will heal severely dry skin. 
Try this Coco Rise Fudge Whipped Body Butter, only $21/6.75 fl oz.
Premature aging
As it's rich in antioxidants, cocoa butter can help protect the skin from toxins and UV rays - both of which cause premature aging. To maintain a youthful appearance, incorporate cocoa into your skin care regimen. Its booming phytochemical content improves blood flow, rids toxins and decelerates skin aging. Try to find a cocoa butter sunscreen and lip balm for added protection against the sun and make sure you choose one with tocopheryl acetate, as this accelerates the sunscreen's efficiency. You will also find it in many tanning products. 
For a super moisturizing natural lotion, mix cocoa butter together with coconut oil for deep hydration. If you have any concerns about putting this on your skin, talk to your dermatologist beforehand.
Scars and stretch marks
Looking for a natural way to fade those acne scars or stretch marks? Many cocoa butter lotion brands can smooth scars, stretch marks and other marks on the skin. This is due to the butter's essential fatty acids, vitamins, and antioxidants which plump up the skin and reduce hyperpigmentation. If you're using it for body marks, choose a cocoa butter body lotion enriched with vitamin e and apply to dampened skin. Once you've taken a bath, pat your skin gently with your towel, then apply the body butter to your damp skin to lock in moisture and keep your skin moisturized. 
Shea butter is said to be more effective in treating skin marks, but cocoa can work just as well. Make sure the one you choose is free of mineral oil and phthalates. It's always recommended to choose the most natural butter you can find.
Eczema and dermatitis
Cocoa seed butter is commonly used to treat skin conditions like eczema and dermatitis. External use of this butter encourages hydration and reduces irritation. Thanks to its anti-inflammatory properties, cocoa butter lotion can soothe skin and keep dryness away. You may see ingredients such as glycerin, cetyl alcohol, dimethicone or plain old aqua in cocoa nut butter products. These are actually okay and shouldn't cause any skin inflammation. However, if you do have any concerns, be sure to talk it through with your dermatologist. If you suffer from any of these skin conditions, avoid butters and seed oils that contain benzyl alcohol or behentrimonium methosulfate which can actually cause irritation. 
Whether you have eczema or dermatitis on your face or body, you'll be able to find a hydrating face or body lotion to meet your needs. 
Wrinkles
No doubt your personal care routine involves warding off wrinkles before they arrive. Because of its plant compounds known as phytochemicals, cocoa butter promotes blood flow to the skin and plumps up the skin. This both prevents and helps fade wrinkles and fine lines. 
You can actually make your very own diy anti-aging night cream which works beautifully in fading lines. However, to see results, you will need to apply it daily.
All you need are 2 tablespoons of cocoa butter, 1 teaspoon of olive oil and 1 teaspoon of coconut oil. Mix and melt the ingredients in a pan over low heat. Then remove the pan from the heat and leave the mixture to cool. Once cool, add it to a glass container and store in a cool, dry place. Apply the cream every night before you go to bed for best results. With regular use, you should start to see your fine lines and wrinkles fading away. 
So, if you're looking for a nourishing face or body cream for smooth and silky skin, try cocoa butter lotion. When purchasing it, try to find the most natural and organic product you can find, as it will be more beneficial for the skin. That doesn't mean you need to go for the most expensive product you can find, but it does mean taking a few minutes to examine the label and check for those nasty ingredients you definitely DO NOT want in your lotion.
Share
---