Deal of the week: Shop now, get free 2-day shipping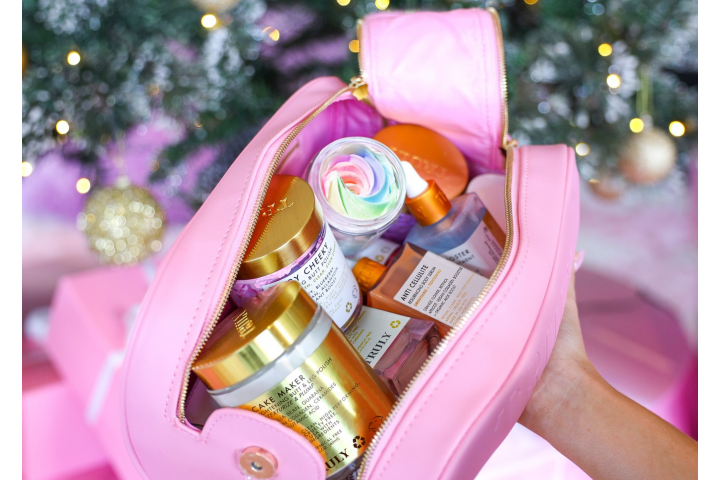 Haven't finished your Christmas shopping just yet? No worries! Now's the time to check off everyone on your list. From your mom to your sister and your bestie, all your loved ones are guaranteed to be satisfied with our last-minute gifts.
Grab your Christmas gifts by the 19th of December to secure your Christmas arrival and get free two day shipping. Unfortunately, if your order is placed after the 19th, we won't be able to ensure its arrival for Christmas. And we don't want to leave your loved ones waiting!
Looking for some last-minute gift ideas? We've got some great gifts on offer this holiday season — for the smallest and biggest budgets! Scroll down to find the best gifts and get free 2 day shipping when you shop soon!
Some Last Minute Christmas Gifts
Whatever your budget and for whoever you're buying, we've got a selection of fabulous beauty products and accessories to make her happy Xmas morning. Here are some of our faves you can shop right now.
Save
Plump Your Lips Bundle
Treat her to a plump, luscious pout this Christmas! This bundle features our Unicorn Fruit Lip Balm + Heartbreaker Lip Mask, both designed to nourish lips with deep hydration while providing subtle plumping effects for a visibly fuller pout.
Moon Bath Essentials
Bring the spa to her bathroom with these stress-relieving shower essentials. Moon Shower Body Cleanser washes away the day's pollutants and impurities while easing muscle aches and pains. Moon Shower Mist sets the tone for a calming, ultra-relaxing shower experience while promoting a deeper, more rejuvenating sleep.
Spoil
Barbie Dream Duo
Our limited edition Barbie™ Body Butter + Mini Purse Set makes the most unique Christmas gift! This is something you can't get on Amazon or at Walmart, Target, Asos, or Nordstrom. It is only available at our online store. Inside, you'll find a pink whipped body butter + adorable vegan leather purse engraved with the Barbie logo. It's the perfect gift for Barbie lovers!
Dry Winter Skin Kit
Spoil someone special with this 9-piece skincare set featuring hand-picked bestsellers that promise to hydrate, plump, and soothe your parched winter skin. Only high quality, high performing skincare products can be found in this bundle — and we're sure recipients will be more than satisfied. Bonus: early shoppers will get a FREE Blue Robe with every Dry Winter Skin Kit purchase!
Truly Gift Card
With our e-gift card, you get to decide how much you want to treat your bestie to. We offer cards from $50 all the way up to $200, depending on your budget. Drop it in her inbox as a super last minute gift or print it off and give it to her in person.
Splurge
VIP Collection 4.0
The best of Truly can be found right inside this box! Our new and limited edition collector's set includes 11 full-size body care treats + a FREE Holiday Robe worth $270. In other words, you're getting $549 worth of goodies for the price of only $270. It's the best buy for those set to spoil!
Signature Luxury Trunk
Searching for that perfect, unforgettable Christmas gift? Discover our exclusive Signature Luggage Trunk. Crafted from the finest vegan leather and featuring a spacious two-level interior, you can take this trunk on your travels, for a vintage train moment, as a gorgeous photo prop, or simply for stylish storage. It's practical, versatile, and irresistibly chic. Due to limited quantities, you'll need to be quick picking up this beauty!
Mystery Subscription Box
The gift that keeps on giving! Our Mystery Subscription Boxes are the perfect surprise for your fave babes this Christmas. Featuring Truly's trending products, it's a great chance to discover new products and look forward to a monthly surprise. Simply select a box (Signature or Ultimate), and we'll ship out a new bundle of mystery goodies every month unless you pause or opt out. This subscription service lets you treat your loved ones well beyond Christmas.
Last Chance to Get Your Xmas Gifts
Get Free Two-Day Delivery
We get it. Holiday shopping can be chaotic, especially when you've got so many more commitments in your daily life. To ensure you check off everyone on your Xmas list, be sure to place your Truly orders by the 19th at the latest to guarantee its Xmas arrival. You'll also get FREE 2-day shipping if you live within the United States.
So select your gifts, checkout, and enjoy fast shipping. Within two business days, your goodies will be there with you!
While Truly products are sold by retailers such as Ulta Beauty and Sephora EU, the same discounts and shipping options may not apply. To get free standard shipping this Christmas, do your online shopping at Trulybeauty.com and you can expect a super speedy delivery service free of charge.
Shop Now + Save
The holidays are a busy time for us, which is why we can't offer same-day delivery or even next-day delivery (though, outside of holiday it is possible to offer one-day shipping). We can, however, guarantee 2-day delivery on purchases made by the 19th of December. And you'll get it entirely for free!
We hope this holiday gift guide has been helpful in acquainting you with the perfect presents for your loved ones. Since we don't offer next-day shipping at present, we urge you to place your order ASAP to ensure your friends and family members receive their Christmas gifts in time.
Share
---