Face Sculpting in Seconds: Skincare Tips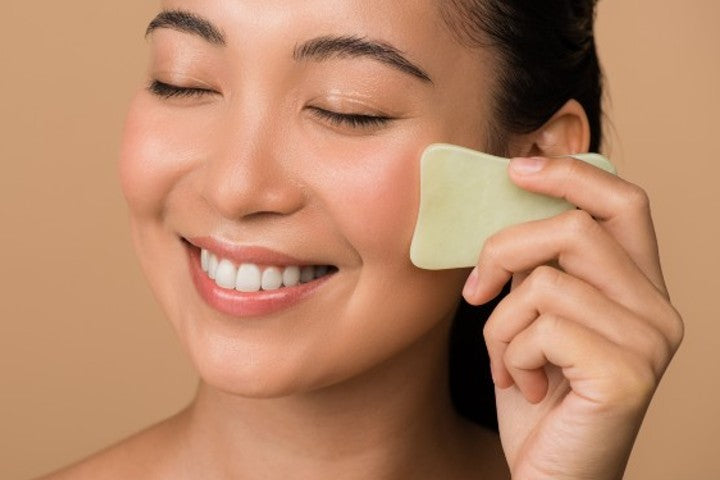 While not everyone is blessed with a strong jawline and razor-sharp cheekbones, it is possible to chisel your features with a few skincare sculpting secrets.  
Here's what you need to do to tighten, firm, and sculpt your face. 
Facial Workouts
If you want to improve the appearance of your skin, you'll need to start working those facial muscles!
As you age, the skin along your jawline begins to sag. But it's not just age that does it. Constantly looking down at your phone or other technical devices may contribute to jawline sagging. Thankfully, jaw exercises can help to tighten things up a bit. 
The best jawline exercise for swerving the sag: lift your chin without hyperextending your neck. Turn your head to the right until you're looking over your right shoulder, then jut out your jaw. Hold that position for several seconds, release, and return your head to the starting position. Repeat the exercise three times before switching to the left side and repeating the exercise. 
Consistency is key if you want to see noticeable results. Experts recommend doing facial exercises seven days a week for at least three months.
Facial Massages
Now you've perfected your jaw-tightening exercises, why not treat yourself to a soothing face massage to reap the anti-aging effects? Think less puffiness, fewer fine lines, and less dark circles. It really is an effective way to achieve healthy, glowing skin.
"By working all the layers of your skin correctly, facial massage at home can also increase blood circulation, allowing more oxygen and nutrients to reach the cells of the skin," says face yoga expert Danielle Collins. "The result is a clearer complexion with a healthy glow thanks to fewer toxins."
Besides shaping your face, massaging stimulates lymphatic drainage which can help eliminate many skin issues like breakouts, dark circles, wrinkles, and uneven skin tone. 
For best results, be sure to first apply skincare products with a bit of slip, like Truly's Blueberry Kush CBD Face Oil or Mary Jane Glow Serum, to avoid pulling your skin.
Smile More!
An easy one -- yet soooo effective!
Smiling helps extend your cheekbones while simultaneously sharpening the jawline. In other words, smiling doesn't just enhance your mood. It enhances your skin too!
It's an easy way to work the muscles in your face for some major sculpting effects. Just be aware that it'll take a few weeks of regular smiling to see results. Make a habit of smiling every day and you'll soon notice your jawline and cheekbones becoming more chiselled.
Adopt a Skin-Firming Skincare Routine
In addition to facial yoga and massages, you can also rely on a few skin-toning ingredients to sculpt your face. Retinol is one of those superstar ingredients. That's because retinol signals your body to produce collagen and speed cell turnover for firmer, smoother, tighter skin. Another excellent skin-firming ingredient is vegan collagen. It helps strengthen and condition the skin to improve texture, suppleness, and firmness. 
You will find these two ingredients in every product of Truly's Vegan Collagen Bundle, which features a cleanser, serum, face mask, and body lotion. It's also formulated vitamin C for brightening effects. For best results, use every product except for the mask twice daily. The mask should be used 2-3 times per week for optimum results.
Contouring
Contouring is a quick and easy way to create the illusion of defined cheekbones. You can use this technique to alter the shape of your nose, lips, cheeks, jaw, and brows. 
To make your cheekbones truly pop, swipe a line of contour powder from your ear to the apple of your cheek using your fingers or an angled makeup brush. Repeat the process, and blend along the edge of your jawline. 
You can even contour the outer corners of your forehead to make it appear smaller. Simply get more powder, tap off the excess, and swirl it along your forehead, staying close to your hairline.  
Finish the look with a swipe of eyeliner, mascara, and lip gloss, and you're good to go.
Use a Gua Sha Tool
Gua Sha is an ancient practice of dragging a cool stone along the face and body to boost blood flow. Celebrity facialists, dermatologists, and even makeup artists swear by this treatment for cooling, de-puffing, and refining the face. 
You can also use it to apply your beauty products -- particularly products that deliver hydration like serums, oils, and moisturizers. Applying them with a gua sha tool can actually help them penetrate more effectively in the skin, enhancing their effects on your skin. It's a hack you've really gotta try! 
Slather on Sunscreen
So this won't exactly sculpt your face, but it will protect the skin from loss of collagen which steals skin elasticity and firmness. Wearing sunscreen daily is an essential for healthy skin. 
Remember to reapply throughout the day. If you're spending most of the day indoors, you can get away with only one application. If you're going to be outside most of the day, re-apply sunscreen once every two hours for maximum protection. 
Spend an Extra 30 Seconds Applying Your Skincare Products
People don't spend long enough applying their skincare products, and yet it really is the best way to boost skin glow, plumpness, and firmness. From your cleansers to your exfoliating scrubs, serums to your face creams, spend a little more time massaging them in to elevate their effects and get the blood flowing in your face. 
You'll love Truly's Cream Skin Face Cream, which is formulated with hyaluronic acid and sea kelp, to boost your skin's moisture levels and overall luminosity. It's also suitable for all skin types. 
Lusting for Gigi Hadid's Cheekbones or a jawline like Gal Gadot? These face sculpting hacks may not give you such dramatic results, but with consistency, you will notice a difference over time. We recommend making these hacks part of your daily routine and sticking to them for at least 12 weeks in order to see visible results. Don't judge until you've gave them the benefit of the doubt.
Share
---