Ginseng Root, Korea's Skin Care Superfood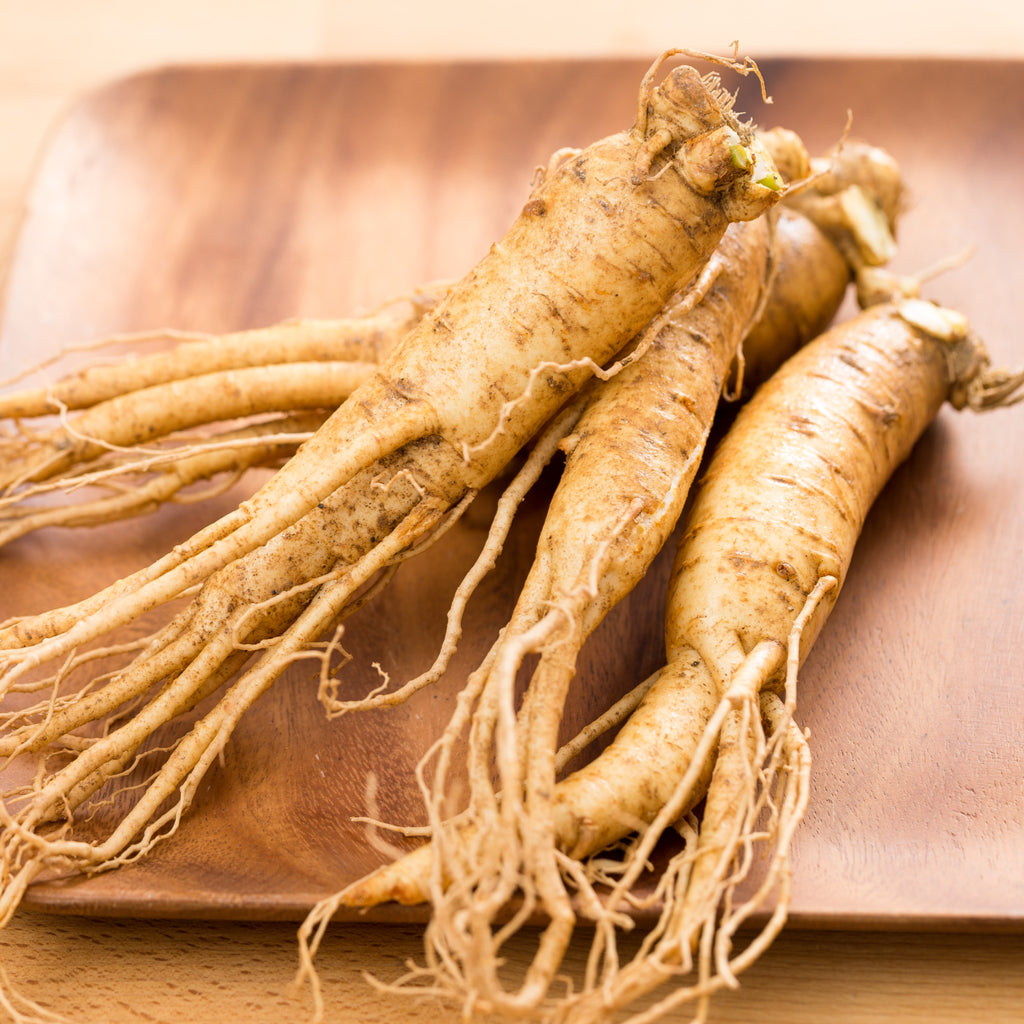 Ginseng root is the original superfood. We just haven't heard too much about it until now.
See, while it's pretty new and buzzy to us, ginseng has been consumed in Asian countries for centuries with a certified profile of health benefits including enhanced energy and weight loss.
Nowadays, ginseng root is also popping up in numerous skin care products, promising to detoxify the skin and fight premature aging. Loaded with vitamins and minerals, ginseng is a skincare superfood with a slew of benefits.
Let's dig deeper!
WHAT IS GINSENG ROOT?
Before kale became an "it" food, drink, and skin-care product, South Korea worshipped (and still does) ginseng as an herbal medicine. The Koreans believe ginseng root can treat a number of medical conditions including high blood pressure, erectile dysfunction, weak immune system, Alzheimer's disease, and poor mental performance.
In many households, ginseng is used every day as an herbal remedy to keep illnesses at bay. It's also been used in traditional Chinese medicine for centuries as an alternative medicine to treat various disorders.
Being the natural adaptogen that it is, ginseng root is particularly effective for providing stress relief. It can lower blood sugar and blood pressure, which helps reduce stress and mental fogginess.
There are many different types of ginseng including American ginseng (panax quinquefolius), Korean ginseng (panax ginseng), and Chinese ginseng. The Asian ginseng is among the most popular, as it's been around for the longest. However, American ginseng extract and root are becoming more popular in the United States.
THE RISE OF GINSENG ROOT IN BEAUTY
Traditionally, ginseng is consumed orally via tea. However, in recent years, ginseng supplements have been becoming more popular along with ginseng in skin care products.
Interestingly, it took 2000 or so years before ginseng was made for topical usage. You have K-Beauty brand, Sulwhasoo, to thank for that. In 1960, the brand's founder, Sung-hwan Suh, started utilizing ginseng plants as active ingredients in skin care. Since then, ginseng has become a popular ingredient in skin care products across a variety of brands.
Approved by the Food and Drug Administration (FDA), let's take a closer look at why we should incorporate red ginseng root into our skin care routines. You're going to want to hear this!
EFFECTS OF GINSENG ON THE SKIN
Research shows that there are numerous benefits of ginseng root for the skin. Of course, you can continue to take ginseng as a herbal supplement to reap its health benefits. But why not take advantage of its skin care benefits too?
Anti-Aging
Ginseng root is a notable anti-aging ingredient. In a study conducted by the University of Maryland Medical Center, ginseng consumption was linked to improved circulation which in turn, boosted anti-aging effects. That's because its bloodflow-boosting properties plump up the skin and brighten a dull, aging complexion.
What's more, ginseng can help enhance the circulation of your skin's smallest blood vessels, which can increase synthesis of collagen. With its active compounds that target aging, you'll experience firmer, younger-looking skin with regular use of topical ginseng. Its antioxidant properties also provide protection from free radicals that could trigger the formation of wrinkles and even skin cancer.
Glowing Skin
Luckily, dullness no longer needs to be a skincare issue.
"Ginseng root contains numerous bioactive compounds, including saponins, polysaccharides, pectin, sugar, vitamins B1, B2, B12, pantothenic acid and minerals, which help to increase oxygenation and circulation to skin cells [for] a healthy glow," explains esthetican, Barbara Close.
It's also a natural anti-inflammatory packed with antioxidant qualities which keeps skin bright and dewy.
Hyperpigmentation
Rich in nutrients and ginsenosides, Ginseng root or red ginseng, can also help inhibit melanin production. Thus, preventing and treating hyperpigmentation. That's because ginseng extract root is packed with antioxidants that shield the skin from environmental aggressors like the sun and pollution, which often cause hyperpigmentation.
According to dermatologist Shari Marchbein, environmental pollutants can be "easily absorbed through the skin, accumulate in pores, and stimulate melanocytes, thereby creating brown spots." Fortunately, ginseng acts as a protectant against them.
SIDE EFFECTS OF GINSENG ROOT 
Wild Ginseng root is safe for use both orally and topically, with no dangerous side effects. Many people take ginseng as a dietary supplement for weight loss. If this is you, you don't have to worry about drug interactions. Systematic reviews indicate that it's a very safe ingredient.
Whether you use white ginseng, siberian ginseng, or American ginseng, there are many ginseng products available on the market that offer a number of both health and skin care benefits. You should not experience any adverse effects when taking ginseng either as a dietary supplement or as a topical treatment.
IS IT SUITABLE FOR ALL SKIN TYPES?
All skin types can benefit from ginseng root. However, it's especially useful for anyone who's concerned about aging.
"Ginseng has a complex of polysaccharides and glycoproteins, which form a weightless film on the surface that helps to firm and smooth the appearance of fine lines," says Close.
Sensitive skin types can also benefit hugely from topical use of Korean red ginseng. Thanks to its  anti-inflammatory properties, ginseng can help quell redness and puffiness. It can also be an excellent calming remedy for skin conditions like acne and psoriasis.
SHOP GINSENG SKIN CARE
Are you looking for a vegan facial serum that makes your skin glow?
Try Truly's hemp-infused face serum. This lightweight formula is made with a nutrient-rich blend of ingredients to hydrate, plump, heal, and brighten your skin. IOW: Hello glow!
Formulated with hemp seed oil and ginseng root, this facial serum tackles dryness, redness, and inflammation to deliver a healthy, glowing complexion. Whatever your skin type, Hemp Oil Facial Serum hydrates all varieties of skin. It's a skin care superstar!
How to Use
Apply two to five drops of Hemp Mask to cleansed skin. Massage into skin and let it absorb for one to three minutes before applying moisturizer. For best results, use daily, both day and night.
Order Truy's Hemp Oil Facial Serum for only $25
Share
---