How Anna Gets Ready for a Tinder Date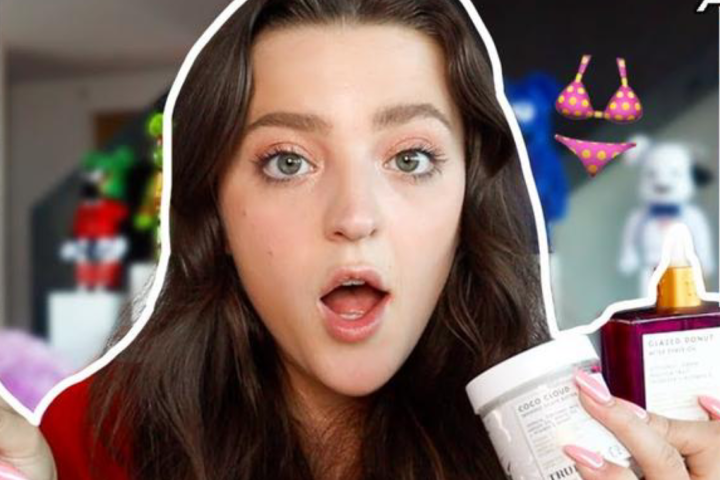 With Valentine's Day just days away, I can't wait to get out there and meet my Mr. Right. Or maybe I'll just keep things casual, and enjoy getting acquainted with some of L.A's hottest commodities.
A little secret only I and a few members of the Truly crew know...I'm actually getting ready for not one date… but SEVEN DATES. Yep, this midwest showboat is taking advantage of all the sparking city of Los Angeles has to offer -- including a smokin' hot manager of my favorite Beverly Hills cafe, a pansexual fashion designer, and a 6'4 gentleman I'm very excited to meet, to name a few!
To get prepped for ALL of these dates, I want to be smooth, hairless, and smelling captivatingly sweet -- with a dash of seduction.
Here are all the beauty products I use to get ready for date night...
#1: I Start With a Head-To-Toe Shave
Personally, I love feeling silky smooth for a date. To get that soft to the touch shave, I lather up with Truly's Happy Hairless Shave Butter, then I shave in the direction of the whiskers using my fave Life Shaver Starter Razor. 
Happy Hairless Shave Butter is a whipped, luxurious butter formulated with a blend of hydrating coconut, elasticity restoring passion fruit, and nourishing vitamin E for an effortlessly gentle razor glide and a super close shave. Life Shaver Starter Razor features double blades and a flex grip handle for easy shaving and adaptability.
#2: Then Tighten My Tush Using Buns Polish
My booty always looks extra fresh and firm when I've buffed it with Buns of Glowry Butt Polish. It's one of my fave skincare products for brightening, tightening, and keeping breakouts at bay. Plus, did I mention it's clinically proven to improve skin tone, texture, and firmness in just 4 weeks of daily use? 
Buns Polish is essentially an exfoliator that leaves your skin feeling babysoft while smoothing out cellulite and stretch marks. We all have them, trust me! While I like to use this to get ready for date nights, it's actually a daily staple in my skincare routine. 
Maybe it's just me, but I'm convinced my peach looks extra perky in my denims now!
Buns Of Glowry Tighten & Glow Smoothing Butt Polish is a butt-firming scrub made with wheat protein and watermelon extract to increase firmness of the skin, while minimizing the appearance of fine lines and cellulite, and intensely hydrating and plumping your skin. Every babe needs this in her beauty routine!
#3: I Moisturize with Unicorn Fruit Body Butter
Whenever I apply lotion, I make it Truly's TikTok-Famous Unicorn Fruit Body Butter. For starters, it smells amazzzzing! Like cotton-candy or thickly frosted cupcake amazzzing. It's also deliciously buttery and conditioning on the skin, leaving me feeling soft as satin. And the best part of all...it has multiple uses.
Besides serving as a natural fragrance, this body butter soothes easily irritated, sensitive skin, helps tame flyaways and frizz, moisturizes lips, and seals split ends. You can even use it as a shaving cream if you have nothing else available! It works beautifully. I often keep a tub of it in my purse whenever I need a little on-the-go topical hydration. 
Unicorn Fruit Whipped Body Butter is a deeply moisturizing multicolored body lotion made with shea butter, acai, vegan collagen, and matcha to hydrate, soothe, and make skin glow. It's also an excellent anti-aging cream that can help restore elasticity and iron out creases.
#4: Then Highlight My Hot Spots with Moon Lit Shimmer
I love my cheekbones, collarbone, and thighs. To make those areas pop, I drizzle on some of Truly's Moon Lit Shimmer Oil. It's sparkly, champagne-hued, and instantly absorbing so I get ALL of the sparkle and NONE of the stickiness. Yay!!!
For date night, I apply only a small amount to get that sun-kissed Californian shimmer. I love how this formula is buildable on all skin tones, so you can get a customized glow, depending on the occasion. 
Best of all, it works incredibly well with the rest of my makeup look. I skip the highlighter in favor of this shimmery body oil, and then go in with my concealer, eyelash curler, eyeshadow, mascara, and gloss. No makeup artist needed here. I do my own makeup application. Beauty tip: matte and dewy foundations both work well with this shimmer oil.
Moon Lit Shimmer Oil is a nourishing, flash-absorbing dry oil infused with champagne gold shimmer for a radiant glow on the go. Made with a brightening blend of chai spices, pore-minimizing witch hazel, and antioxidant-rich vanilla, this formula will leave the skin with boosted luminosity while neutralizing free radicals and slowing down line formation.
#5: And Finish with a Spritz of Unicorn Fruit Eau de Parfum
To complete my Tinder date beauty routine, I spritz my wrists and neck with my ultimate favorite fragrance: Truly's Unicorn Fruit Eau de Parfum. It's modeled after the cult favorite fragrance of the brand's bestseller Unicorn Fruit Body Butter (the one I mentioned 2 steps above). I love finishing my skin and makeup routine with a spritz of this fruity fragrance. It makes me feel girly, giggly, and ever so slightly...seductive...ready for date night.
Truly's first ever signature scent, Unicorn Fruit Eau de Parfum is a freshly fruity and feminine base of candy floss, vanilla, and sandalwood with light top notes of citrus, white floral and black currant.
P.S. I like to start with my regular skincare routine which features a clarifying cleanser, toner, retinol/vitamin C serum, and hyaluronic acid-infused moisturizer to get my skin smooth and glowing before I start the rest of the process mentioned above. You'll find all of these products over on the Truly store, as well as on Amazon, Sephora, and Ulta. 
Now I'm fresh, smooth, and heavenly scented....
L.A. hotties, here I come!!!
Share
---