How to Actually Moisturize Super Dry Skin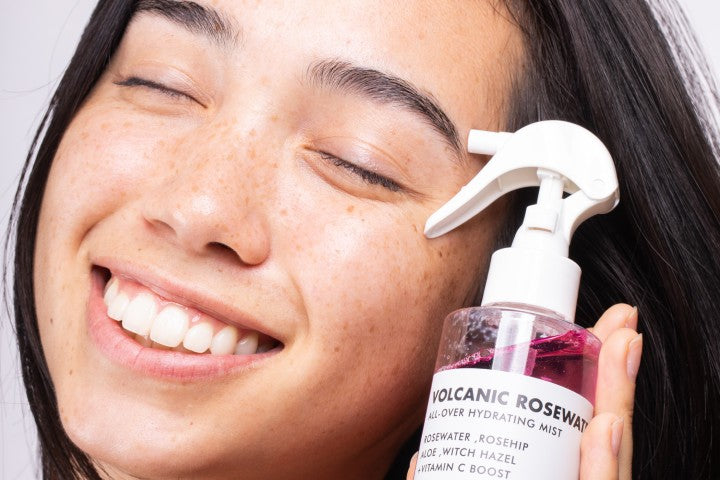 When your skin starts looking less dewy and more Sahara-Desert dry, your first instinct may be to go grab your lotion and start slathering it on. 
Using a moisturizer is indeed the most important step in a dry skin routine. It provides hydration, seals in moisture, and strengthens your skin barrier so that it can protect itself from external aggressors.
However, you're going to need a few more steps in your skincare routine to properly moisturize super dry skin.
Here, we show you how to diminish dryness and replace it with soft, smooth, glowing skin.
Exfoliate Away Flakes
The first step to dealing with dehydrated skin is exfoliation.
Exfoliation helps remove dry, flaky, dead skin cells that prevent other skincare products from penetrating their best. 
We recommend using a glycolic acid based exfoliator once weekly to strip away dead, flaky skin and get your skin looking brighter and smoother.
"Glycolic acid works by dissolving the glue that holds together dead skin cells, lifting pigment from the skin, and increasing collagen production," says dermatologist Saya Obayan, MD.
Using it on a regular basis, she says, "can help fade hyperpigmentation, minimize pores, refine skin texture, and smooth lines and wrinkles."
Got sensitive skin? Try Truly's CBD Jelly Toning Solution as chemical exfoliation tends to be gentler on the skin. Prefer the satisfaction of scrubbing away the dirt and grime on your face? Opt for Truly's Matcha Face Scrub -- a physical exfoliator that also contains glycolic acid.
Quench Your Skin's Thirst with Every Step
According to dermatologists, the most effective way to hydrate your skin is to use a moisturizing ingredient in every skincare step you complete.
That means using a cleanser formulated with nourishing ingredients like coconut oil and argan oil, along with an SPF that protects and keeps the skin hydrated.
Whatever product you're using -- make sure it's hydrating!
Layer Your Moisturizer
The secret to skincare layering is starting your application with the lightest consistency and going from there. The heaviest products should come last.
Start with a serum, then apply a face moisturizer, and finish with a hydrating oil -- the product that seals in the hydration and prevents moisture loss.
Look for products with emollients, humectants, and other hydrating ingredients like glycerin, hyaluronic acid, ceramides, and shea butter, as these all promote dewy, healthy skin.
Slather on Truly's Glass Skin Facial Serum, followed by our Cream Skin Face Cream, and finished with our Blueberry Kush CBD Oil.
Try Natural Oils
Think coconut oil, argan oil, chamomile, rose, and lavender. 
These ingredients are loaded with antioxidants and fatty acids which are beneficial for all skin types, but especially for dry skin.
Some dermatologists swear by petrolatums and mineral oils to to treat dry skin and strengthen the skin barrier. However, it's still under debate whether or not these over-the-counter products are comedogenic or even actually healthy.
Soothe Itchiness with Oatmeal
Itchy skin can occur as a result of dry skin. The quickest fix? Take a colloidal oatmeal bath.
Simply grind a cup of colloidal oatmeal in a blender to the texture of a fine powder and add it to a bath full of hot water. This formula should quickly calm inflammation and soothe irritated skin. 
It's also a great treatment for people dealing with skin conditions like eczema, dermatitis, or psoriasis.
Just make sure that after your bath you slather your skin in a rich, fragrance free moisturizing cream. Look for anti-inflammatory ingredients like aloe vera too for added relief!
Blend Your Acne Products with Your Face Lotions
If you've got acne-prone skin and those drying breakout-banishing treatments are leaving your complexion parched, try mixing them with your daily face cream to address your blemishes without drying out your skin.
A good example is a topical retinoid. This common anti-aging treatment is also used to treat acne, but it is known to cause dryness and even peeling. To prevent that from happening, mix it with your daily moisturizer. 
This way, you get the benefits of it treating your breakouts and fine lines, without suffering the effects of dehydrated skin.
Always Wear SPF
Protecting your skin from the sun is a quick and easy way to prevent dryness. 
"Wearing sunscreen every single day is the most important thing you can do for your skin to keep it healthy and glowing," says Shani Darden, an LA-based expert celebrity esthetician. "Even if you're inside all day, UV light can still pass through your windows, so it's essential to keep your skin protected." Opt for a hydrating sunscreen that doubles as a moisturizer.
If you've got acne-prone skin, look for an oil-free sunscreen that contains zinc. You should easily find one at your local drugstore!
Plug in Your Humidifier
Lotions, oils, and serums do work, and we highly recommend making them part of your daily dry skin routine. 
However, fixing dryness could be as simple as buying or plugging in a humidifier. They're particularly useful in the wintertime when there's a lack of moisture in the air, as the humidifier encourages moisture in your skin to stay.
Besides relieving dry, flaky, itchy skin, humidifiers also come with a range of health benefits. They ease dry eyes and clear your nasal passages, which can help with allergies and asthma.
Try Truly's Dry Skin Kit
Our dryness-targeting collection features our favorite products to secure day-long dewiness!
Volcanic Rosewater Mist...Vegan Collagen Facial Serum...Cream Skin Face Cream...Unicorn Lip Plumping Balm...
All these products work in sweet harmony to hydrate, plump, and turn back the clock for your complexion. Utilizing high-performing ingredients like hyaluronic acid, vegan collagen, and coconut, these products boost the skin's overall hydration so you no longer have to deal with dry, flaky, itchy skin.
So you see, moisturizing your skin goes far beyond applying moisturizer. If you've got super dry skin, try the above steps and let us know how they work for you!
Share
---