How to Drop that Double Chin (Through Skincare)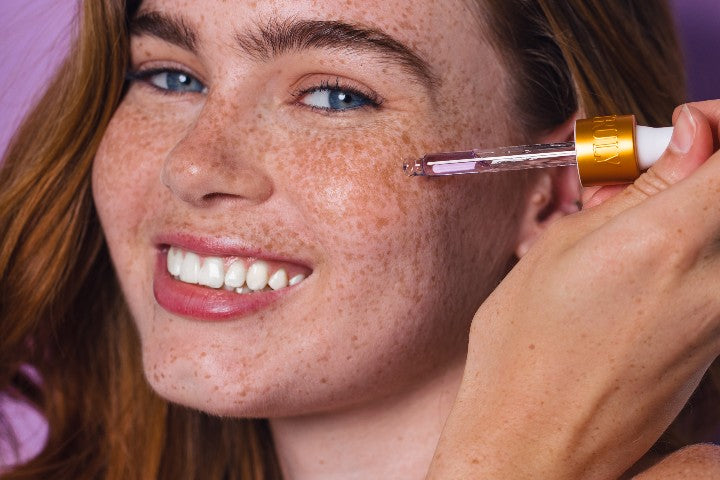 Slightly depressed about that double chin? It's nothing to feel down or embarrassed about. 
First, it's totally common. And second, there are plenty of things you can do to minimize its appearance. By establishing the cause and then going in with a few chin-firming techniques and skincare products, you can get rid of your double chin.
Here's how...
WHAT CAUSES A DOUBLE CHIN?
According to dermatologists, everything from genetics to jaw structure can play a role in excess fat accumulation around the chin area and jawline. 
It's also something that naturally occurs with age, when the skin starts to lose elasticity leading to the appearance of loose skin. Another key factor is weight fluctuations.
"The skin, when well maintained, is elastic, but with constant weight gain and weight loss, it can become stretched and lax," says Jean-Louis Sebagh, MD.
And of course, genetics also play a part. In other words, if your mom or dad has a double chin, you're probably going to develop one too. 
Thankfully, there are plenty of ways to prevent and diminish a double chin if that's what you want. From face yoga to targeted skincare products, we've got the secrets to help sculpt your chin and finally drop that double chin.
INVEST IN SKIN-TIGHTENING SKINCARE PRODUCTS
But don't just look for the word "tighten" on the packaging. Look for the ingredients on the back! They're the ones that are going to tell you if the product actually works. 
Retinol, collagen, caffeine, hyaluronic acid, and alpha hydroxy acids are some of the best skin-sculpting ingredients available.
Here are some Truly products we recommend that are formulated with these ingredients:
Sweep on Your Moisturizers and Serums
Apply your face serums, oils, and moisturizers to your neck using an upward sweeping motion to increase collagen production, boost blood flow, and firm up your double chin. 
By using products that actively address loose skin combined with a motion that stimulates your neck muscles, you can enjoy a natural lift and chin sculpting effect.
Once again, you'll need to do this consistently to see results. We recommend using this technique every time you apply your skincare products. 
Bring in a Gua Sha Tool
Give yourself a lymphatic massage with a gua sha tool to diminish puffiness and fat accumulation. Simply roll it along the jawline and neck. It will help to contour your features, while releasing any stored tension in your facial muscles. You'll feel incredible afterwards!
Combine it with a vitamin C serum or nourishing neck cream for enhanced effects.
TRY SOME AT-HOME DOUBLE CHIN EXERCISES
...or basically any type of face yoga, as this will tighten up the skin around your chin and neck area. 
Facial exercises can help both treat and prevent the onset of a double chin. And the best part is, you can do it straight from the comfort of your own home. However, if you want to see results, you'll need to perform chin exercises in the morning and evening every day.
Some great exercises include:
The

chin up

: make a V with your hand, place your chin there, and pull your lips over the top of your teeth. Hold for several seconds, and repeat 10-12 times.
The chin press: press up your chin with the help of a resistance ball to strengthen your

jaw muscles

.
The tongue stick out: stick out your tongue, then stretch it up and out for 15 second intervals. Repeat 10-12 times.
Neck rotations: rotate your neck several times each way to tighten up the

neckline

.
The

lower jaw

jut: jut your

lower jaw

forward, hold for several seconds, and repeat several times.
You'll know it's working if you feel a slight ache after completing these exercises. Good job!
EXPLORE NON-SURGICAL PROCEDURES
There are a number of non-surgical treatments that can be used to improve the chin, neck and jawline, if you're hoping to reduce the appearance of a double chin. Here are a few you might want to consider.
Radiofrequency
"Radio frequency is amazing for facial fat burning, double chin reduction, lifting, and sculpting," says Inge Theron, founder of FaceGym. "The benefits are not only a sharper jawline but also increased skin tightening and collagen production, which helps your overall complexion and minimizes lines."
Ultralift
Another non-invasive dermatology treatment to lift, tighten, and firm skin -- the natural way. You can also combine with Sculpt Freeze to freeze those frustrating fat cells causing your double chin. 
CoolSculpting
CoolSculpting uses cold temperatures to freeze fat cells, and gradually diminish that double chin. It may take up to several months to see results, however. So this one's a treatment that requires patience.
Of course, there are other treatments like Kybella, liposuction, and botox which can help get rid of submental fat and firm up the chin. However, these are invasive and may come with certain side effects. 
WAYS TO PREVENT A DOUBLE CHIN
The best way to prevent a double chin is to maintain a low body weight, as double chins can often happen as a result of weight gain. 
Other effective ways to avoid getting a double chin include doing regular facial exercises at home to keep the skin firm and tight, and prevent it from sagging. And using high-performing active ingredients like retinol, vegan collagen, and alpha hydroxy acids which help improve skin tone, texture, and suppleness. 
Doing all of these things can significantly slash your chances of developing a double chin.
Whether you have a double chin or you're just trying to prevent one, it is possible to do both with a few good tricks and skincare products on hand. If you'd like to try an in-office treatment, speak to your dermatologist beforehand to discuss the procedure and whether or not it will be helpful for your situation. And in the meantime...keep up those double chin workouts! Trust us, they work!
Share
---