How to Exfoliate Lips in 7 Luscious Ways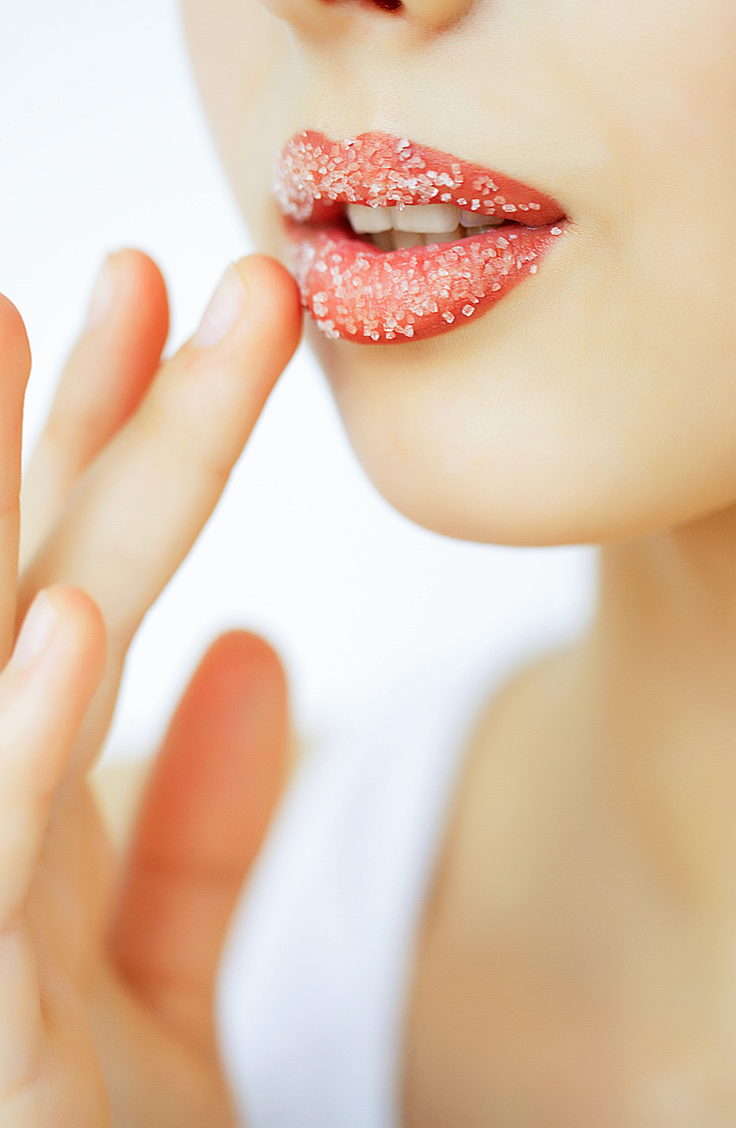 From summer to winter, your lips require regular TLC to keep them in tip top shape. After all, nobody wants dry, flaky lips, right? But sometimes, chapstick just isn't enough to keep your pout looking smooth and healthy. Sometimes, your lips require a little more attention - and that includes regular exfoliation. If you're wondering how to exfoliate lips in the easiest way possible, it's definitely achievable. And the best part is, you can do it using the most simplest products and tools that you'll find around the home. How cool is that?
Before we show you how, let's first talk about why you need to exfoliate your lips.
WHY EXFOLIATING MATTERS?
Many factors can impact the state of your pout. That includes weather, diet, genetics and even make up. To keep your lips looking luscious, it's a good idea to use an exfoliant on a regular basis as this will remove dead skin cells and promote skin cell turnover. 
Exfoliating helps heal and repair the lips to ensure they stay nourished. Once you've exfoliated, it's also important to follow up with a hydrating lip balm to lock in the moisture. The end result will be silky soft lips.
7 DIY LIP SCRUBS
Toothbrush
Let's start with the simplest and most natural scrub of them all: the toothbrush. Yep, just an ordinary toothbrush can serve as an excellent lip exfoliant to remove dead skin cells and promote supple lips. If you have sensitive skin, you could opt for an extra soft toothbrush or children's toothbrush. These will still exfoliate without irritating the lips. You can also use the toothbrush to apply lip scrubs to enhance the exfoliation process. And it's really easy to use. First off, dampen your lips with water or apply a lip balm. Then, with your toothbrush, use circular motions to firmly exfoliate the lips. Do not use your toothbrush on dry lips, as it could create redness and irritation. 
Honey-sugar scrub
Sugar is a natural exfoliant. Mix it with honey and you have yourself a nice, tasty and nourishing lip exfoliator. This sugar lip scrub is also super simple to make. All you need is one teaspoon of honey and two teaspoons of sugar. Mix them together and massage into your lips. Let it sit for 10 minutes before washing away with water. Then follow up with a gentle moisturizer for ultimate lip care.
Brown sugar and coconut oil
This fabulous scrub is highly moisturizing for the lips thanks to the coconut oil which contains lots of essential fatty acids. If you can, try to find larger sugar granules as these are better at sloughing away dead skin cells. Mix together one teaspoon of coconut oil with two teaspoons of brown sugar. Massage into lips, leave on for 5 minutes, then clean off with a damp wash cloth. Then apply your favorite lip balm to keep your lips looking luscious all day long.
Cinnamon and jojoba oil
One of the wonderful things about DIY lip scrubs is that you can really play around with the ingredients. All you need is an exfoliating ingredient and an emollient. In this case, we're putting cinnamon (the exfoliant) together with jojoba oil (the emollient). Mix together 1 teaspoon of jojoba oil with 2 teaspoons of cinnamon. Apply to the lips using circular motions. Once it's sat for 10 minutes, rinse of with water and apply petroleum jelly for moisture. This lip exfoliation recipe is so simple, yet so effective and it doesn't cost much to make. 
Coffee grounds and shea butter
As great as sugar crystals and granules are for exfoliating the lips, coffee grounds work just as well in removing dead skin cells and encouraging a beautifully soft pout. You can't get much more natural than this fresh sugar lip scrub. Use 2 teaspoons of coffee grounds with one teaspoon of shea butter, massage into the lips, and watch your dry skin disappear. Use an SPF lip balm afterwards to keep your lips protected from harsh UV rays.
Sugar-olive oil scrub
Olive oil is a skincare hero thanks to its high content of essential fatty acids. This makes it highly nourishing and moisturizing for the lips - exactly what you're looking for to keep them looking baby soft. Combine two teaspoons of sugar with 1 teaspoon of olive oil (go for extra virgin - it's always the best!). Then massage into the lips, leave on for 15 minutes, and wash off with warm water.  You can apply a lip polish or vaseline afterwards for hydration, an important factor in lip care. 
Towel and vaseline
Another very easy one here. Even if you don't have the petroleum jelly, it's easy to find and inexpensive. And of course, you should already have a towel at home that you can use. So, to get started, coat your lips in vaseline. Then, using a damp towel, massage the lips in circular motions for 10-20 seconds. Wash off and apply your favorite lip balm to soften the lips and keep in the moisture.
TIPS ON HOW TO EXFOLIATE LIPS
If you have any concerns about using the above products on your lips, you could always run them past your dermatologist to ensure you won't have any problems using them on your skin. The above recipes are adjustable, so you don't have to stick to them if you'd like to experiment. In fact, we urge you to play around and see which works best for you.
Here are just a few tips to keep in mind when exfoliating your lips.
Be gentle
If you exfoliate your lips too hard, this could lead to redness and irritation. That's why it's best to do it gently or use a children's toothbrush to prevent that from happening.
Always moisturize
Remember to use a hydrating lip balm after every exfoliation session to keep your pout hydrated and moisturized. You could also use seed oil as a lip balm.
Don't over do it!
The most important of all, don't think that more is better. Not true! Once a week is plenty to keep your lips looking soft and healthy. Too much exfoliation, on the other hand, could lead to irritation. 
So, what you waiting for? It's time to get scrubbing! 
Share
---