It's the Skin Care Season of Mango Seed Butter!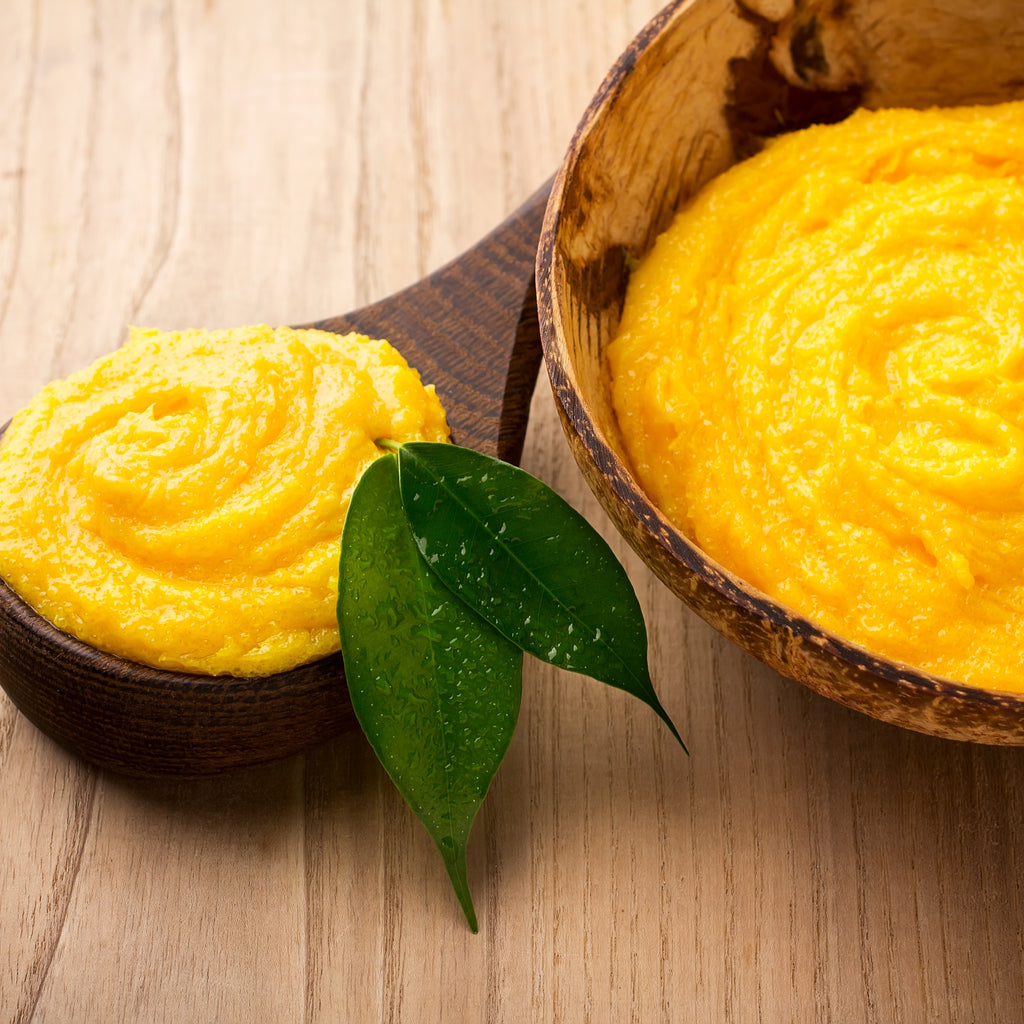 It's summer and it's officially mango seed butter season - in the skin care world, at least.
Mangoes are packed with vitamins and minerals such as vitamin A, vitamin C, Vitamin E, as well as copper, magnesium, and potassium - great antioxidants for the skin. These nutrients help to heal damage from environmental aggressors and protect the skin from future damage too. But that's not all mango butter can do for the skin.
In this article, we're going to take a deeper look into the benefits of mango butter for skin and how it compares to other butters like shea and cocoa.
WHAT IS MANGO SEED BUTTER?
Mango butter is made from the seeds of the mango. 
Known as India's "King of Fruits," the Mangifera indica botanical otherwise called the Mango Tree yields an emollient based fruit known as Mango Butter. It is also often referred to as mango kernel fat. 
In Asia and South-East Asia, the Mango fruit has long been used in medicine for its healing and moisturizing properties. In Ayurveda medicine, the Mangifera indica herb has been used for over 4000 years to help strengthen the heart and increase the body's immunity. Aside from it slew of health benefits, mango butter helps the skin too. From reducing the appearance of fine lines to hydrating dry skin, mango seed butter is the natural ingredient you should be seeking out in your skin care products.
BENEFITS OF MANGO BUTTER FOR SKIN
There are a number of properties of mango butter that help heal and nourish the skin. You'll find it in lotions, body butters, lip balms, and even hair care products like conditioner. That's because it's an excellent natural moisturizer packed with essential fatty acids that nourish the body, inside and out.
Better Skin Tone
Is your complexion looking a little off these days? Everything from daily habits to environmental stressors can affect your skin tone. Mango seed butter helps enhance hydration and in doing so, improves skin tone. What's more, it supports healthy skin and cell renewal, offering anti-inflammatory effects that soothe your skin. 
Thanks to its vitamin C content, mango butter can also help to rebuild the skin's natural collagen stores, resulting in an overall improved skin tone. It is particularly helpful for dull skin tones. Some experts say mango can also rid sufferers of stretch marks due to its potent emollient properties.
Dewy, Hydrated Skin
Is your skin craving for a little more hydration? Mango seed butter has a very creamy texture that makes it extremely moisturizing. It also contains fatty acids like linoleic, palmitic acid, oleic acid, and stearic acid, all known for promoting hydration.
Best of all, in spite of its creaminess, mango seed oil sinks into your skin quickly and is non-comedogenic, so it won't clog your pores or cause breakouts. It really is a skin care miracle.
Younger-Looking Skin
Mango butter can help firm up and tighten the skin. Owing to its special collagen-storing superpower, mango seed butter promotes skin elasticity to keep skin supple. It also provides lasting moisturization, which helps reduce the appearance of fine lines and wrinkles.
IN HAIR CARE ...
Used in hair, mango seed butter functions as an effective scalp conditioner. Thanks to its hydrating properties, it seals in moisture and reduces breakage by strengthening hair follicles. Mango butter also controls frizz, tackles dryness, and boosts volume to keep your mane looking magnificent. 
Hair experts also insist this butter encourages the growth of stronger hair when applied on a regular basis. You can even slather it on before heading out in the sun - mango butter is known for its sun protectant properties. 
If you're interested in giving it a try for yourself, make sure you look for Mangifera Indica in the ingredients of hair care products. Alternatively, make your own DIY mango seed hair mask with a few essential oils like peppermint oil to stimulate hair growth.
HOW DOES IT COMPARE TO OTHER BEAUTY BUTTERS?
Shea butter and cocoa butter are great emollients, but they're not always convenient for daily wear. For instance, they tend to be so thick and creamy that they take ages to sink into the skin. Now that's fine if you're wearing them overnight, but if you plan on going out in the day or want to wear makeup, your face might end up looking like one big greasy mess. And nobody wants that!
Fortunately, mango butter sinks into the skin quickly and efficiently without leaving an oily residue. Plus, it's non-comedogenic so you don't need to worry about it clogging your pores. It won't. 
WHO SHOULD STEER CLEAR OF MANGO SEED BUTTER?
There are some risks to note. People with severely sensitive skin or who have contact allergies to the mango fruit itself should probably avoid the ingredient altogether. While it is a natural and safe product, if you have any chronic skin conditions, pay a visit to your dermatologist first to ensure you can use it without risks. 
If you have normal skin, you should be perfectly safe using mango seed oil on your skin. It is generally considered a safe and side effect-free product. 
SHOP MANGO SEED BUTTER SKIN CARE
Pineapple Haze All Purpose Skin Salve
Is your skin feeling extra dry this summer? 
Keep a tin of Truly's Pineapple Haze All Purpose Skin Salve in your purse whenever you need a swipe of nourishment. 
Pineapple Haze skin salve is a multipurpose balm infused with mango, CBD, pineapple, and jojoba oil.  It's a head to toe, fix-it-all balm that can be used anywhere on the body. From dry patches of skin to cracked heels to chapped lips - this stuff treats all!
While mango seed softens and hydrates, CBD is the natural antioxidant that reduces inflammation and rejuvenates the complexion. And it's jojoba oil that takes credit for the healing properties of this skin salve.
How to Use:
Massage a pea-sized amount of Pineapple Skin Salve onto affected areas of the skin. Re-apply whenever you start feeling dry again. 
Get your cruelty-free, vegan Pineapple Skin Salve here for just $13!
Share
---