Kim Kardashian's 18-step Skincare Routine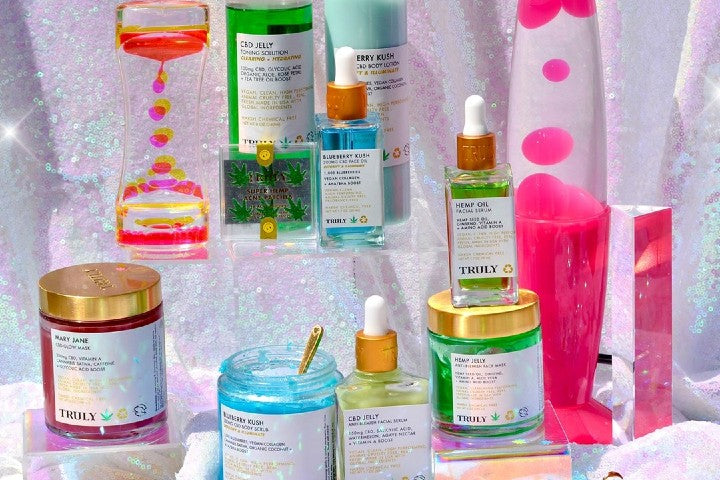 Ever wondered how Kim Kardashian gets her skin looking so flawless? And how it stays looking that way every second of every day?
This the part where we'd usually tell you that her beauty secrets come down to a handful of affordable drugstore skincare products. But unfortunately, that's not the case with Ms. Kardashian. 
Her facialist, Toska Husted, recently gave US Magazine the deets on the 41-year-old reality star's next-level skincare routine -- which just happens to be a few steps more than your beauty routine. 
Here's Kim K's 18 step skincare regimen that no doubt costs more than your monthly rent! Don't worry, though. We've found some fantastic affordable alternatives!
Cleansing Balm
The Keeping Up with the Kardashians alum allegedly starts her routine using the Augustinus Bader Cleansing Balm. It's a gentle cleansing milk that dissolves and removes the daily build-up of dirt, oil, and stubborn makeup.
Made with a blend of vitamin E, squalene, and avocado-olive fruit oil complex, this cleansing formula creates an optimal environment for repair and renewal. 
For a fraction of the price, you can enjoy similar benefits from Truly's Super Matcha Facial Cleanser. It utilizes the powers of green tea, vitamin C, avocado, and vitamin E to cleanse, soothe, and hydrate skin.
Exfoliating

Cleanser
Since Kim Kardashian West has a rather elaborate makeup routine, comprising of everything from concealer to foundation, highlighter, mascara, lip liner, and more, it's important that she removes it thoroughly to prevent clogging her pores.
Exfoliation is key to thoroughly removing her heavy makeup looks. That's because it buffs away dead skin cells and dirt, clarifying the pores and enabling other beauty products to penetrate better.
Try our 24k Gold Black Soap Impurity Cleanser. With the power of African black soap, 24k gold + charcoal, this 2-in-1 exfoliating cleanser can be used on the face and body to slough away dead cells and draw out impurities. 
Cleansing Milk
Cleansing milks decongests the skin while restoring moisture. It's effective for all skin types, but especially those with sensitive skin. Turns out, the KKW Beauty founder can't live without cleansing milk.
Eye Makeup Remover
Whether she's on the red carpet, snapping a selfie for social media, or on a photoshoot for Vogue, KK always manages to look glam. In fact, we hardly ever see her without a face full of makeup.
To remove her mascara, eyeshadow, and liner, the star uses a gentle eye makeup remover every night to make sure everything gets cleaned away.
Lotion
Kim Kardashian uses Biologique Recherche Lotion MC110 religiously to keep her skin smooth and prevent the formation of fine lines and wrinkles.
Try our Vegan Collagen Facial Serum, which blends retinol with vegan collagen and vitamin C to firm, smooth, and brighten your complexion.
Balancing Serum
Perfect your pores and T-zone the way Kim K does by using our CBD Jelly Facial Serum. It's made with salicylic acid, hemp, and vitamin A to instantly improve large pores, regulate sebum secretion, and banish breakouts. Because even celebs get blemishes!
Hydrating

Serum
According to Husted, the beauty mogul keeps her skin smooth and silky by layering on Microlife E Serum Elastine every day. It's rich in bio-marine elastin protein and honey extract to improve moisture and leaves skin fresh and radiant. But at $118 a bottle, you may be seeking an alternative?
Lucky for you, we've got one: Flower Child Face Cream. It's made with sea kelp and hyaluronic acid to soothe, hydrate, and keep your skin babysoft all day.
Scar-Healing Serum
Kim K may appear to have a matte-like complexion, but that doesn't mean she doesn't have a few blemishes here and there. That's why she uses a daily scar-fading serum. 
Nourish, hydrate, and speed the healing of acne scars with our Blueberry Kush CBD Face Oil.
Dark Spot Treatment
While makeup artists use clever tricks to disguise dark spots, Kim K may have one or more of them behind the layers of concealer and foundation. That would explain why she uses a daily dark spot treatment
Lucky for you, you can get it a fraction of the cost. Jelly Pigment Treatment contains a soothing blend of pomegranate extract and vitamin B2 to lighten hyperpigmentation caused by acne scars, ingrown hairs, and hormonal changes. 
Collagen

-Boosting

Moisturizer
While we've heard about Kim K using La Mer products in the past, her facialist says she actually uses Créme Collagéne to keep her skin firm and youthful.
Glycolic Acid Serum
Glycolic acid is an alpha hydroxy acid that dissolves dead skin, fades hyperpigmentation, and brightens the complexion. And Kim K uses a serum containing it on a daily basis.
You'll also find glycolic acid in our Purple Rain Glow Serum.
Radiance Face Cream 
...another step Ms. Kardashian takes to keep her skin looking radiant.
Detoxing

Face Mask
While Kim uses Biologique Recherche Masque Vivant to keep her skin clear and pores minimized, you can try our more affordable Hemp Jelly Anti-Blemish Mask.
Anti-Aging Mask
To maintain youthful, line-free skin, the reality star relies on a luxe anti-aging mask formulated with grape seed and green anise. 
Looking for something within your price range? We recommend our Vegan Collagen Anti-Aging Face Mask.
Brightening

Face Mask
Whether she's on TikTok or attending red carpet events, Kim K always looks glowing. And to get that glow, she relies on Masque PIGM 400. It does, however, come with a pretty steep price tag.
Choose our Mary Jane Glow Face Mask instead to mimic that Kardashian-like luminosity. 
16, 17, 18: The In-Office Treatments
When Husted, who also works with Khloe Kardashian, Kourtney Kardashian, and Kris Jenner, met with Kardashian a few months back, she did a "pretty epic" series of treatments.
"I did lymphatic drainage, microdermabrasion and oxygen," says Husted. "We did some ultrasound and tightening. I did lifting with a remodeling machine. There was LED incorporated with microcurrent there."
If you want to get skin like Kim Kardashian, try this DIY routine featuring affordable alternatives with powerful results. But don't worry, you don't need an 18 step skincare routine to achieve clear, radiant skin.
Share
---