Last Minute Gift Ideas for Ladies Who Love Beauty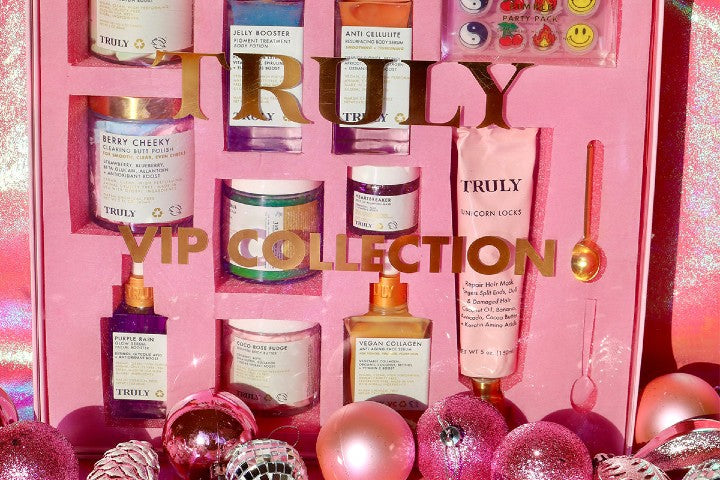 Are you only just getting around to doing your Christmas shopping? Relax -- you still have time to buy a thoughtful gift for that special lady in your life. Whether it's for your mom, grams, bestie, work colleague, or girlfriend, we've got the perfect last-minute gift ideas guaranteed to be appreciated by ladies who love beauty.
From skincare sets to haircare bundles, giftees won't be able to get enough of these beauty-inspired gift sets. We understand the holiday season can be stressful, which is why we've taken the guesswork out of holiday shopping so you can enjoy a stress-free Christmas and smiling recipients. 
Scroll down to find our fave last-minute beauty gifts your loved ones will adore.
Ultimate Body Bundle
Beauty lovers on your list will cherish this unique gift. It contains six of our bestselling butt and boob products: Acai Your Boobies Polish, Butter, and Serum + Buns of Glowry Polish, Butter, and Serum, all designed to give your chest and backside a little lift. 
Acai skincare products are formulated with retinol and acai to boost the body's collagen production to up elasticity, plumpness, and smooth skin. Buns of Glowry products contain bitter orange and watermelon to moisturize, plump, and repair skin.
It's the butt and boob skincare routine she never knew she wanted...until now.
GLOAT Lip Kit
Beauty lovers will appreciate the GLOAT Lip Kit, which is why this four-piece set is such an excellent last-minute holiday gift. With this kit, you get four lip nourishing, smoothing, and plumping products designed to give you the "greatest lips of all time." Hence, the name.
Giftees can treat their pout to a hydrating, plumping blend of hyaluronic acid, coconut oil, and peppermint for a larger, juicier set of luscious lips. 
It's a great gift for the winter when he lips will be craving some additional moisture and overall TLC. And the best part of all? It's got Instagram star Chantel Jeffries' approval.
Mini Unicorn Kit
Instead of gifting her an entirely new skincare routine, let her test out some products in the Mini Unicorn Kit. This gift set features a lineup of Truly's bestsellers -- aka, the Unicorn range -- miniaturized. It contains luxe sample sizes of moisturizing Unicorn Fruit Butter, plumping lip balm, repairing hair mask, and a small gold spoon. The three main ingredients: acai, matcha, and coconut oil. 
Since they're all travel-size, they also make the perfect gift for the wanderlusting women in your life.
VIP Box
Looking for something extra special for that special lady in your life? Make it our limited edition VIP Collection Box. It features 11 full size bestsellers + 2 golden spoons for mixing and matching skincare routines for the face and body. Splurge on this self-care holiday exclusive and save $35+ in product value!
Inside she'll find: Coco Rose Fudge Whipped Body Butter, Matcha Scrub, Buns of Glowry Tighten & Glow Smoothing Butt Butter, Berry Cheeky Clearing Butt Polish, Anti-Cellulite Serum, Jelly Booster Pigment Treatment Body Potion, Unicorn Locks Repair Hair Mask, Purple Rain Facial Oil, Vegan Collagen Facial Serum, Heartbreaker Lip Plumping Mask, Pimple Party Pack 24 Acne Patches, Mini Gold Spoon, and Gold Ice Cream Scoop.
Alternatively, buy one box and split it between friends and family members. The individuals make for the best stocking stuffers!
Pineapple Haze Bundle
With winter creeping around the corner, chances are your bestie needs restocks on dryness-combating skincare products. Truly's Pineapple Haze Gift Set keeps skin hydrated, soft, and smooth all day long and includes five purse-friendly products for instant relief -- no matter where you are!
Included are the soothing All-Over Body Balm, smoothing Lip Scrub, hydrating Lip Butter, multipurpose Skin Salve, and deeply nourishing Repair Cream. These formulas rely on a blend of pineapple, jojoba oil, and mango to restore and repair in five single steps.
Blueberry Kush Bundle
Give her the gift of glowing skin this Christmas with Truly's Blueberry Kush Bundle. It features four skin-brightening face and body formulas designed to cleanse away impurities while delivering a hydrated glow including body lotion, body scrub, face oil, and body oil.
Key ingredients include antioxidant-loaded blueberry, youth-restoring vegan collagen, and an exfoliating AHA/BHA blend.
It's the best gift for ladies who take skincare seriously. 
Cooka Bundle
Most beauty-inspired holiday gift guides include things like hair dryers, diffusers, nail polishes, essential oils, highlighters, eyeshadows, and mascaras. We're doing things differently here at Truly by giving you something unique and memorable to gift her with. Like our Bikini Line Kit, aka Cooka Bundle.
These two beauty products rely on the soothing, hydrating, and antibacterial properties of tea tree, lavender, and jojoba to soften coarse pubic hair and alleviate stubborn ingrowns. It's a go to skincare routine for girls who shave -- anywhere (not just *down there*). 
Super Fruit Shampoo + Conditioner
Moisturizing, repairing, and fruity-scented, this haircare duo may just be the perfect gift for your sis, ma, or wife. 
Formulated with organic coconut, argan oil, organic tea tree, and organic jojoba, this high-performance formula will coat your locks and restore their naturally strong, smooth, silky form. If she's the kind of woman who takes pride in her hair, she'll absolutely love this 2-step hair care routine gift set.
Glow Up Kit
A face mask, serum, and heart-shaped acne patches...for the greatest glow of her life. Beauty enthusiasts will be grateful for this glow-enhancing trio featuring high-quality, top-performing ingredients like retinol, glycolic acid, CBD, and hydrocolloid.
Forget gift cards -- they're the lazy way of gift giving. Instead, choose something you know she'll love like one of the gift sets above. Order today, and it'll arrive just in time for Christmas! Just don't wait too long -- you don't want to be left empty handed on Christmas Day!
You can find our full selection of products on our website, as well as retailers such as Amazon, Sephora, and Ulta.
Share
---