Our Best-Smelling Skincare Products that'll Have You Drooling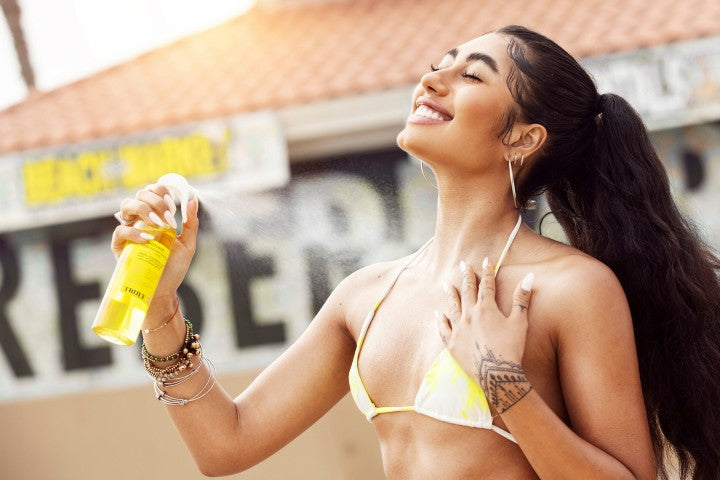 Sweet-scented skincare products bring a sense of delight to the task of cleansing and moisturizing your skin. They evoke feelings of luxury and relaxation, making the whole process way more pleasurable. Even studies show that using great-smelling beauty products makes us feel good.
We've rounded up our favorite butters, scrubs, and oils that leave skin smelling just as good as it looks. Get ready to start drooling!
Unicorn Fruit Whipped Body Butter
This buttery, deeply conditioning swirl of body moisturizer is loaded with a blend of natural, sweet-scented ingredients such as acai berry, rose, matcha, and vegan collagen. It's one of Truly's best sellers!
A base of shea butter, it's high in concentrations of fatty acids and vitamin E, offering emollient properties that deliver a hydrating, protective barrier. Elasticity-restoring vegan collagen helps to firm, smooth, and plump out skin while acai, matcha, and rose hydrate and soothe.
Besides providing intense hydration, this buttery body lotion has a delicious smell. Even reviewers say so.
"The Unicorn Fruit body butter is very moisturizing and smells like cotton candy," wrote one Truly customer. Another one said, "The smell is absolutely amazing, I can't get enough of it."
We can't disagree! 
Buns of Glowry Polish + Serum
The Buns of Glowry products smell just like summer. With their fruity, watermelon fragrance (drool!), you won't be able to get enough of these butt-formulated babies. Your booty will smell good enough to eat.
Besides smelling like a summer's day, these skincare products are formulated with watermelon, wheat protein, and vitamin E which tighten, brighten, and hydrate dull, dry skin. They can also address issues like fine lines, discoloration, and cellulite. 
Watermelon extract is rich in vitamin C, a powerful antioxidant that promotes cell regeneration, hydrates, protects, and gently exfoliates away dullness for a brighter, dewier complexion. Wheat protein fills the skin with lipids, plumping it up and smoothing out fine lines and cellulite.
Blueberry Kush CBD Body Scrub
Truly shoppers can't get enough of this product's heavenly scent.
"Oh my gosh, it smells incredible and reminds me of blueberry Airheads. It's nostalgic for me and the scent is intoxicating in the best way, like a sweet-sour candy," wrote one. "It smells like the most amazing fragrant blueberries!!" noted another.
This anti inflammatory, antioxidant, and omega-rich body scrub contains upcycled blueberry seed oil, 300 mg CBD, coconut oil, and AHAs/BHAs to detoxify, illuminate, and freshen up your skin. 
AHAs/BHAs help slough away dead skin cells and spur the generation of new ones, while removing excess dermis and sebum. Meanwhile, antioxidant-packed CBD soothes inflammation while lending its antibacterial superpowers to banish blemishes. Blueberry seed oil is high in fatty acids which support the skin's barrier function, driving out dryness and shielding skin against blue light and free radicals. 
It smells just like sweet blueberries. And the best part is, it's suitable for all skin types. So everyone can enjoy!
Glazed Donut Shave Oil
Fruity and flirty, this oil is an essential for post-shave hydration minus the greasy feel. This soothing, flash-absorbing daily shave serum helps heal inflammation, combats ingrowns, and replenishes lost moisture for soft to the touch skin. 
With its blend of coconut, grape, passion fruit, and lavender, it smells like tropical paradise. A few drops of this and you'll be transported to an exotic beach somewhere in the Caribbean. Summer never has to end with this on hand.
Besides smelling like a coconut-y, fruity dream, it's loaded with skin-loving goodness. Passion fruit contains a slew of essential nutrients apt for skin rejuvenation: vitamin A, B, and C to boost elasticity, retain moisture, and prevent premature aging. Coconut lends its antiseptic and anti-inflammatory properties to soothe bumps, burns, and irritation often associated with shaving. 
Add it to your Xmas wishlist or get yours here.
GLOAT Luscious Lip Butter
Is your pout in need of some hydration and plumping? Forget lip balm, and opt for our peppermint-infused lip butter instead. In addition to smelling fresh and soothing, peppermint essential oil stimulates blood circulation which helps gives lips their volume. 
Hyaluronic acid and sweet almond oil are also featured in this lip-smoothing formula. These two ingredients are powerhouse hydrators that contribute to long-term lip health.
Want to smell minty fresh?
Super Fruit Repair + Restore Shampoo & Conditioner
Who doesn't want sweet-smelling strands?
Thankfully, you can have them when you wash and condition your hair with this nourishing duo. Made with coconut, argan oil, jojoba oil, and tea tree, this shampoo and conditioner repairs, restores, and refreshes locks for healthy, sweet-scented strands.
A good hair cleanser and conditioner are essential for the health of your hair. Between daily styling, issues like frizz, and regular dry shampoo usage, your hair can always use some extra TCL. This bundle offers exactly that. Make these products part of your regular hair care routine to keep your strands looking smooth, feeling soft, and smelling fresher than ever.
Lemonade Mist
A spritz of summer! That's how we'd describe this hydrating face and body mist. With its light, citrusy scent, it'll forever feel like summer when this stuff's on your skin. Doesn't that sound good!?
According to experts, citrus scents are great for boosting happy vibes. Spritz this lemony mist on daily for an instant mood boost. The best part is, it works just as great as it smells.
Formulated with vegan collagen, hyaluronic acid, and lemon, this daily mist can hydrate the skin, decrease oil production, reduce inflammation and prevent premature aging, all while making you smell like sunshine.
Just remember to follow up with sunscreen before or after use to keep your skin protected from UV rays and pollution. 
Fancy getting hold of our best-smelling skincare products? You can purchase them on our online store, or over on Amazon or Ulta. Be sure to let us know what you think! 
Share
---