Our Fall Skincare Faves 2021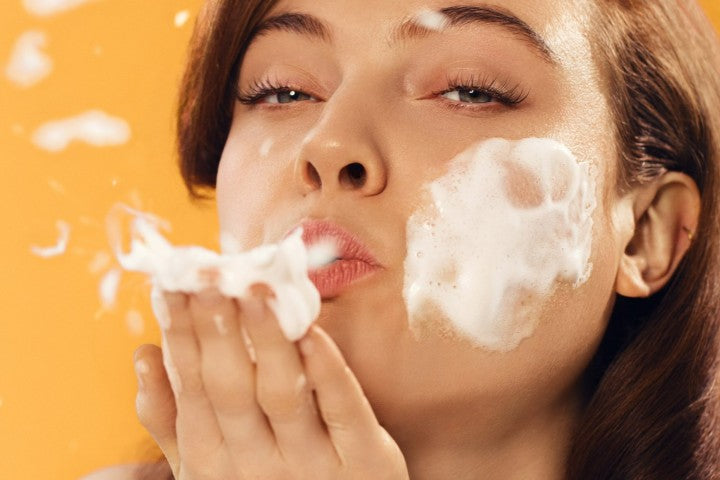 Now that fall's here, it's worth investing in some skincare essentials to maintain a healthy and glowing complexion over the next few months. 
In the fall, the dip in humidity can leave your skin feeling dry. According to dermatologists, those hot showers and indoor heaters also aren't helping matters.
To soothe the negative seasonal effects on skin, start implementing a hydration-boosting skincare routine to protect and strengthen the skin barrier. Here are our fall skincare faves to keep your skin looking its best!
4-Step Dry Skin Kit
It's hydrating. It's plumping. It's age-reversing. 
It's Truly's Dry Skin Kit!
The best skincare products to use in fall are the ones that hydrate. Lucky for you, we compiled a complete dryness-targeting collection of our best moisturizing formulas to secure all day dewiness and hydration. These products include:
Volcanic Rosewater All-Over Mist: A refreshing mist for bursts of dewy hydrationformulated with soothing rose and skin-brighteningvitamin C. 
Cream Skin Face Moisturizer: This face cream owes its intense hydratingabilities to hyaluronic acid, an active ingredient known to hold 1,000 times its weight in water, for day-long hydrated skin. 
Vegan CollagenFacial Serum: An antioxidant-packed, retinol-infused serum for youthful, glowing skin. This formula can help fade fine lines, discoloration and dark spots, and improve overall skin tone. 
Unicorn Lip Plumping Balm: Pucker up! This hydrating, lip volumizing duo blends moisturizingshea butter with plumping peppermint to give your pout an extra oomph.
Used together, these products can help diminish dryness in all skin types through fall.
Smooth Legend Shave Kit
Just because you're not showing so much skin doesn't mean you can't enjoy a super smooth and luxurious shave every once in a while. Truly's Smooth Legend Shave Kit was created in collaboration with model and social media star Amanda Cerny. 
It's your one stop shop for the silkiest shave of your life. Exfoliate, hydrate, and treat ingrowns -- our Smooth Legend Pre Shave Scrub, Happy Hairless Shave Butter, and Glazed Donut Shave Oil do it all. 
These products rely on high-performing ingredients like coconut, grape, passionfruit, lavender, and vitamin E to hydrate, soothe, and smooth your skin. 
Cooka Bundle
It's the bikini line kit you never knew you needed. UNTIL NOW!
Featuring Cooka Oil and Cooka Concentrate, this hydrating, skin-chilling pair help to soften coarse pubic hair, alleviate ingrowns, and leave the skin feeling soft to the touch. Made with gentle natural antimicrobials like jojoba oil, lavender, and tea tree oil, these oils soothe even the most sensitive skin. 
The best part is, they're not only limited to your bikini line. You can use these anywhere on the body to alleviate post-shave dryness and irritation. Wherever your skin feels dry, rough, or uncomfortable, apply it.
Both beauty products are fast absorbing and super hydrating for super soft skin without any greasy residue.
Unicorn Party Kit
Whip your fall skin into shape with our whipped Unicorn Fruit formulas + brand new signature perfume.
Our Unicorn Fruit products are an all time cult favorite and it's not hard to see why. They are loaded with skin-friendly ingredients like acai, matcha, chia, and rose that nourish while delivering a fragrant, feminine scent of vanilla, black sugar, and sandalwood for a candy-like scent that lasts all day.
This bundle includes our Unicorn Fruit Body Polish (an exfoliating product that sloughs away dead skin to reveal a smoother, clearer bod), Unicorn Fruit Body Lotion (a buttery formula designed to soften your skin), Unicorn Fruit Lip Plumping Balm (a lip conditioner that smooths and plumps), and Unicorn Fruit Eau de Parfum (our first ever fragrance).
Anti-Aging Face and Body Kit
Stay ahead of aging. Make the first move.  
Make Truly's Anti-Aging Face and Body Kit your first move. This head-to-toe plump and go kit includes a retinol and collagen-infused facial cleanser, serum, body polish, and body cream to brighten, plump, and tighten skin for a youthful, glowy finish.
Retinol and vegan collagen join forces to speed cellular turnover, unclog pores, reduce breakouts, and boost collagen production for a visibly smoother appearance. 
It's never too early to get ahead of aging. 
Bodne Bundle
Body acne is definitely most common in the summer months due to the high humidity and general quantity of sweat drenching our bodies. Still, that doesn't mean your bacne and buttne will suddenly disappear with the switching of seasons.
Truly's Body Acne Kit is a 4-step routine designed to cleanse, mist, moisturize, and spot treat your way to a blemish free bod. Inside, you'll find our Cherry Jelly Cleanser, Tansy Water Mist, Dragon Milk Lotion, and Pimple Party Pack, which all work in tandem to minimize the appearance of active breakouts while driving out dryness and healing acne scarring. 
Active ingredients like glycolic, mandelic, and salicylic acid lend their redness-reducing, oil-balancing abilities while blackberry, blue tansy, niacinamide, and allantoin soften and shine.
Lemonade Mist
Forget toner, and refresh your skin with Truly's Lemonade Mist instead.
This light, citrusy face and body spritz contains powerhouse ingredients like vegan collagen, lemon, and hyaluronic acid to visibly smooth and brighten the skin for crazy levels of glow. 
We may have released this lemony spritz in the summer, but that doesn't mean you can't enjoy its benefits throughout fall. Who doesn't want radiant, summer-kissed skin all year-round?
Just remember to apply sunscreen with SPF 30 to SPF 50 for maximum protection from UV rays and pollution. Even on cloudy days, those environmental aggressors are still there, threatening the wellbeing of your skin. 
And that's not all we offer! Browse through our online store to get your paws on hyaluronic acid-infused eye creams and ceramide-loaded face masks. Sure, you'll find similar products in your local drugstore or over on Sephora, like Cerave and Cetaphil, but none of them compare to the magical formulas of Truly. All our products are cruelty-free, vegan, and made with 100% clean ingredients. 
All our products can be purchased via our online store, Amazon, or Ulta. Got questions about our products? Get in touch!
Share
---