Queen of the Greens Might Just Become Queen of Skin Care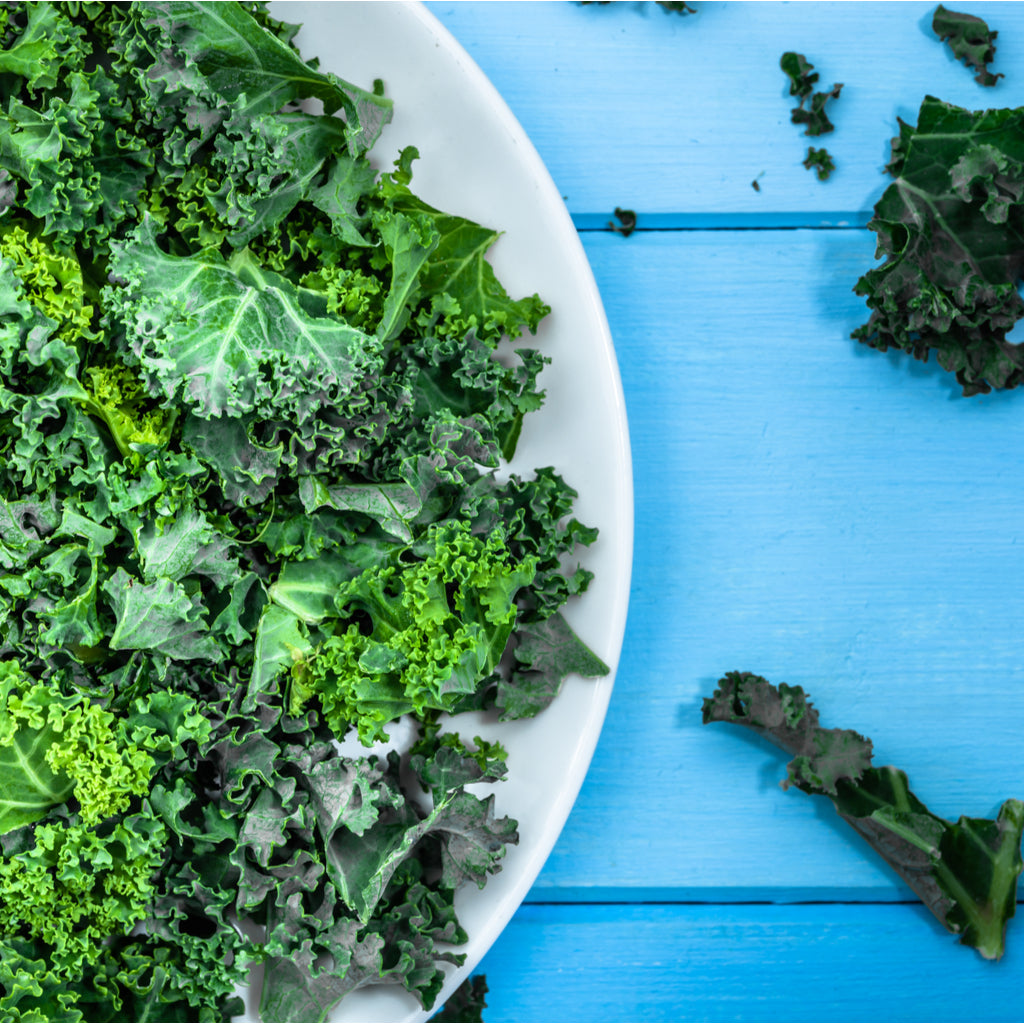 Crowned "Queen of the Greens," kale leaf extract isn't just a superfood for providing important nutrients to the body, it's also a superfood for the skin.
Loaded with flavonoids, dietary fiber, lutein, and polyphenols, kale can prevent acute inflammation, promote collagen production, and detoxify the skin. It's an amazing ingredient for a healthy, youthful, glowing complexion.
When people think of kale, they think of it in terms of nutrition. For instance, cold-pressed kale juices and smoothies have become something of a trend in recent years thanks to all their vitamins and antioxidants. Now, it's making the leap to the idea of cold-pressed kale extract for skincare.
Let's uncover more about this popular collard and what it can do for our complexion.
WHAT IS KALE LEAF EXTRACT?
Kale is a green vegetable that belongs to the plant species Brassica oleracea or brassica oleracea acephala. It is packed with magic compounds that offer amazing health benefits. Brimming with vitamin A, vitamin C, and vitamin K, Kale extract can prevent ailments like arthritis, reduce the risk of heart disease, and protect against cancer. But it's not only beneficial for the health, it's also a wonderful skin care ingredient.
Thanks to its phenolic and phytochemical properties, kale leaf extract (INCI name: brassica oleracea acephala leaf extract) can work wonders for your skin. Let's take a closer look at kale's skin care benefits.
BENEFITS OF KALE LEAF EXTRACT FOR SKIN
Younger-looking Skin
Kale plant is a powerhouse of nutrients and antioxidants such as vitamin C, beta carotene, flavonoids, and polyphenols. These nutrients help to neutralize free radicals - the devils responsible for causing premature skin aging. Owing to its lutein content, kale extract also speeds up collagen production, vital for your skin's youthfulness and strength. Collagen is the property that gives your skin a healthy, plump appearance. Let's also not forget kale's vitamin K content - the vitamin that helps tighten your skin and reduce any fine lines and wrinkles. So, if you want younger-looking skin, add brassica oleracea l to your wish list.
Minimized Dark Circles
Rich in several important vitamins such as vitamin K which is known for reducing pigmentation, kale leaf extract is great for those with dark circles. Think of it as a high-quality eye cream with powerful plant material that can lessen any visible pigmentation on your skin. Some people spend a fortune on eye creams in a bid to minimize dark circles and dark spots. You don't need to.
Repairs Sun Damage
In the United States, skin sun damage is a growing concern. Fortunately, kale extract contains vitamin C to protect the skin from the sun's radiation. Plus, it strengthens your collagen fibers. What's more, the vitamin A in kale repairs skin tissue while preventing free-radical damage. Even more interesting, kale is packed with iron to speed up healing of the skin. So if you have sunburn, try using a kale-based lotion for fast recovery.
Controls Redness
You probably already know how crucial omega-3 and omega-6 fatty acids are for our skin and luckily, kale has them both. So when you experience inflammation in the form of rashes or eczema, kale extract helps control any irritation of the skin. This means it's a superb, natural ingredient for people with sensitive skin, as it won't cause redness flare-ups and can quickly neutralize inflammation.
Less Visible Pores
Did you know this leafy green can also tighten pores? So if you see big, open pores every time you look in the mirror, kale leaf extract might be an ingredient worth seeking out in skin care products to make them look a lot less prominent.
To boost all these skin care benefits, make sure you're eating plenty of curly kale too. It'll also help the skin from the inside.
ANY SIDE EFFECTS?
Luckily, kale extract is a natural, safe, and harmless skin care ingredient. It's one of the main reasons fruit and vegetable extracts are quickly making their way into beauty products - they're virtually side-effect free. Unless you have an allergy to one of those veggies of course!
Kale leaf extract is particularly useful for sensitive skin types. So if you regularly struggle to find products that don't leave you red and sore, look for a kale-infused face wash, toner, and serum to prevent flareups from occurring.
WHAT TO LOOK FOR IN KALE LEAF SKIN CARE PRODUCTS
If you're trying to follow a clean skin care routine, there's really no better place to start than with vegetable extracts. However, it's still possible to find kale leaf in products that aren't as clean as their marketing declarations make out. So, if you want to be a smart shopper, here's what to look for in kale leaf skin care product details:
No artificial colors
Gluten free
Non-gmo
No preservatives
Try to look for natural products with organic ingredients and ones that are vegan and cruelty-free. In fact, we've found the ideal product for you.
SHOP KALE LEAF EXTRACT SKIN CARE
Hemp Jelly Anti-Blemish Face Mask
Want to zap away your zits without drying out your entire face? Truly's vegan Hemp Mask is just what you need.
A high-quality formula designed to minimize pores, clarify blemishes, and smooth texture, this face mask will clear up your skin while keeping it hydrated and looking fresh.
Loaded with hemp, green tea extract, and kale leaf extract, this jelly face mask delivers even, radiant skin after just one use - and it only improves after that. Whether you apply it all over your face or just to the problem areas, it will clear up those blemishes quickly and leave you with a healthy, happy, and glowing complexion.
How to Use
Apply a generous layer of the hemp face mask on clean skin. Leave it on for 10 minutes, then rinse with cool water. For an intensive anti-acne treatment, apply a thin layer as the last step of your skincare routine and leave it on overnight. For best results, use three to four times a week.
Get your Hemp Jelly Anti-Blemish Mask for only $23
Share
---