Single & Ready to Mingle? Beauty Gifts to Give Yourself this Holiday Season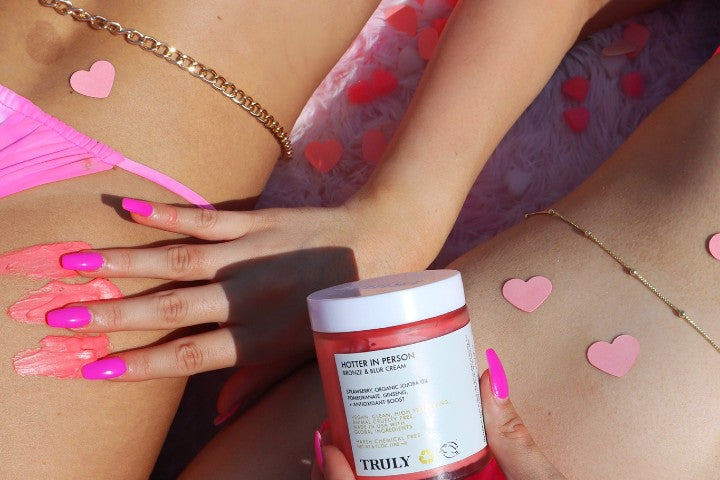 With all the upcoming holiday parties and festivities, happy singletons out there may be looking to pucker up under the mistletoe. Is that you? Then you should treat yourself to one or a few beauty gifts this holiday season.
To get your face, lips, and bod prepped, gift yourself one of these lovely beauty gift sets we've got in store for you. With every advent calendar door that opens, you come a little closer to finding your dream guy or gal. Make sure you leave the best impression by getting yourself prepped and polished!
Even if you're not ready to mingle, go ahead and treat yourself to something nice this Christmas. You deserve it babe!
Date Night Survival Kit
Everything you need for head-to-toe glow can be found in this luxe 6-piece skincare set.  
Whether you're having a night in, night out, or self-care session, our Date Night Bundle features a lineup of six Truly bestsellers to keep you smooth, perky, and glowing. 
Inside you'll find our Buns of Glowry Smooth Butt Polish, Acai Your Boobies Lifting Boob Polish, 24k Gold Black Soap, Coco Cloud Shave Butter, Super Heart Patches, and Coco Rose Fudge Butter, and a gold spoon for scooping.
It's an excellent holiday gift for either yourself or your loved ones. You'll feel more than ready to mingle once you've slathered these sweet-scented, skin-transforming products over your face and bod.
Unicorn Fruit Eau de Parfum
Freshen up for your night out with a hit of this floral, fruity fragrance, which combines an irresistible blend of vanilla, sandalwood, citrus, white floral, and black currant. He won't be able to keep his hands off!
It's the perfect gift for yourself! Because let's be honest...perfume is always a crowd-pleaser. So, start your holiday shopping by dropping this Truly signature fragrance into your virtual basket. 
Ultimate Cooka Treatment
Shaving *down there* is always a challenge if you want to end up with a silky smooth shave without cuts and ingrowns. Our Cooka Line blends jojoba oil and primrose to soften coarse hair and hydrate, lavender to soothe skin, and tea tree oil to tackle ingrowns. 
You can hydrate, soothe, shave, and towel dry the Truly way with our Cooka Oil, Cooka Concentrate, razor and bath towel in one bundle. Embracing a full bush? These formulas are also designed to smooth, moisturize, and nourish hair for a prepped and cared-for bush.
Best of all, these products work just as well on the rest of your body as they do your bikini line. Apply them wherever hair meets skin! 
Tuned n Tanned Trio
Looking a little washed out these days? Get back your glow with this Sunless Self Tan Kit. Featuring Hotter in Person Bronze & Blur Cream, Moon Rocks Body Scrub, and Berry Cheeky, here's every step needed for head-to-toe bronze and glow.
Our Moon Rocks Scrub is loaded with elasticity-restoring vitamin E + organic coconut oil to buff and brighten skin. Berry Cheeky Butt Scrub is made with a blend of antioxidant-packed berries and beta glucan to unclog pores and soothe skin. Hotter in Person owes its hydrating, glow-enhancing abilities to strawberry, ginseng, and DHA.
Use this trio the evening before your big night out to stun in that LBD of yours!
Glow Up Kit
One of the best gift ideas for yourself -- Truly's Glow-Enhancing Skincare Set. Featuring our Mary Jane Face Mask, serum, and heart-shaped acne patches, you can banish blemishes while boosting your natural glow with these three essentials. 
The exfoliating mask ad serum use CBD, caffeine, and glycolic acid to slough away dead skin cells and brighten skin while the acne patches rely on hydrocolloid to draw out fluids from active zits.
If you're looking a little dull these days, pick up our Glow up Kit and get ready to glow-up!
Flawless Skincare Bundle
The formula for dewy skin in only three products: face moisturizer, serum, and eye cream. It's a great gift for beauty lovers like yourself! These skincare products use gold-tier ingredients such as hyaluronic acid and sea kelp to hydrate, plump, detox skin, and diminish discoloration. 
GLOAT Bundle
A 4-step lip plumping bundle with a lineup of our fave lip care essentials: lip scrub, lip serum, lip oil, and lip butter. Forget your regular lip balm and start adopting an actual lip care routine for the smoothest, plumpest, GREATEST lips of your life! Only GLOAT Bundle can give you that.
Between hyaluronic acid's hydrating abilities and peppermint's plumping powers, these formulas will make kissing under the mistletoe even more enjoyable! And you can do it feeling minty fresh!
It's the perfect little stocking stuffer for yourself this Christmas!
Unicorn Locks Hair Repair Mask 
Hair care is another important factor when it comes to getting rendezvous-ready. Lavish your locks with this keratin-infused hair mask. It's also loaded with coconut oil, banana, and avocado to feed the scalp, prompt hair growth, and promote shiny strands.
Besides making your hair smell great, it will leave it feeling soft to the touch. So your mane can look its best for your big night out.
Ultimate Body Bundle
Instead of mascara, eyeshadow palettes, highlighters, makeup sponges, beautyblenders, and matte foundations, how about showing your bod a little more TLC? Ultimate Body Bundles includes the best of both bestsellers - our anti-aging Acai Your Boobies trio bundled with our smoothing, sculpting Buns of Glowry line.
These formulas utilize high-performing ingredients like retinol to plump, bitter orange to cleanse and hydrate, and watermelon to protect and nourish.
We hope this holiday gift guide has inspired you to treat yourself to a few Christmas and New Year beauty essentials. From eye masks to hand creams, the list of potential beauty presents goes on. The most important thing is that you prioritize your wellness. 
You don't need the likes of Dior, Gucci, Kiehl, Anastasia Beverly Hills, or Charlotte Tilbury to achieve flawless, radiant skin. At Truly, we offer clean beauty, high-performing formulations, and above all: amazing results!
You will find all our products on the Truly website, Amazon, Ulta, and Sephora. Remember to follow us on TikTok and Instagram to stay updated on our Black Friday and holiday deals in 2021! 
Share
---