Sugar Scrub Recipe and 6 Snazzy Ways You Can Use It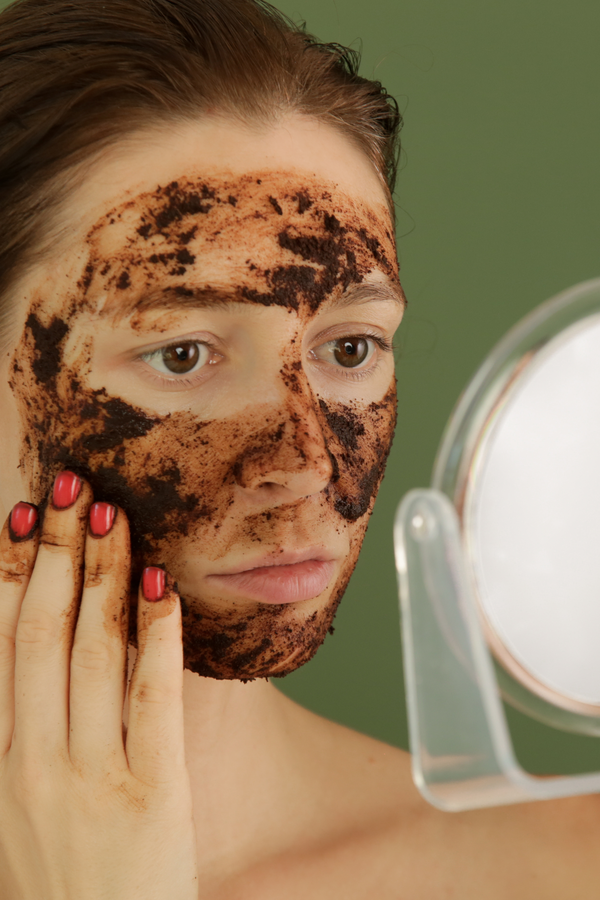 Who doesn't love diy beauty products? 
You probably never thought 'sugar' would be recommended as part of your skin care routine, but it's definitely worth considering when you look at how effective it is in exfoliating and moisturizing the skin. 
When sugar is placed under the spotlight, it's usually to emphasize this pantry staple's slew of negative health effects. That's when you eat it of course. But what happens when you apply it topically? Believe it or not, this super sweet granule can actually be highly beneficial when applied to your skin. Used as a scrub, sugar is an excellent exfoliator that helps slough away dead skin cells and promote cell turnover. 
Below you'll find an easy sugar scrub recipe that you can make from home, along with several uses for it. It won't go to waste! Best of all, you'll find all the ingredients either in your pantry or at your local grocery store. Nothing fancy goes into making this scrub and the total time it takes to make is less than 5 minutes. Plus, if you store it at room temperature in a sealed glass jar or mason jar, its shelf life can extend to 2 weeks. 
There are tons of homemade sugar scrub recipes out there, but we've found the best one for you that's easy peasy to make. And it's something you won't find on Amazon. You can make this diy scrub yourself. But first ... let's hear more about the benefits of sugar for your skin. Skincare just got sweeter! 
SKIN'S SUPERFOOD
Sugar contains glycolic acid, an alpha hydroxy acid, which helps keep the skin nourished, healthy and youthful. It can be hard to believe, since health reports go on and on about the aging effects of the oral consumption of sugar. But applied topically, it can actually do quite the opposite for your skin. 
This diy sugar scrub recipe is highly exfoliating and moisturizing, so it can work wonders for your skin. By removing old skin cell buildup and unclogging pores, this homemade sugar scrub can improve the appearance of your skin, smooth out wrinkles and give the rest of your body some well deserved pampering. 
Sugar is also a natural humectant, which means it injects moisture into the skin while using it. In other words, exfoliating with a sugar scrub won't leave with you dry skin or flaky skin for that matter. It will hydrate your skin instead. 
EASY SUGAR SCRUB RECIPE
Making a diy sugar scrub couldn't be simpler. Best of all, you only need a handful of ingredients:
1 cup of white sugar (or brown sugar)
1/2 cup of coconut oil (you can also use olive oil as an alternative if you prefer)
8-12 drops of peppermint oil, almond oil, avocado oil, or lavender essential oil (choose one of your favorite essential oils)
A few drops of vitamin e oil or grapefruit oil (optional) 
Mix everything together in a mason jar and store at room temperature. In an air tight container, it should stay fresh for up to a couple of weeks. 
There are lots of diy sugar scrub recipes out there, but this is by far the easiest and most cost effective. It makes no sense to buy store bought scrubs when you can easily make it yourself. Plus, it has a decent shelf life if you keep it in a tightly closed glass jar. 
6 SNAZZY SUGAR SCRUB USES
1. For Smoother, Clearer Skin
Compared to other exfoliating materials such as sea salt, sugar is very gentle and much less abrasive. So if you have sensitive skin, this is perfect for you. Using a homemade sugar scrub 2-3 times per week as an exfoliator is an excellent way to slough away dirt, grime and dead skin cell buildup and encourage cell turnover. This results in smoother, clearer, glowing skin. 
It also helps remove excess oils which can reduce acne for some people. Just keep in mind that you shouldn't make this a daily part of your skincare regime, as doing it too frequently can irritate the skin. 
Add a few drops of vitamin e oil to give your skin some added glow. It's really moisturizing for the skin. 
2. For Body Tanning Prep
Sunless tanning requires a freshly shaved and exfoliated body. There's no better way to prep your palette than by using this sugar scrub as a body scrub the next time you head in the shower. Think of it kind of like a body wash, only it's more to wash away skin surface grime. 
Exfoliating with this homemade body scrub is extremely important before slapping on the fake tan. It removes dead skin cells and unclogs pores, providing an excellent base for an even tan. Pay close attention to dry areas of the body such as the ankles, soles, heels and elbows. Dry skin will absorb more of the product and are is more likely to make the fan take look patchy, so it's important that you remove the dead skin in those areas prior to applying your bronzing lotion. 
3. For Silky Smooth Lips
Dry of flaky lips? This lip scrub should do the trick. With wet fingers, gently apply the sugar scrub to your lips using circular motions. You don't want to be too harsh around this area of your face, as you could damage the lip skin if you're not careful. 
When applied gently, the lip scrub can be highly moisturizing to the lips and remove any flakiness present. 
If you prefer a better flavor around the lips, you could also try a lemon sugar scrub. You'll just need to use lemon essential oil. And the best part is? It's all completely edible! We wouldn't recommend you eating it, but at least you're not slathering toxins and chemicals all over your lips. Some people even add food coloring into their lip scrubs for some added vibrancy. 
4. For Youthful Hands
Want smoother, younger looking hands? Exfoliation with our sugar scrub recipe is an effective way to eliminate dead skin cells and promote better circulation. 
Hands show age first, which is why it's vital to pamper them regularly to give them the care and attention they need. And how can you possibly turn down some self pampering time? 
To keep them looking young, use this sugar scrub a few times a week and keep them moisturized by using hand lotion daily. A lot of people tend to forget about their hands and focus much more on their face - the more visible body part. But your hands are very much visible too and if you can prevent them from premature aging, you would, wouldn't you? Add a few drops of vitamin e oil for an extra dose of antioxidants.
5. For Soft, Sandal-Ready Feet
Try our sugar scrub recipe to give your feet some much needed pampering. Your feet get a lot of use, therefore they tend to accumulate a lot of skin buildup and roughness. While pumice stones can help rid your heels of roughness, adding a foot scrub into the equation is an added way to soften and smooth your feet. You only need a few minutes prep time. 
Start by soaking your feet in epsom salts, then use the homemade sugar scrub to slough away the dead skin cells. Remember to moisturize your feet with a rich, hydrating foot lotion afterwards to lock in the moisture and keep them feeling silky smooth. Brown sugar can also be used in the scrub if you like the sensation better.
6. For Removing Makeup 
This sugar scrub can help remove product buildup and thoroughly cleanse your skin. You could see it as a sort of cleanser, which gets rid of dirt and grime while at the same time moisturizing the skin. Makeup wipes are obviously great at removing all traces of makeup, but if you want to thoroughly cleanse the skin, this face scrub can do do the trick. In fact, you could even replace your makeup wipes with this sugar scrub. It's probably going to be one of the cheapest beauty products you own. And don't forget to moisturize afterwards! 
Who'd have thought there were so many things you could do with sugar? With Christmas just around the corner, you could even make your own diy sugar scrub, present it in pretty mason jars and send them as homemade Christmas gifts. They're affordable gift ideas for everyone. 
Alternatively, just enjoy it for yourself. Your skin will thank you. You can also feel free to be creative with the ingredients in the sugar scrub recipe. For instance, you could add avocado or jojoba oil. Or how about a few drops of grapefruit essential oil to make that ultra sweet lip scrub? 
For more relaxing vibes, try using a lavender sugar scrub to help you wind down in the evening after a hard day at work. Or swap white sugar for brown sugar for something different. Whatever oil or sugar you go with, one things for sure: these sugar scrubs will leave your skin feeling a million dollars. 
It's definitely a great scrub to add to your skin care regimen. For your information, this page is printable if you want to keep this recipe on hand. 
Share
---