The Best Holiday Beauty Gift Ideas for $20 or Less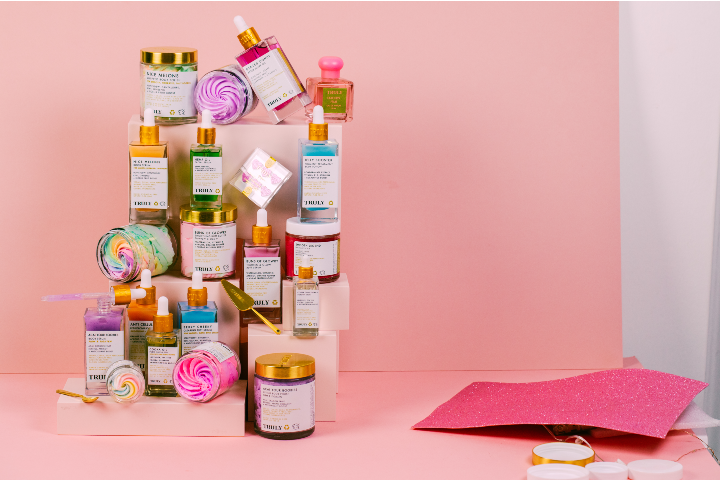 The holiday shopping season is upon up us, and with it the excitement of showering your loved ones with gifts. While the act of giving can be heartwarming, it can also be extremely stressful if you're on a tight budget. Sometimes, you simply can't afford those luxe gift ideas you see in shopping ads. 
Luckily for you, there's no need to break the bank this holiday season, thanks to Truly's thoughtful gifts that cost $20 or less. From skincare to hair care, you can choose from a wide selection of beauty products that retail for 20 bucks or less.  
No idea where to start? We've got you covered with this holiday gift guide of 11 products that cost less than a manicure. Now, you can get your sibling, parent, grandparent, boyfriend, or BFF an amazing gift without putting strain on your wallet!
Starkisser Lip Plumping Mask
Five minutes is all anyone needs to stimulate blood flow and perk up their pout with the Starkisser Lip Plumping Mask. This lip mask is packed with hyaluronic acid for hydration and peppermint for plumping. It can be used daily for delivering nourishing moisture, minimizing fine lines and wrinkles, and revealing a soft kissable pout. 
Moon Shower Spa Mist
Give your loved one the gift of relaxation with this soothing spa mist. She probably needs it! Notes of lavender and eucalyptus fill your shower with a gentle, calming sense to relieve stress promote a more restful night of beauty sleep. This beauty gift is bound to satisfy your favorite coworker, or whichever lucky lady (or dude) ends up getting it.
Coco Rose Hair Mask
Formulated with coconut oil and rose, this sweet-scented concoction hydrates and nourishes dull, dry hair. It'll also leave your strands smelling divine. Since the mask works for all hair types, you don't have to worry about figuring out if your bestie's oily or dry. It works for all.
Moon Rocks Whipped Body Scrub
This redness-reducing, hydrating body exfoliator is a skincare powerhouse that buffs away dead skin cells, unclogs pores, and promotes brighter skin. Ingredients included in the formula include hydrating jojoba oil, soothing blue tansy, brightening lavender, and protective dreamcatcher oil. It's a great gift for inspiring more self-care Sundays. 
Unicorn Fruit Whipped Body Butter
It's one of our bestsellers -- and for good reason! Unicorn Fruit Body Butter is a rich, luxurious body lotion infused with antioxidant-loaded acai, elasticity-restoring vegan collagen, and soothing matcha for a firm, smooth, plumped complexion. Thanks to its base of shea butter, Unicorn Fruit offers intense hydration to all its users. It really is the perfect gift for that beauty lover in your life.
Dew You Love Me Jelly Face Mask
Dew You Love Me Jelly Face Mask is full of retinol, vitamin C, and antioxidants to moisturize, brighten, and restore youthfulness in skin. Pop this glittery face mask in a stocking to give someone the gift of glowing skin.
GLOAT Lip Plumping Serum
Beauty lovers will be enchanted by our GLOAT Lip Plumping Serum for its ability to moisturize, plump, and smooth lips in seconds. Infused with plumping peppermint, soothing coconut, and hydrating hyaluronic acid, it's perfect for keeping lips soft and smooth during the winter months. Bless that special someone in your life with this beauty Christmas gift, and they won't be dissatisfied. An added bonus: it doubles up as a lip gloss thanks to its shiny finish!
Star Fruit Hair Mask
Searching for a sweet little beauty-driven stocking stuffer? Star Fruit Hair Mask retails at only a few dollars, but don't let its price tag undermine its abilities. This shine-inducing mask is formulated with a nourishing blend of coconut oil, chamomile, and Buddhas hand to hydrate, restore shine, and stimulate hair growth. It's the best beauty gift for mane-obsessed ladies. And because it's not a full-size product, it fits perfectly into anyone's stocking. 
Rose Gold Hair Comb
Don't have the budget to fork out on a fancy brush set or scalp massager? We've got you covered! Our rose gold hair comb is the perfect gift accessory for all hair types. With its widely spaced teeth, users can detangle their strands without damaging their hair. It's also ideal for overall scalp health and distributing conditioner. 
Coco Cloud Whipped Shaving Butter
Forget the common beauty stocking stuffers like nail polish, makeup sponges, and mascara, and choose something more unique like our whipped coconut-scented shave butter. Who doesn't want silky smooth skin after every shave? Made with coconut milk, argan oil, vitamin E, and vanilla, this fluffy shave cream softens and soak into the skin to combat ingrowns and leave you with the ultra-close shave of your dreams. Plus, it's one of our trending products on TikTok.
Pour Le Visage Face Towel
As wonderful as gifts like sheet masks, bath bombs, makeup brushes, and hand creams are, sometimes the simpler things like a soft face towel may be just what someone needs. This soft cotton face towel in pink is gentle on the skin yet powerful enough to clear dirt, oil, dead skin cells, and leftover makeup. It can be used wet or dry, depending on the intensity of exfoliation you seek. There's nothing wrong with getting a practical gift!
You can also get creative by making your own DIY gift sets for friends by mixing and matching products from the list. For instance, Star Fruit Mask + Rose Gold Comb. Or, try a combo with products not mentioned on this list but featured on our site, like Pineapple Haze All Purpose Skin Salve + White Satin Pouch and Gold Spoon OR Heart Acne Patches + Rainbow in Mirrors Hair Mask + Bacteria-Blocking Face Mask. 
Instead of choosing makeup gifts like eyeshadows, eyeliners, and matte foundations this holiday season, why not give your loved ones something more permanent -- like amazing skin? 
Happy Holidays beauty babes!!!
Share
---