The Best Pimple Patch to Choose Based on Your Breakout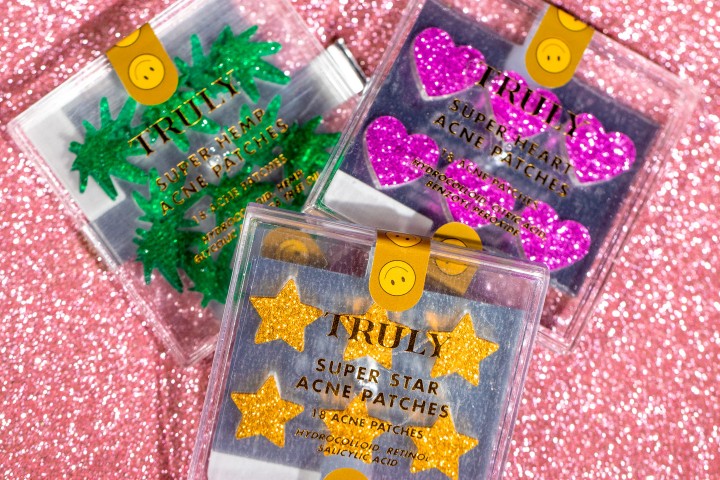 Zits are really annoying. And the worst part is that they crop up in all kinds of annoying places -- like the middle of your forehead, tip of your nose, and even on your back and butt. 
For decades, we've spot-treated pimples with all sorts of DIY cures ranging from toothpaste to crushed aspirin. Maybe you've even tried dousing your zits with spot treatments, hoping to see the back of that pesky pimple? 
The good news is, times are changing. Now we have something called pimple patches, and they're insanely effective at resolving your breakouts.
At Truly, we offer a range of acne stickers, all infused with different acne-fighting ingredients to clear and clarify your complexion. Here, we have an acne patch for every type of breakout.
Super Star Pimple Patches
Good for: Dark Spots
Dealing with dark spots? Then deal no more 'cos Truly's Super Star Patches have got your back. 
Flecked with retinol and salicylic acid, this super patch helps remove your blemish while simultaneously healing and preventing scarring and hyperpigmentation. It's also formulated with hydrocolloid, which drains fluid from existing or freshly popped zits. 
According to skincare expert Dr. Corey L. Hartman, MD, "Retinols increase cell turnover and make skin cells cycle more efficiently." They also inhibit tyrosinase production -- the enzyme responsible for triggering dark spots. You could say retinol functions as a kind of exfoliant which removes dead skin cells and promotes the production of new ones for a clear and even skin tone.
Retinol also boosts collagen production, which helps fade away dark spots. When your collagen production is thriving, you'll experience improved radiance, clarity, and elasticity -- you know, the kind of skin we all crave. 
Pimple Party Pack
Good for: Clusters of Zits or Body Breakouts
Pimples don't just pop up on your face. They can also appear anywhere else on your body -- especially the oily zones like your chest, back, and butt. Instead of squeezing it, pop a hydrocolloid patch over it the next time you see one pop up. 
Truly's Pimple Party Pack stickers are our biggest patches yet. They fit nicely over clusters of pimples or large body blemishes. This pack of 24 cheeky, harsh-chemical-free 12mm patches works for all skin types and utilizes hydrocolloid to drain and flatten active blemishes for speedy overnight healing.
Hydrocolloid is a common active ingredient in acne patches. 
"Traditionally, it's used on open wounds to promote a moist environment and decrease healing time," says Shereene Idriss, M.D., a dermatologist in New York City. "With regards to acne, it helps to decrease the intensity of a pimple by extracting the inflammatory exudate without physical manipulation." Or to put it a less scientific-y way, it sucks out the fluid without risking the scarring that often occurs from popping or prodding.
Super Hemp Patches
Good for: Reducing Redness
Do most acne spot treatments leave your sensitive skin burning or itching? Luckily for you, there's another way to drain your impurities without leaving you uncomfortable: Truly's Hemp Patches.
Without a doubt, these are the best pimple patches for sensitive skin types and those prone to redness. That's because they're formulated with anti-inflammatory, soothing ingredients like hemp and tea tree oil. 
"CBD has been shown to have a soothing effect on the skin, and has been used in the treatment of acne and rosacea as well as eczema and dryness," says Shirley Chi, MD, a Los Angeles-based dermatologist.
It's also formulated with glycolic acid which acts as an exfoliant to slough away dead skin cells and reveal newer, fresh ones.
In addition to getting rid of the gunk, these hemp patches speed up the healing process of pimples so you can enjoy a clear, glowing complexion once more.
Super Heart Pimple Patches
Good for: Banishing Blackheads and Whiteheads
Those blemishes getting you down? Drive them out by sticking one of Truly's Super Heart Pimple Patches over them.
Made with hydrocolloid, citric acid, and benzoyl peroxide, these hydrocolloid stickers drain fluid from your zit and infuse it with the bacteria-killing goodness of benzoyl peroxide. 
"Benzoyl peroxide is a powerful ingredient that is effective against all kinds of acne lesions (blackheads, whiteheads, and big red pimples)," explains dermatologist Whitney Bowe. "It is bactericidal, meaning it kills bacteria, rather than simply slowing down their growth. It also works very quickly, improving acne as early as five days after starting treatment."
As effective as BP is at clearing away blemishes, dry skin types need to use with care as this skincare ingredient can be extremely drying. 
BUT YOU'LL NEED A GOOD SKINCARE ROUTINE, TOO
While acne patches are great for those pesky pimples that pop up whenever they feel like it, you'll still need a solid skincare regimen in force to maintain clear, beautiful skin. Anyone who works in the field of dermatology will tell you that!
Start with a gentle cleanser, followed by a lightweight moisturizer, and feel free to apply the occasional face mask to purify your complexion. Ingredients to look out for include salicylic acid and aloe vera (cleanser), hyaluronic acid, niacinamide, or calendula oil (moisturizer), and vitamin C or retinol aka vitamin A (face mask).
Be aware that pimple stickers do not work on cysts or cystic acne, as they are unable to penetrate deep enough to be effective.
TRULY PATCHES VS. OTHER BRANDS
You've got so many of them to choose from. Dr. Jart Microtip, Peter Thomas Roth Acne-Clear Invisible Dots, Zitsticka Killa Kit, Peace Out Acne Healing Dots, The Mighty Patch Original, CosRx Acne Pimple Master Patch, Peach Slices, Starface Hydro-Stars  ... the list goes on. 
While you may be able to get hydrocolloid bandages in different sizes with different formulas from a variety of retailers, let us tell you why you should choose Truly's pimple patches.
Truly offers a wide range of acne stickers made with high-performing ingredients that work for different types of acne. All our products are vegan, cruelty-free, and made with clean, ethically sourced ingredients.
You can purchase our hydrocolloid pimple patches from Ulta, Amazon, and our official store.
Share
---