The O.G. VIP Collection is Back & Already Running Out Of Stock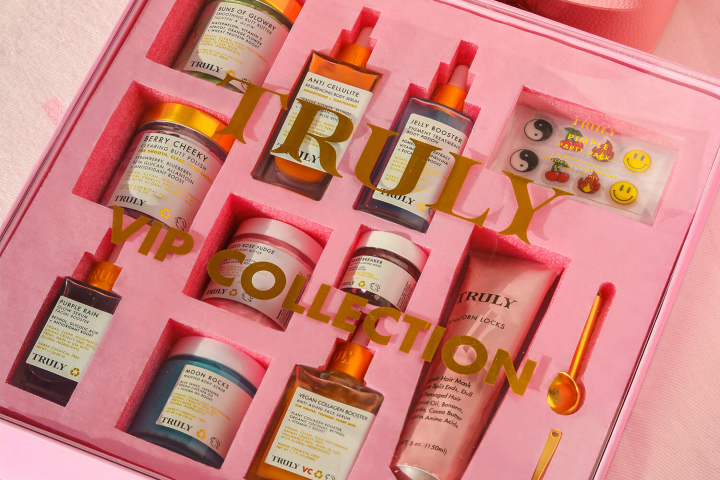 To kick off the New Year, we're bringing back our original VIP Collection 1.0 with a special freebie we know you'll LOVE.
This limited edition collector's set features 11 full-sized Truly Beauty faves + 2 golden scoops to mix n' match multiple face + body routines to treat almost every beauty concern imaginable.
It's the perfect holiday gift for yourself, a friend, or loved one.
Here's everything you need to know about Truly's VIP Collection 1.0 — and that special freebie we just mentioned.
Rediscover Truly's Original VIP Collection
It's the kit that started it all...VIP Collection 1.0 (aka, the original VIP Collection). This limited edition gift set features 11 full-sized Truly bestsellers + 2 gold scoops to create endless skincare routines to alleviate body acne, hyperpigmentation, split ends, scarring, keratosis pilaris, dryness, sagging, butne + more. One collection = a dozen different routines.
From hydrating body butters to brightening scrubs, anti-aging treatments to hair and lip formulas, everything you need for glowing skin, luscious locks, and an ultra plump pout can be found right here in this box.
What's the FREEBIE?
Drum roll pls....the freebie included with every VIP Collection 1.0 purchase is our brand NEW, never-seen-before Signature Pink Travel Trunk — with a value of $250!
Our hottest new accessory, this gorgeous pink trunk is made from 100% vegan leather and features an inside snap-button clasped pocket and adjustable straps for ultimate comfort and style. It's spacious enough to store an 8-step Truly routine so you can tote around your essentials looking chic!
From your skincare products to makeup and accessories, this timeless trunk houses everything you need to stay smooth, firm, hydrated, and glam — on the go!
Unboxing VIP Collection 1.0
What's Inside:
Coco Rose Fudge Whipped Body Butter
A buttery, rose-scented body moisturizer designed to soothe, hydrate, and nourish skin. It's a self-care staple! With a base of shea butter, this daily lotion melts into skin without leaving behind a greasy residue. A well-loved body care item!
Matcha Scrub
An exfoliating scrub that buffs away dead skin cells and reveals your freshest, brightest skin. This gentle formula is suitable for all skin types — including even the most sensitive skin. While it's technically a face scrub, it can also be doubled up as a body scrub!
Buns of Glowry Tighten & Glow Smoothing Butt Butter
The butt-firming bestseller that's captivated millions! This collagen-boosting, elasticity-restoring butt butter tackles everything from sagging to stretch marks and cellulite for your perkiest peach. Psstt...it can also be applied to your boobies for speedy firming and lift.
Berry Cheeky Clearing Butt Polish
A juicy, butne-banishing polish that buffs away dirt and dead skin, unclogs pores, and leaves your derriere visibly clearer. The perfect product for upgrading your shower routine — and finally saying bye-bye to butt acne!
Anti-Cellulite Serum
The skin refining serum that promises a tauter, dimple free booty. Retinol, vegan collagen, and orange flower work together to spur circulation and reduce dimpling for your smoothest butt, thighs, and hips.
Jelly Booster Pigment Treatment Body Potion
An antioxidant-rich formula of pomegranate extract and vitamin B12 to boost collagen production, improve skin cell regeneration, and reduce the appearance of hyperpigmentation and acne scars. This discoloration corrector does not disappoint.
Unicorn Locks Repair Hair Mask
A strengthening and hydrating hair mask powered by keratin amino acids and avocado oil to boost hair growth, add shine, and repair damaged strands. You can use it as a hair mask or leave in conditioner.
Purple Rain Facial Oil
An age-defying, skin resurfacing facial serum that targets visible signs of aging such as fine lines and wrinkles with vitamin A, glycolic acid, and antioxidants. Suitable for dry skin and mature skin. Just don't forget to follow up with sunscreen after applying!
Vegan Collagen Booster Facial Serum
The facial serum that treats aging at its core. This anti-aging serum blends vitamin C with vegan collagen and retinol to manifest your smoothest, most radiant, most youthful-looking skin.
Heartbreaker Lip Plumping Mask
Plump up your pout this holiday season with our glittery lip volumizing mask. It's made with a nourishing blend of ceramides, peppermint, and vitamin E to deeply hydrate lips, quell winter chapping, and plump up your kissers.
Pimple Party Pack 24 Acne Patches
Made for body breakouts, these XXL acne patches are perfect for spot treating blemishes that occur on the chest, back, and butt. You've seen them on TikTok. They're the overnight solution for last-minute blemishes.
Mini Gold Spoon
A cute little accessory to add to your vanity. A hygienic way to scoop out your body butters and polishes.
Gold Ice Cream Scoop
Scoop up your swirls in style — while preventing the transference of germs from your fingers into your jars.
FREE Truly Signature Travel Trunk
The newest Truly accessory. Our Signature Travel Trunk comes free with every VIP Collection 1.0. Stylish, comfortable, and spacious enough to fit several of your fave Truly beauty products.
The Perfect New Year's Gift
Looking for a New Year's gift to spoil that special someone in your life? The VIP Collection 1.0 makes a wonderful New Year's present — especially if you're gifting to a beauty lover. Plus, you can add a sweet little personal note at the checkout to make it just that little extra special.
Alternatively, gift it to yourself! With the original VIP Box, you can discover products you've never tried before and enjoy pampering yourself with all of the Truly faves.
SELLING OUT FAST
We should warn you that when we first released our VIP Collection 1.0, it ran out in minutes. If you want to secure your limited edition VIP 1.0 box + FREE Pink Trunk, don't hang around. When it's gone, it's gone!
Shop now, get a FREE Truly Signature Travel Trunk worth $250!
Share
---