Truly Beauty TikTok: Who's the Babe Behind the Butt?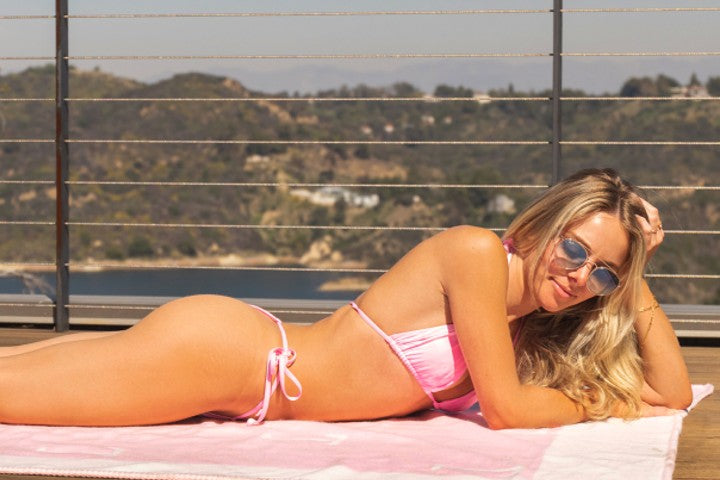 Scroll through our TikTok page, and you'll see a slew of butt shaving ASMRs and booty skincare routines that have amassed thousands of shares and millions of likes. So, who's the babe in those booty tutorials?
That would be Zara, our head of social media. Zara has a refreshing approach when it comes to skincare. While she's obviously a natural Californian beauty, the Truly babe loves nothing more than normalizing skincare issues like body acne, cellulite, and stretch marks.
Wanna hear more about the babe in all our booty grooming vids? Here's an interview with Zara — the babe behind the butt — where she discusses everything from her daily butt care routine to personal skincare issues (and how she deals with them!).
#1: What's your daily butt care routine?
Zara: My current routine is Buns of Glowry Tighten & Glow Smoothing Butt Polish, Buns of Glowry Serum, and Glazed Donut After Shave Oil, but I use all the beauty products when I film so I feel like I use every routine!
The Buns of Glowry line is one of my faves. Thanks to active ingredients like wheat protein, watermelon, and vitamin E, these skincare products lift and firm the butt while tackling issues like cellulite and stretch marks. What's not to love?
#2: What butt skincare issues do you deal with, and how do you treat?
Zara: Discoloration! And some booty pimples now and then. I find a combo of a gentle exfoliator like Buns of Glowry Polish + a moisturizer like Berry Cheeky Butter work well at keeping my booty smooth and clear. Also, shaving! Sometimes, hair on my booty can make it look a little more uneven in skin tone and texture so I do prefer to shave my butt!
#3: How do you keep your butt perky - is it a combo of butt focused workouts and products?
Zara: Yes! It is a combo, and I think they both complement each other.
#4: What difference have you noticed since using butt products?
Zara: Up until I started working at Truly, I wasn't aware that butt or boob products even existed. Then I started using them in my daily routine, and the results really were astounding. I noticed fewer fine lines, dimples, dark spots, and blemishes. Plus, my butt was SO much more tight + glowing. Since incorporating booty and boobie products into my routine, I haven't experienced dry skin or dullness again. My butt always feels super soft and hydrated.
#5: What are your favorite butt products?
Zara: Buns of Glowry will always be my top choice, BUT I do love Berry Cheeky + Cake Maker as well. All of Truly's butt products are great.
The products are powered by active ingredients like retinol, wheat protein, vegan collagen booster and hyaluronic acid to lift, firm, and tighten the butt area. They also contain nourishing plant-based oils such as jojoba and coconut oil to deeply condition the skin and improve skin tone and texture.
One thing I'm sure of: I'll be using these butt care products for the rest of my life. I can't get enough!
#6: You also do the hair removal TikToks. Do you need to grow out your body hair, and is it frustrating?
Zara: My hair grows pretty fast, but I do wait till it's longer as I find it showcases how amazing our shave products are. This way, when I lather up with one of our shaving creams and go in with a razor, people can see how effective they are at removing even the longest and thickest of hair. Alongside this, it re-instils the message that body hair is normal.
It's not frustrating at all! I love normalizing those issues most people don't want to talk about, like body acne, hairy legs, and all the rest.
#7: What message do you want to send to the young women watching your TikTok videos?
Zara: Care less what people think! As long as you're comfortable and happy— that's what matters.
MORE OF ZARA'S FAVORITES
We know she digs the Buns of Glowry line, but what products does she love using on the rest of her glowing bod? We asked, she answered...
Acai Your Boobies Serum
It smells and feels irresistible on the skin. Plus, it's made with retinol — one of the best ingredients out there for treating a slew of skin concerns, including breakouts, discoloration, fine lines, and sagging. The hype is real guys! Acai Your Boobies Serum is the best for perking up your pair.
24k Gold Black Soap Impurity Cleanser
OMG...this exfoliating cleanser is such a gem to keep on you at home or on your travels. You can use it on your face and body for all over glow — while catching any sneaky pimples that may have popped up.
Unicorn Fruit Whipped Body Butter
Truly's OG, Unicorn Fruit Whipped Body Butter smells like candy, feels like cake icing, and looks perfectly fit for a princess. I use it every day to keep my body smooth, soft, and smelling sweet. Some of my fave hacks for UF Butter: use it as a lip balm, shaving cream, or split end sealer. I take it with me everywhere for those unexpected beauty SOS's.
Want to see more of Zara's skincare vids and tutorials? Check out our Tik Tok page for the latest product drops and tutorials.
You can purchase Truly products on our website, and on Ulta and Sephora EU.
Got a question for Zara? Get in touch, or drop a comment on one of our social media posts to get answers!
Share
---