Truly's Holiday Gift Guide 2022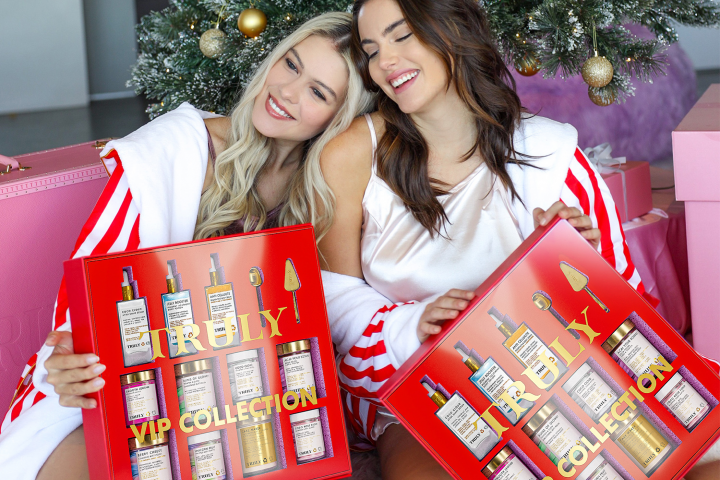 Tis the season to treat your loved ones!
Let's face it. Finding the perfect gift for those beauty lovin' babes in your life is becoming increasingly more difficult. With so many options, holiday shopping can get overwhelming. Like...where do you even start with all those luxe moisturizers, lip balms, face masks, and serums on offer.
Here at Truly, we take pride in sifting through all those choices for you. Our beauty Holiday Gift Guide 2022 is here to make finding the perfect skincare or wellness gift for your best friend, parent, or partner as easy as possible.
Browse the complete guide, add them into your shopping cart, and start checking those loved ones off your list.  
SELF-CARE GIFT SETS
For the person in your life who puts work and everyone else first, treat her to some well-deserved self-pampering with one of these self-care sets. The best gifts aren't always the most expensive, but they are the most thoughtful. If you're searching for a beauty gift that'll give her chance to check in with herself after the long, hard year, make it one of these gift sets.
Ultimate Smooth Legend Shave Kit
A unique gift idea guaranteed to impress: this luxury shaving routine features a hydrating shave butter, scrub, oil, razor + bag. It's the shave upgrade she never knew she needed. UNTIL NOW. Once she's tried it, she'll never wanna go back!
Ultimate Unicorn Bundle
All the viral Unicorn Fruit products bundled to create a 7-step beauty kit. It hydrates, plumps, and soothes while delivering glowing skin.
Deluxe Body Bundle
The curve perfecting kit featuring boob and butt products designed to lift, firm, and fade fine lines and stretch marks. Everything you need to tone up (effortlessly) is right here!
Ultimate Coco Cloud Shave Kit
A creamy, dreamy shaving kit made up of of our Malibu-inspired shaving treats: Coco Cloud Whipped Shaving Butter, Serum, + Moisturizer plus our razor and bag. Bring the spa to her bathroom!
Anti-Cellulite Trio
A cellulite-reducing skincare routine that tightens, conditions, and hydrates to manifest your smoothest skin. Get started now, get baby smooth by summer!
Hot Swirl Summer Edit
Our Nice Melons + Berry Cheeky lines combined to create a full boob and butt routine to firm, clear, and lift your pair and peach. Featuring polishes, serums, and body lotions designed to sculpt and tone!
ANTI-AGING KITS
Perfect for beauty lovers, these anti-aging kits help you get ahead of aging thanks to powerhouse active ingredients like retinol, vegan collagen, and vitamin C. This holiday season, treat to her one or more of these TikTok -famous Truly bestsellers featuring all the fave youth-restoring skincare products.
Vegan Collagen Booster Bundle
Our revolutionary face + body anti-aging routine! Three of the most prolific active ingredients – retinol, vitamin C, and plant collagen booster – join forces in this formula to hydrate and boost collagen production, resulting in fewer fine lines, visible lift, and less acne.
Face and Boobies Night Routine Bundle
The ultimate nighttime beauty routine bundle features an overnight face mask, sleep chest mask, and our iconic boob polish. There's a chance it's already on her wishlist!
Full Body TREATment
Our two dessert-inspired lines come together to bring you a full body tightening routine. Besides the obvious skincare benefits, this heavenly bundle feels sooo luxurious.
Ultimate Body Bundle
Our bestselling Acai Your Boobies + Buns of Glowry lines bundled to deliver head to toe body firming. These Truly treats add volume to your lady lumps while smoothing out lumps and bumps for your juiciest tatas and tush.
Flawless Skin Care Bundle
The formula for dewy, flawless skin is right here. Indulge your skin in deep hydration with this bundle that features a face serum, face cream, and eye cream.
Anti-Aging Body Bundle
A 3-Step Body Rejuvenation System curated with clinically proven formulations to brighten, tighten, and minimize the appearance of fine lines and wrinkles on the neck and chest.
The Ultimate Holiday Gift Set
Unbox the best of Truly's beauty products with our NEW VIP 4.0 Holiday Collection. This limited edition collector's set features 11 full-size body care goodies, spoons, + a FREE Holiday Robe worth $250. One collection brings you multiple beauty routines to fight dryness, cellulite, sagging, body blemishes, and ingrown hairs.
What's inside: Coco Cloud Whipped Luxury Shave Butter, Unicorn Fruit Whipped Body Butter, Jelly Booster Pigment Treatment Body Potion, Buns Of Glowry Smoothing Butt Polish, Smooth Legend Pre-Shave Scrub, Acai Your Boobies Polish, Anti-Cellulite Serum, Berry Cheeky Clearing Butt Polish, Coco Rose Fudge Whipped Body Butter, Coco Cloud After Shave Serum, Cake Maker Butt & Leg Cream, Gold Spoon, Gold Scoop + a FREE Limited Edition Holiday Robe.
Looking to spoil someone special this Xmas? Send this luxe collection + add a sweet personal message. Or check off everyone on your list by sending the individuals as stocking stuffers. One collection, 12 different gifts! It's the best beauty gift for the skincare lover in your life!
Other Fun Holiday Gift Ideas
At Truly, you'll find a wide range of holiday gifts — that can also be sent any other time of year. From our rejuvenating cleansers to our luxury silk pillowcase, iconic eau de parfum to our limited edition travel-size treats, you can find the perfect gifts and stocking stuffers to spoil your loved ones with this Christmas. And they're well worth the splurge!
You could even create your very own advent calendar using Truly minis! This is, after all, the season where you can get really creative! So get creating!
While Truly products are sold on Ulta Beauty and Sephora EU, offers do vary from our official website.
Share
---