What to Keep in Your Truly Travel Pouch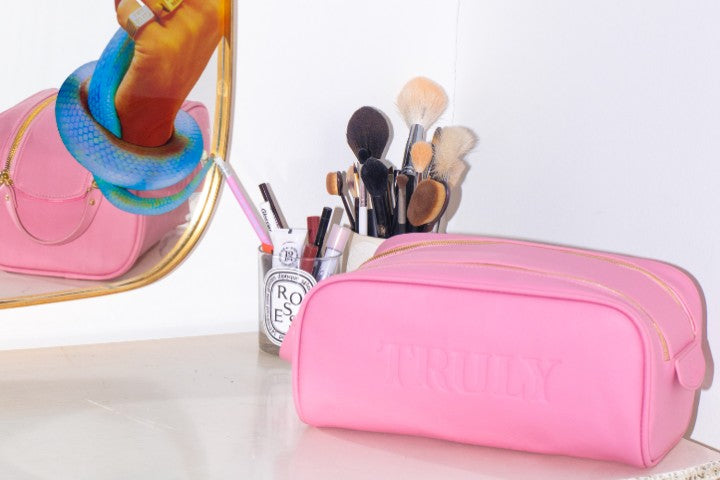 The next time you head to the office, take a short trip, or get invited to a sleepover, be sure to bring your Truly Travel Pouch along with you – and fill it with all the good stuff to keep your skin looking truly glowing.
This brand-new vegan travel pouch will keep all your grooming essentials perfectly organized. Plus, there's plenty of space to hold everything from your lip balm to your shampoo and conditioner. Made with water resistant vegan leather and a double zipper enclosure, it's the perfect pouch for all those future little trips of yours. 
As for what to pack, here are some ideas to give you inspiration for your next trip.
Super Plant Shampoo and Conditioner
For starters, you'll absolutely need to pack a hydrating and nourishing vegan shampoo and conditioner. Of course, if you're only heading to the office, you won't need them. But if you're planning a longer trip, let's say, to a friend's house or an overnight hotel stay, you're going to need a decent shampoo and conditioner. Sure, you'll probably get free miniatures in the hotel and your friend is bound to have some to lend to you. The big question is, are they clean, vegan, cruelty-free haircare products? Prepare in advance by packing Truly's Super Plant Bundle. 
This plant-based duo is packed with all the green goodness your hair needs to stay looking healthy, shiny, and hydrated. Neroli, provitamin B5, turmeric, and red seaweed all come together to give your mane the nourishment it's been craving.
Coco Cloud Whipped Luxury Shave Butter
To keep your legs and pits silky smooth while you're away, bring along a good vegan shaving cream, like Truly's Coco Cloud Butter. This coconut-milk enriched shaving cream provides a luxurious and hydrating lather to soften hair for an ultra-close shave that won't leave behind nicks or cuts. Plus, what better time to indulge in some self-care than now, while you've got a little spare time? 
If you plan on showing off your legs during your little break away, nothing spoils the look more than cuts, scrapes, and shaving rashes. To ensure flawless legs, always invest in a good vegan shaving cream. It'll make all the difference to your shaving experience and result. 
Blueberry Kush CBD Scrub
Shower time demands a high-quality vegan body scrub. It's your time to fully relax, immerse yourself into tranquility, and pamper your body with beautiful products. 
Truly's Blueberry Kush CBD Scrub detoxifies the body by scrubbing away dead skin cells and revealing fresh, healthy, glowing skin. Made with a blend of blueberry seed oil, CBD, and vegan collagen, this sugar-based scrub will draw out impurities from deep under the skin and improve the overall appearance of your complexion. Plus, if you plan on applying fake tan, there's no better foundation than a freshly scrubbed body for flawless application. 
Blueberry Kush CBD Body Lotion
Keep your body hydrated and protected by bringing along a plant-based body lotion with high-performing ingredients. Truly's Blueberry Kush Body Lotion contains the oil of 1,000 blueberries per bottle, along with CBD, vegan collagen, and organic coconut. Especially after scrubbing the skin, it's the perfect time to slather your skin in lotion. 
This antioxidant-rich formula provides a natural shield against blue light, while supporting the skin's barrier function and delivering optimum hydration. The result? Truly luminous skin.
GLOAT Lip Plumping Serum 
Every girl needs a good lip balm or serum in her purse. To maintain a plump and juicy pout, pack a tube of Truly's GLOAT Lip Plumping Serum. Formulated with coconut and hyaluronic acid, this luscious vegan lip serum will keep your pout hydrated all day long. And even if you do feel dryness throughout the day, this pouch-friendly serum is easily within reach for re-application.
Especially when you travel, your lips are prone to dryness. Keep them ultra-soft, smooth, and kissable throughout your trip. Besides hydrating and replenishing, this serum also offers plumping effects for that highly-desired juicy pout. Plus, it works as a great primer for lipstick!
Rose Gold Hair Comb
Keep your strands neat and tangle-free while you're away from home. Truly's Rose Gold Hair Comb will help you do that thanks to its widely spaced teeth, great for detangling without snagging the hair. Ideal for all hair types, this is your go-to hair accessory while on the road. And if you plan on indulging in a leave-in hair mask at your sleepover, this pretty pink comb will evenly distribute product throughout your hair. 
Hand Sanitizer Germ Killin' Gel
These days, staying sanitary is quite literally life-saving. To keep your hands clean as you travel, be sure to pack Truly's Hand Sanitizer Gel. Thanks to its formulation of 70% alcohol and aloe vera, this vegan hand sanitizer will diminish all germs and bacteria, without dehydrating your hands. So your hands will stay clean and hydrated all day long. It's also adorable and small enough to fit in any bag – especially your Truly Travel Pouch.
We know you'll probably have access to a sink and hand soap at your office, friend's house, or at your hotel, but it's always good to have a hand sanitizer gel handy just in case you're not within reach. Remember, clean hands save lives. So keep yours squeaky clean!
Whether you're having an overnight stay with Mr. Right at a swanky hotel or chilling out with your gal pals at their home for a night or two, it's always good to be prepared. 
Besides your toothbrush, cell phone, and wallet, there are a few skincare essentials to pack with you for your journey, as we've shown above, to keep your skin glowing and your hair shining. Because we all want to look great 24/7, right?
Share
---