Winter Acne: 5 Ways to Treat & Prevent it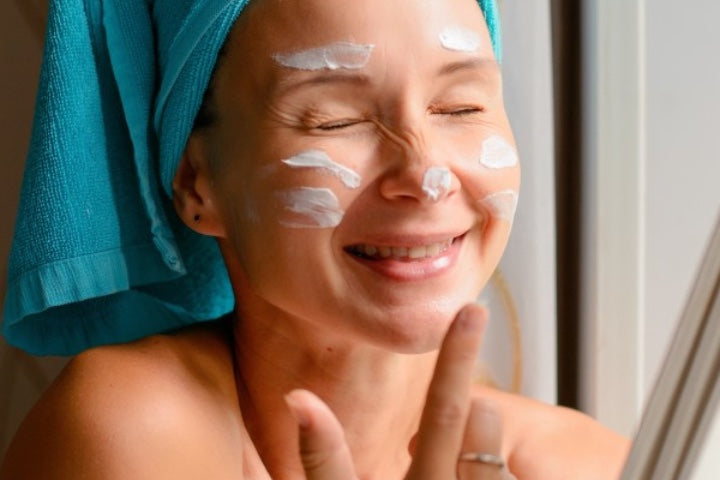 You'd think with the sweltering temperatures and excess sweating that summer would be the worst time for breakouts. It turns out, winter may just be the season where you're most vulnerable to blemishes.
According to a 2015 study, acne patients enjoyed a clearer complexion during summer and fall, whereas in winter, rates of moderate-to-severe acne leaped 11% when compared to summer.
Think you might be dealing with winter acne? Here's everything you should know about winter acne breakouts, from why you're getting them to treatments and preventative steps.
What is Winter Acne?
Winter acne is an acne flareup that occurs during the winter months. There are a few reasons why you may be prone to pimples in the wintertime.
For starters, skin tends to be drier in the cold weather. When skin is dry, skin produces more sebum (the oil responsible for keeping skin moist and supple), which can lead to clogged pores and breakouts.
Then there's the matter of inflammation. "The cold and dryness that comes with cold temperatures can cause inflammation, which is one of the main pathogenic factors for acne formation," explains Dr. Arielle Nagler, an assistant professor of dermatology at New York University's Langone Health.
Alongside this, the cold, dry air of winter leaves the skin's natural moisture barrier compromised, meaning it's less able to fight the bacteria that causes blemishes.
If you already have acne-prone skin, using harsh acne treatments can also leave skin dry and irritated, since skin is already dry in the winter months. This can lead to further oiliness, clogged pores, and ultimately — breakouts.
Finally, another common culprit behind winter blemishes are the thick, rich face creams and lotions you've been slathering on. Especially if you have oily skin, piling on heavy creams will only clog your pores and trigger even more breakouts.
How to Treat and Prevent Winter Acne Breakouts
You may already have a winter skincare routine in place. However, if you're dealing with winter blemishes, you may need to adjust things slightly to get clear this season. Here are five ways to treat and prevent winter acne.
#1: Buff Away Winter Dryness
Exfoliation is your skin's bestie in the winter. One of the best ways to buff away the buildup of dead skin cells and dirt is with an exfoliating acid (AHA/BHA), which can be found in everything from cleansers to face masks and serums.
Opt for a skincare product formulated with hydroxy acids such as glycolic acid or salicylic acid. These gently buff away dull cells, thus unclogging pores, clearing up blackheads and whiteheads, and promoting fresher, brighter skin.
Besides clarifying your complexion, regular exfoliation maximizes product absorption, meaning your skincare products will work harder when applied to freshly buffed skin.
Product pick: Truly 24k Gold Black Soap Impurity Cleanser
#2: Avoid Hot Showers
Hot showers strip skin of its natural oils, sending your sebaceous glands into overdrive. With excess sebum, pores become clogged and blemishes will appear. For that reason, try showering in lukewarm water for the sake of your skin's health. In addition to preventing breakouts, reducing the water temperature will also prevent dryness, flaking, and irritation.
Especially if you have a skin condition like eczema, hot showers will only exacerbate your symptoms. Keep your skin healthy and happy this winter by taking a break from steamy showers.
#3: Switch to Gentler Products
If you have acne-prone skin, you'll probably be using topical treatments that leave skin parched and inflamed. You can prevent this by switching to gentler products. If you're using a benzoyl peroxide-based cleanser or toner, switch to a product that blends the active ingredient with something soothing and hydrating to counteract the drying effects. Aloe, green tea, hyaluronic acid, and niacinamide are some good examples.
Alternatively, pair it with a hydrating product that'll combat dry skin, like a moisturizing cream or serum.
The derms advise against using harsh soaps, scrubs, and cleansers in your routine that strip skin of its natural oils and compromise the skin barrier.
Product pick: Truly Anti-Blemish Facial Kit
#4: Reach for Retinol
Retinol is a vitamin A derivative that treats acne by spurring cell turnover, which helps keep pores clear and blemishes at bay. While retinol is traditionally known for its anti-aging powers, it's also a fabulous ingredient for addressing breakouts.
According to dermatologists, winter is the best time to use retinol. Since retinol makes your skin more sensitive to UV rays and sunlight decreases its effectiveness, now is the time to layer on your retinol lotions and potions.
The only downside to retinol is that it can be irritating — particularly if you have sensitive skin or you overuse it. If you experience any irritation after using a retinol product, use it less frequently or choose a formula with a lower strength.
Product pick: Truly Vegan Collagen Booster Facial Serum
#5: Layer on Moisturizers
Moisturizer is a daily staple in your skincare routine. However, in the wintertime, you'll want to layer on your moisturizers to keep skin hydrated throughout the day. Start with a hydrating serum followed by a face cream to seal in moisture and bolster your skin barrier. Ideally, you want products that contain a blend of humectants and emollients, as these work together to lock in deep hydration.
Derm-fave humectants include hyaluronic acid and glycerin, while emollients include ingredients like coconut oil, shea butter, and cocoa butter.
Start with the lightest moisturizer (serum), then go in with a heavier product (cream), and finish with a face oil (optional).
Product pick: Truly Cream Skin Face Cream
Winter acne is a common skin complaint yet few actually know it has anything to do with winter itself. Between the dry air, cold weather, indoor heating, and hot showers, skin doesn't stand much chance against winter breakouts. With a few preventative steps and some nourishing treatments, you can definitely beat winter acne and stay clear throughout the entire season.
You can also consult with a dermatologist about in-office treatments, such as LED therapy and extractions, which might be helpful in tackling winter acne.
Share
---