Truly Ambassador of the Month: Brendelyn Pelzel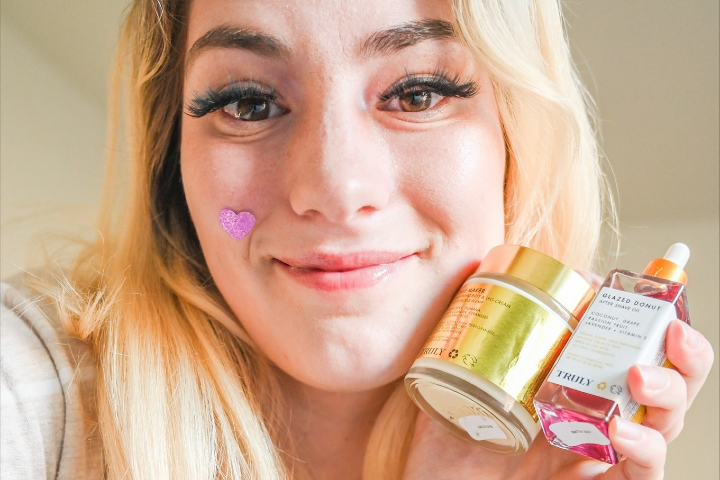 As part of our Truly ambassador series, we'll be featuring some of our most active ambassadors of the month. This month, we're featuring Brendelyn Pelzel, a rockstar content creator who proves that you don't have to have thousands of followers to be successful as an ambassador! Ahead, she talks about her fave Truly products, why she loves being an ambassador for the brand, and more!
Why did you choose Truly?
I personally chose Truly Beauty because, disregarding their TikTok fame, they are a brand that stands behind vegan, cruelty-free, and clean ingredient use.
For me, it's shown a massive difference in the overall health of my skin. Rarely throughout my life have I found a brand that makes even a single product that works well with my skin sensitivity after regular use, let alone one that makes SEVERAL lines of products that have helped to tighten and firm my skin, seal my split ends, fade my tiger stripes, and soften my parched feet. They've improved my skin in ways I never really knew were possible!
Truly gets down to the nitty gritty science of these clean ingredients and uses the best of the best.  For that, I choose them and that's why I will always suggest them to anyone looking for their very particular skin care needs to be met. But seriously, could they BE any more aesthetic. 
What is your favorite part about being a Truly Ambassador?
My favorite part of being a Truly Ambassador has to be the community of people that I've joined. Sharing a passion for things like skin-care and makeup in a wonderful environment, even online, has improved my continually struggling mental health in ways that are almost too great to put into words.
It has become such a wonderful place in our community of Ambassadors to come seek advice or suggestions about the Truly products themselves, as well as other products that people have used. We also share great deals and sales we find in other beauty communities, along with product photography tips and tricks. In the process, we make friends along the way who come to support us in ways we never imagined! Of course there are other perks, but I would say that the community is my favorite part of it all. 
If you had to choose 3 of your fave Truly products, what would they be and why?
If I had to pick only 3 Truly products to talk about, I'd start with the Unicorn Fruit Plumping Lip Balm. While the highlighted ingredients are peppermint oil and shea butter, it also has coconut oil, sweet almond oil, jojoba oil, cocoa butter, mango butter, eggplant, aloe, basil and turmeric root extracts, just to name a few! It is basically jam packed with ingredients that are going to promote hydrated and glowing lips! And it smells divine — like your favorite childhood sweets!  
Next would have to be Cake Maker Tightening Butt and Leg Serum. To put it simply, this is my all-time favorite Truly product. Its highlighted key ingredients are guarana & plant collagen to smooth and tone while tightening and conditioning the skin. But again, I'd like to note that it also uses Caprylic/Capric Triglycerides, a lightweight and nourishing oil also known as Mct oil (produced from vegetables) that provides moisture and conditioning to the skin without a greasy feel, and Zea Mays to simultaneously absorb moisture and oil from the skin, helping to mattify and leave skin feeling silky soft. It has several other skin softening and collagen promoting ingredients, some that even help fight wrinkles, but this is by far, my favorite serum by Truly!
Last would be Happy Hairless Shave Butter. This shave butter smells like a trip to the Napa Valley wine country. It is so pleasant to the senses that I find myself sniffing it every time I pass by! The feel on your skin is even better. It rubs in so softly and the razor blade glides over it so smoothly. With ingredients like rose damascena, which is excellent for treating broken capillaries and scarring to help skin tone appear more even, this is the perfect shave butter! Additionally, it contains radish root ferment filtrate which can help to improve the skin's natural flora and protect it against bad bacteria, and passion fruit peel powder extract that can help maintain smooth, supple skin all over.
Those ingredients, as well as lavender oil and coconut oil — which both contain powerful antioxidants and hold antibacterial and anti inflammatory properties — make this a double whammy on sensitive skin. For me, this is a must have product in any overnight bag, vacay pack away, or for just sitting on the shelf at home. I'll even use this as a mask on my buttne if I run out of Buns of Glowry or Cake Maker Polish!
Would you be able to share a few juicy tips for increasing your influence as a Truly ambassador? 
If I had a few juicy tips to share about being a Truly Ambassador that might help increase someone's following, they would be to have confidence in yourself, to keep practicing at the things you don't feel confident with yet, and to keep showing up!
Firstly, being confident in your skin is a must for a Truly ambassador, and that simply means having confidence in the journey you're on! Give yourself respect and compassion at the same time while you walk this fine line of self-improvement and self-appreciation.  We are all human, and we deserve our own love! Don't compare yourself to others, each of us is having our own experience and sharing the results as a brand ambassador should make you feel good!
Next, if you don't like your product photography or you haven't been regularly sharing on your socials about new products or your skin care routine, IT'S OK, but if it's because of a lack of confidence in how you're doing it, you have to keep practicing! Practice makes progress, and it's a vital part of being an ambassador and that leads me to my last point, keep showing up!
It's up to you to share your love for and experience with Truly's products if you expect people to know you're an ambassador! They won't know it if you don't, and you'll never help the brand grow that way! But you sure might have glowing taut skin while you watch others doing it.
My top tips in a nutshell:
Post more about yourself, your skincare routine, and your fave Truly products

Hone your photography and social media skills

Keep posting (or create a schedule to stay on track)
I can guarantee you'll see your influence as an ambassador increase. 
Join Our Ambassador Program
Come be a Truly ambassador and enjoy huge discounts, fun FREEBIES, impressive commissions, access to exclusive happenings, and the satisfaction of working for one of Gen Z's fave beauty brands.
Share
---